The classic tradition of trick-or-treat on Halloween followed by children is not what it used to be anymore. About a few decades ago, Halloween used to be something that kids would look forward to. They would dress up in different outfits they would knock on the doors of the neighbors to collect bag-full of candies. Lately, kids can be found glued to their iPads, Xboxes and smartphones instead of displaying any enthusiasm for Halloween. A mom on TikTok @tammynize made an interesting video addressing this fading custom of trick-or-treating amongst Gen Alpha.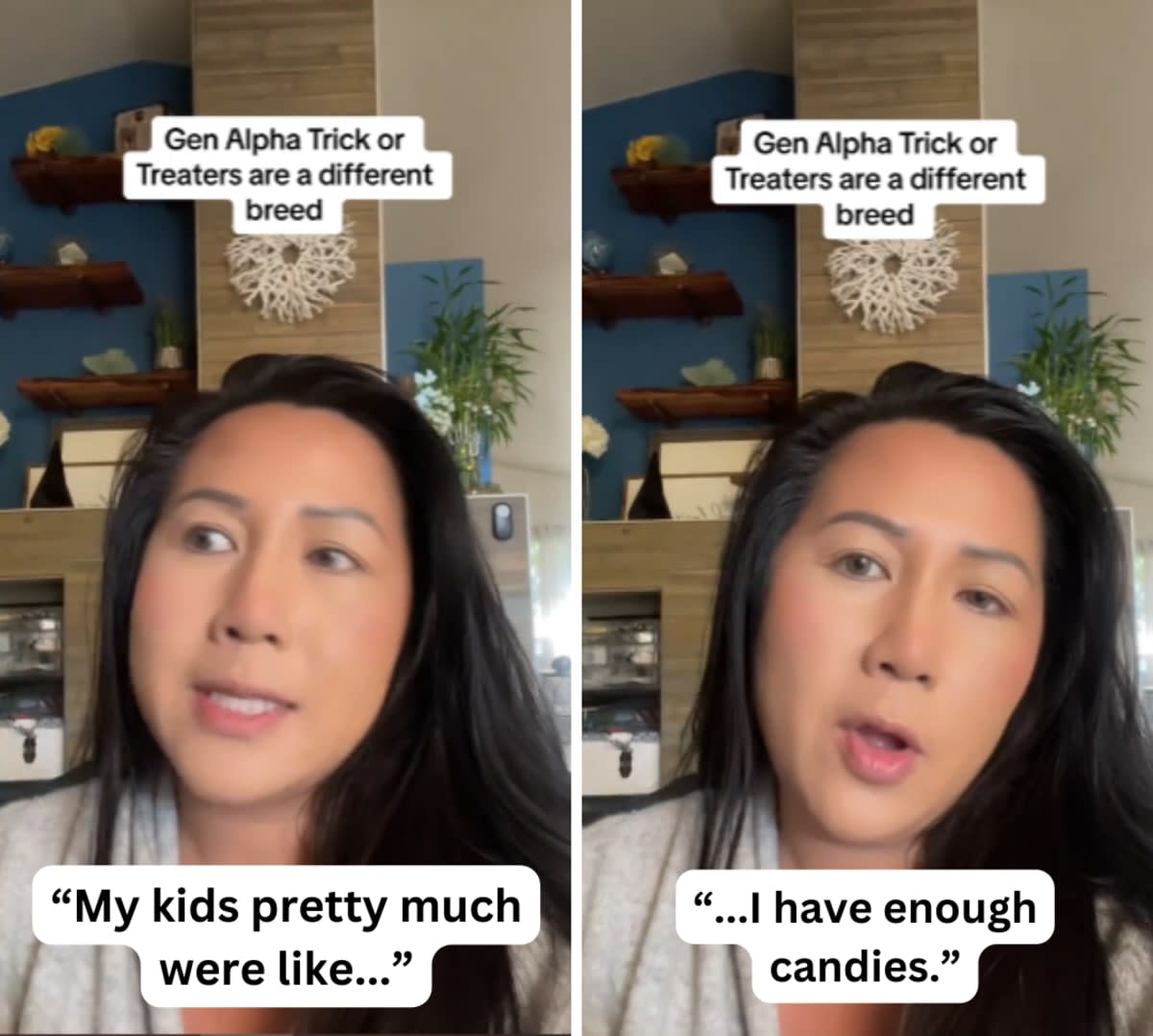 This mother revealed how her young children had a completely different approach towards the trick-or-treat custom of Halloween this year and compared them to the times when she used to be her kids' age. "This is how you know that Gen Alpha is a totally different generation than us," she said at the beginning of her video. "We drove to this neighborhood where the houses are big and they have massive decorations. About halfway through trick-or-treating, maybe like 45 minutes, my kids pretty much were like, 'You know what, I'm pretty much done trick-or-treating, I have enough candy.'"
The mom also recalled how her children even complained that their "feet and back hurt" from walking around the neighborhood. "It was so different from when I was growing up. We would literally go trick-or-treating until we would drop dead basically. If our bag was full, it still wasn't enough candy for us," the mom reminisced. "We would go home, dump the bag and go out again. We could hoard the candy until springtime."
She shared an incident from the previous year's Halloween as well when her kids would just pick about ten candies from the ones they had collected and would give the rest of them away to other trick-or-treating kids who came by their house. "They did not want candies anymore. That's definitely a sign that the pendulum of parenting has swung in the totally opposite direction compared to when I was raised. I am scared for Gen Alpha guys and they going to be so much worse than Gen Z," the mom concluded.
Other parents who have Gen Alpha kids in their house couldn't help but agree with the mom who made some valid points about kids in recent times being less interested in trick-or-treat. @m0r1ahj0rd4n wrote: "Candy is not restricted in my household, so once my kid is tired and the bag gets heavy, she's done." @mamajess599 quipped: "I am so triggered when my kids wanna stop and I see all the lights on they haven't got to yet." @m_lewis0516 shared: "My kids barely made it around the block, the block we rode bikes around all summer. I told my husband they know we will just buy candy if they asked."
@jkdazie joked: "I accidentally became a boomer yesterday and started telling my kids how I used to trick or treat for hours back in my day when they wanted to quit." @trishmarie99 added: "I had the same convo with my kids last night. I even brought a backpack for them to unload. We would run all night. My son was like 'my feet hurt'." The long-standing Halloween tradition can be sadly seen fading out as children with more permissive parents let them have access to treats and gadgets all year round which interest them more than collecting candies on Halloween.