If you are a frequent flyer, you would know that nothing is more boring than in-flight safety demonstrations. Whether you fly British or American, these demos are a must as they help ensure the protection of the passengers in an airplane and familiarise you with life-saving tools. To save passengers from the sheer boredom of safety instructions, TikTok user Joey MacNeer (@juicephhh) posted a video of a JetBlue Airways flight attendant's theatrical take on a safety demonstration that has the internet in stitches. The video amassed over 8.7 million views with over 650.5K likes on the video-sharing platform.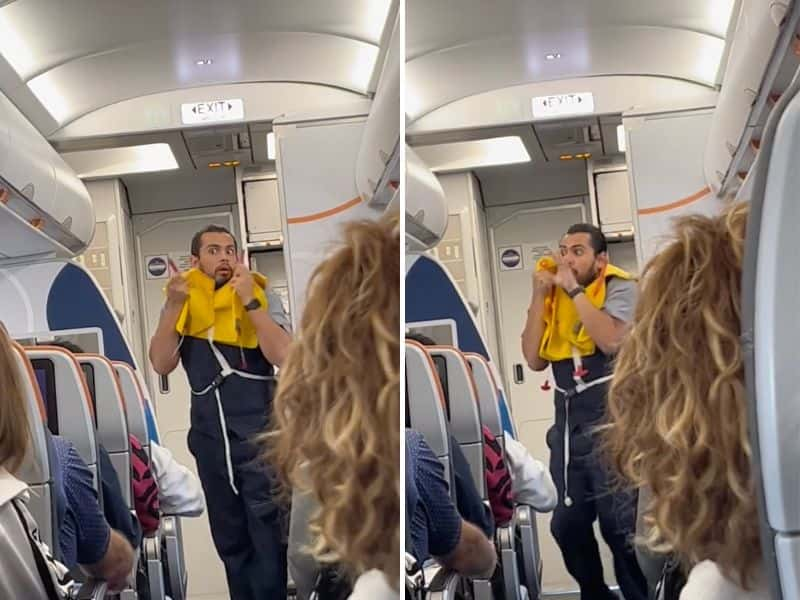 MacNeer told Insider the flight traveled from Newark to Tampa and the flight attendant, Peter, "made every second of the flight great." While many look at the aisle before takeoff with deadbeat and uninterested expressions, this flight had everybody's attention as the flight attendant did a quirky safety demo routine as instructions were narrated over the microphone. When the pilot advised people not to inflate their vests inside the aircraft, the attendant shook his finger at the vest as a "No," and ended the demo by swiftly dashing out of the aisle and into the cabin. "He needs to be the face of airlines for every and any commercial," MacNeer said.
The comments under the video have people cracking up at the flight attendant's "Broadway" performance. "His calling is Broadway! That slide at the end sent me," said @lavishlynik. "This dude is better than any movie or snack this flight is going to have. Ever," added @shellygirl12345. "Honestly I do this to spice up my usual routine cause I have to keep myself sane/entertained at work," wrote @yungggggt.
"No because he does deserve a raise. That would be like the only time I'd ever actually watch and pay attention," shared @simbasmom1616. "Dude I would've been throwing ones!! Love this!!!!!! Whether he's fed up or just wants to put on a show. He is a star!" said @xolittlehell.
However, this flight attendant is not the only one who entertained passengers throughout their flight. In another hilarious video posted by @NowThisNews on Instagram, a flight attendant is seen talking about passengers traveling with children and why they have decided to travel with their kids. "If you're traveling with children or anyone that's acting like one, make sure you put your mask first," said the flight attendant. "And if you're traveling with more than one child, first of all, why, sweetie? We're going to Puerto Rico." He noted that the flight would take around 3 hours and 36 minutes to land in Puerto Rico, adding that they might reach sooner because the pilots were trained by "desperate Puerto Rican women."
The flight attendant added more salt to their wounds saying, "If you didn't find anything about what I just said funny, look up the word 'humor' and add it to your personality. That's the reason why people are swiping left to your Christian Mingle."
He also stated that since no cabin crew members on the plane trust the passengers, the flight attendants will walk by and check everything before taking off. Shahyra Monique Grant, who was a passenger on the flight, said that the flight attendant was "so fun" during the whole flight. "It was because of that flight attendant that we all made it through that flight," they said.