Editor's note: This article was originally published on February 24, 2023. It has since been updated.
Grandparents often take off a lot of burden from their children's plates as they can leave kids carefree with them. However, that doesn't always mean they will be the ideal babysitters for the kids. A TikTok user @almostmakesperfect shared her experience of having her father babysit her son while they were away on their babymoon. She captioned it, "How to have a relaxing babymoon - don't ask your dad to babysit." The video begins with security footage of the grandad and the grandkid leaving for school 30 minutes late without a backpack. Then it goes on to a range of questions that grandad texted her daughter. One was, "How do I toast?" She tries to tell him to move the knob to the extreme left, which has a picture of bread. He doesn't understand and ends up telling her, "One that looks like pizza worked." Later in the video, he questioned what he should do with the leftover pizza. She asks him to refrigerate it. And when she asks him to send a picture of her son. He responds, "Why? You know what he looks like." When she asked her son to send a picture of her father, he was seen having a beer.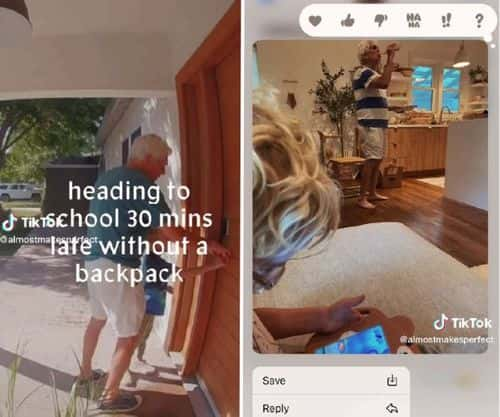 The video gained more than 650,000 views and 55,000 likes. Many parents could resonate with what the parents went through and shared their own experiences. @geasy.bean.island commented, "I asked my FIL for a pic of my baby so he sent me a pic that I sent him of her last week." @katiemyers61 commented, "My 7 yo told my dad we leave him alone all the time so dad left him alone and went to a 3 hr meeting." @linds_k23 commented, "It's the no backpack for me because why is that just so spot on for grandparents? Lol."
Some TikTok users enjoyed the grandfather's questions. @calahward945 commented, "Love how he didn't mind sending you pictures of the toaster and the pizza but was confused on why you wanted one of the kid." @honestpersonalfinance commented, "Kid had the best week of his life and will remember it forever." @2ndhandinstability commented, "I love the "why you know what he looks like" that's code for go have fun and focus on you."
Talking about grandparents, in another story, a grandfather was surprised with a grandad shower by his colleagues. In a video uploaded on Twitter, a grandfather can be seen entering his office and being surprised. The text overlay on the clip reads: "The ladies at my dad's work threw him a surprise 'grandpa shower.' He is then seen looking at the gifts and becoming emotional. He takes out one gift in which it is written, "My Gramps loves me more than baseball." There is also a banner in the background stating, "Congrats Gramps." The text reads, "Can we make a grandparent showers a thing?" It ends with a clip with his daughter and reads, "Can't wait to celebrate with you and Clare Bear."
Originally, the video was uploaded by his daughter on social media @Lilaraffaela. According to the video, he has worked in that office for more than 30 years. The video has garnered about 11,800 views. The video is captioned, "Coworkers threw him a surprise 'grandpa shower!'"