Individuals who work in the kitchen must always be careful when handling hot or heavy equipment. If one is not careful, there are chances for a fire to break out and in such cases, it is important to know what to do. Ginella Massa—who goes by @itsginellamassa on TikTok—had an important story to share about how she almost burned her kitchen down while cooking with her oven. She expresses gratitude to TikTok creator @domesticblisters for her helpful video on handling food catching fire in the oven.
She can be heard saying in the initial part of the video, "This lady's video is the reason I didn't just burn my house down." We get to see the frame change and observe what seems to be a smoking pan in her oven. The woman shares that she followed the other influencer's video while handling her kitchen fire. She reasons that she was staying at home with her 10-month-old child and ended up doing everything absent-mindedly.
She says, "I turn on the frying pan. I put some oil with the intention to fry an egg." After which, she let the pan heat up to the correct cooking temperature. During this, she got momentarily distracted by her child, who seemed to be throwing her food on the floor, which meant she had to go to her. As soon as she turned around, she saw "plumes of smoke" coming out of the pan. The oil that she had left on the pan got too hot.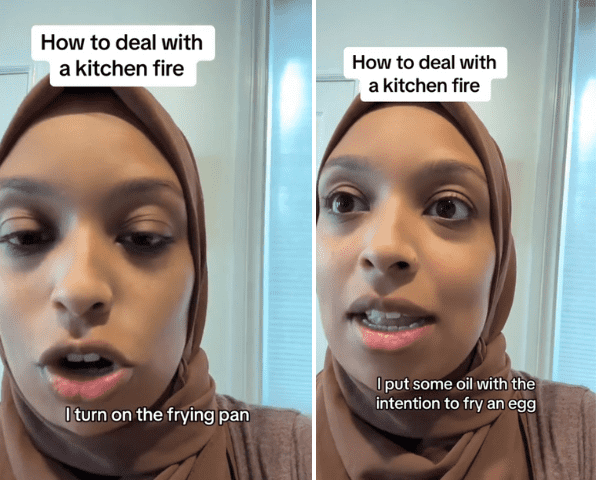 She immediately went to control the situation, at which point the oil lit up on fire. She says, "So I'm like holding this frying pan. Flames coming out of it." The woman manages not to freak out and composes herself. She then remembers what the lady said in the video about the fire requiring oxygen to survive. The video also mentioned how putting water on it was useless.
The creator initially thought putting it by the window would make it die down, but she realized that it would only make it worse. She, fortunately, recalled that putting it in the oven would help the situation and carefully put it there. The ingenious move helped as the fire soon died out. She ends the video expressing thanks to @domesticblisters for her video on handling a kitchen fire. She also expressed her gratefulness to the algorithm.
Interestingly, she had only watched the video two days back without knowing how useful it would be in averting a major domestic disaster. People on the site commended the woman for her quick thinking and put down their own suggestions in the comments section. @katkatie_ said, "They taught us in school to just use a lid if you don't have a fire blanket."
@alil_unstable said, "Another option is to cover with a damp (not dripping) cloth. Even better if you have access to a fire blanket." Another individual, @danjalveskandar, pointed out, "And this is why chemistry should be part of the basic curriculum. Teach people about not mixing chemicals or how fire works." @ashleywilson._ said, "You can use the lid as well. You can also use baking soda and salt."