It is important to be patient and understanding when communicating with disabled individuals and to ensure that they have access to the accommodations they need to fully participate in society. We need to look at the world through a lens of inclusion and accommodation of various needs. A waiter is demonstrating that in a wholesome video of him singing happy birthday to a deaf guest at the restaurant. The man named Thomas can be seen walking to a table with a cake in his hands. The woman is extremely surprised and instantly has a smile on her face upon seeing the cake.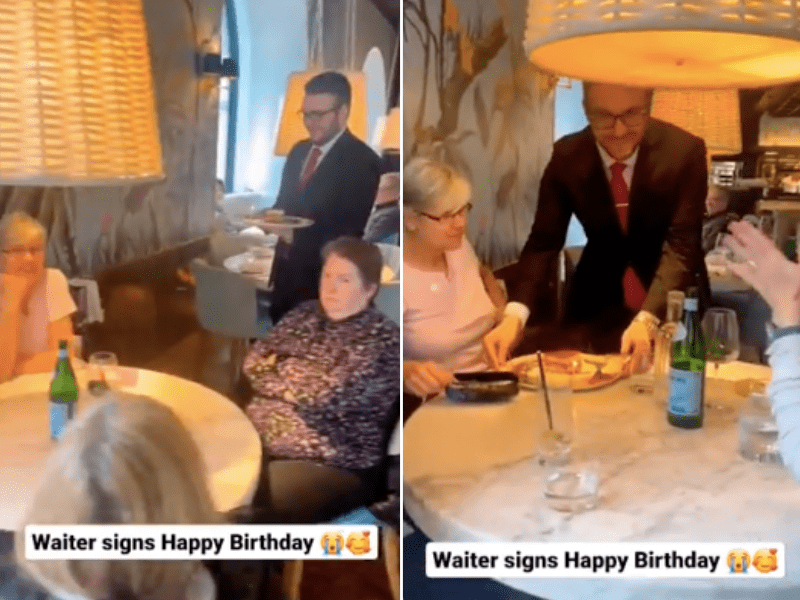 Thomas doesn't just stop here and goes ahead to sing the birthday song using American Sign Language and the other friends and family of the woman also join in. He finishes the song and the woman expresses her thanks with absolute joy on her face. It is also worth noting that the video highlights the importance of learning and understanding different forms of communication, such as sign language, to better communicate with individuals who are deaf or hard of hearing. By doing so, we can break down communication barriers and foster a more inclusive environment for all individuals.
The video has gathered more than 45.4k views and people are commending the waiter and the restaurant Luciano by Gino D'Acampo for this beautiful and inclusive moment. In another heartwarming moment, a touching video depicts a father introducing himself in sign language to his newborn daughter, who was born deaf. The baby, named Arrow, was born prematurely at 25 weeks and had to stay in the hospital after birth. The family primarily uses American Sign Language as their means of communication, as both the father, Jimmy Justice, and mother, Teresa Justice, are deaf.
The heartwarming video has gone viral and shows Jimmy expressing his love and admiration for his daughter, telling her how beautiful and adorable she is. This video serves as a reminder that a father's love for his child is unwavering, no matter the circumstances. It is evident that even with the challenges of a deaf family, love and communication can still thrive. This video serves as a reminder that love and communication can thrive despite the challenges of a deaf family. It highlights the importance of embracing different communication methods and being patient and understanding with individuals with disabilities. With the right accommodations and support, individuals with diverse needs can thrive and contribute to society just like anyone else.
LeadwithLanguages reports that American Sign Language (ASL) is widely used in the United States and is the fourth-most studied language in American universities. ASL has been recognized as a modern language for public schools in almost 35 states, and many colleges and universities offer ASL classes. In the United States and Canada, there are an estimated 250,000 to 500,000 ASL users, with the majority of them using ASL as their primary language, as in the case of Jimmy and Zachary. This highlights the importance of recognizing and promoting sign language as a valuable means of communication and fostering inclusivity in society.