When life brings storms and you're feeling low and overwhelmed, you need someone to cheer you up. In such times, family, friends and loved ones come to the rescue. There are loved ones who care just enough to pull us out of this abyss and be there for us while we deal with the sea of emotions. Kwamika Sturdivant—who goes by @kayfransha on TikTok—shared a video acknowledging her friends' gestures at such a point in life.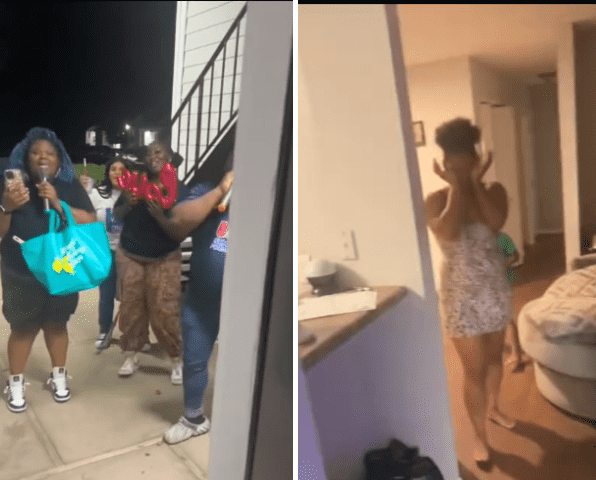 Sturdivant shared a video of the time when four of her friends came and surprised her at the door. The text on the video read, "When your friends pop up and surprise you." They were seen holding gifts, treats, balloons and the biggest smile ever. With music, dancing and the splurge of positivity in the air, her friends sure brought a bright smile to her face. In her caption, she explained the scenario saying, "God sent me some of the best friends! He knew I needed them."
Elaborating further, Sturdivant mentioned, "The past two and a half weeks have been an emotional rollercoaster." She then said that she secluded herself in times of sadness and what she thought was a positive Facetime call turned out to be the most wholesome surprise for her. "It turned out to be them showing up like this. I love them so much," she said. She then mentioned how grateful she was for having her four friends, "I was in Atlanta for years with no friends or family. I prayed for genuine people to enter my life."
Further in the video, Sturdivant is seen with tears of joy as she realizes the ride-or-die group of friends that she's won. Meanwhile, her friends were there at her door dancing and hyping her up to the song "Ain't no Mountain High Enough" by Marvin Gaye and Tammi Terrell. The video sparked thousands of views and comments and people were in awe and surprise at the quality of friends she is blessed with. @tayloristiredd said, "Platonic friend love is so underrated." @wiltoncollette said, "She needed her village."
Sturdivant also reposted the video on her Instagram. In her caption which was similar to the previous post, she also added the several other problems faced by women. She highlighted, "You know us women deal with so much from miscarriages to infertility. PCOS is the underlying issue for most women." She further stressed the fact that these issues are responsible for health deterioration. "The pressure of this alone can take a toll on us mentally, emotionally, and physically to where we don't know how to express what we're feeling," she said.
"Instead of letting me deal with this alone, my friends showed up," Sturdivant added and sometimes showing up is the key to gradually helping with problems. Her friends knew she'd go through it alone and suffer in silence but were not up for it. They chose to show up and make a difference simply by letting her know they were there for her. She concluded her post by leaving a noteworthy message, "The way we all show up for each other regardless and hold each other accountable, this displays genuine friendships. Thank you all for keeping me lifted and being there for me."
Watch the full video here:
---
View this post on Instagram
---