Reporting is not an easy task. One needs to have all the information ready at their fingertips and ask the right questions at the right time. A 10-year-old young reporter blew everyone's mind with his calm and cool reporting style. In a video uploaded on Twitter by @WUTangKids on January 12, Jeremiah spoke eloquently in an interview with Las Vegas Raider's Davante Adams. He wasn't overwhelmed at all and was up to his task. The interview happened just after Las Vegas Raider's match with the Kansas City Chiefs on Thursday. Jeremiah, the young reporter can be seen wearing a crisp grey shirt and tie holding a microphone. He first asks Adams, "Wait, should I do my introduction?" He goes on without any fumbling, "Now, I am here with Davante Adams, wide receiver for the Las Vegas Raiders. He has got 95 receptions for 1,443 yards. He has got 14 touchdowns and he averages 15 yards per catch. It is an honor and a privilege to meet you today."
Meanwhile, Adams is just adoring the child while sitting on his knees. They shake hands with each other and then Jeremiah asks him, "One of my greatest memories of my life is going to your camp and doing a seven-on-seven against you. So, what is one of your greatest memories of your childhood?" Adams replies, "Greatest memory of my childhood, I would say, when I was young, maybe about seven or eight years old, I had the opportunity to meet J J Stokes, who was with San Francisco at the time. That memory stuck with me because that was the first professional athlete that I met and it was a great experience. Really nice guy, he helped out the young kids and gave us great advice, so I had to say that."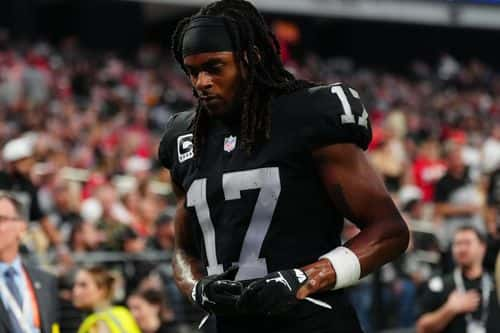 After the interview, Jeremiah also manages to get a picture with Adams. The video went viral with more than 7.3 million views and is captioned, "Meet 10-year-old Jeremiah interviewing Davante Adams." People on Twitter just loved Jeremiah's reporting style. @StuntmanStu wrote, "This kid is going places!!" @Martha Balandra said, "Not only does he have the stats down, that question was interesting!" @PeriodJane wrote, "He is confident and knows he deserves to be there. I'd hire him now. What a great question." @lordgoofa said, "He absolutely crushed that interview! Great job by him!" In another video of a young reporter Martha from the German public service broadcaster ZDF, she was noticeably nervous about interviewing the Oscar winner Kate Winslet. "Um, it's my first time," she timidly told Winslet during the international press junket.
Upon hearing this, the actor was kind enough to pause the interview for a few minutes and boost Martha's confidence with a heart-warming pep talk. In the moving clip of their interaction, Winslet leans toward the young girl with a warm smile and says: "This is your first time doing it? OK, well guess what? When we do this interview, it's going to be the most amazing interview ever. And do you know why? Because we've decided that it's going to be."
The youngster quietly laughs as the star continues: "So, we've decided right now, me and you, that this is going to be a really fantastic interview. You can ask me anything that you want, and you don't have to be scared. Everything is going to be amazing. OK? You've got this. OK, let's do it!" Thanks to Winslet's pep talk, Martha was able to conduct the interview without any hitches. She also got a selfie with the "Titanic" star after the interview.