Have you ever been caught in an awkward situation in a restaurant where you wished to stay a while after eating but did not know if it would be appropriate to do so? Turns out TikTok user, Madison (@ugh_madison) had the same thought. She went to an "all you can eat" Hibachi Grill and Supreme Buffet deciding to find out how long she could remain at a buffet before being asked to leave. She managed to spend four and a half hours there eating six plates of food. Her bill came down to $13.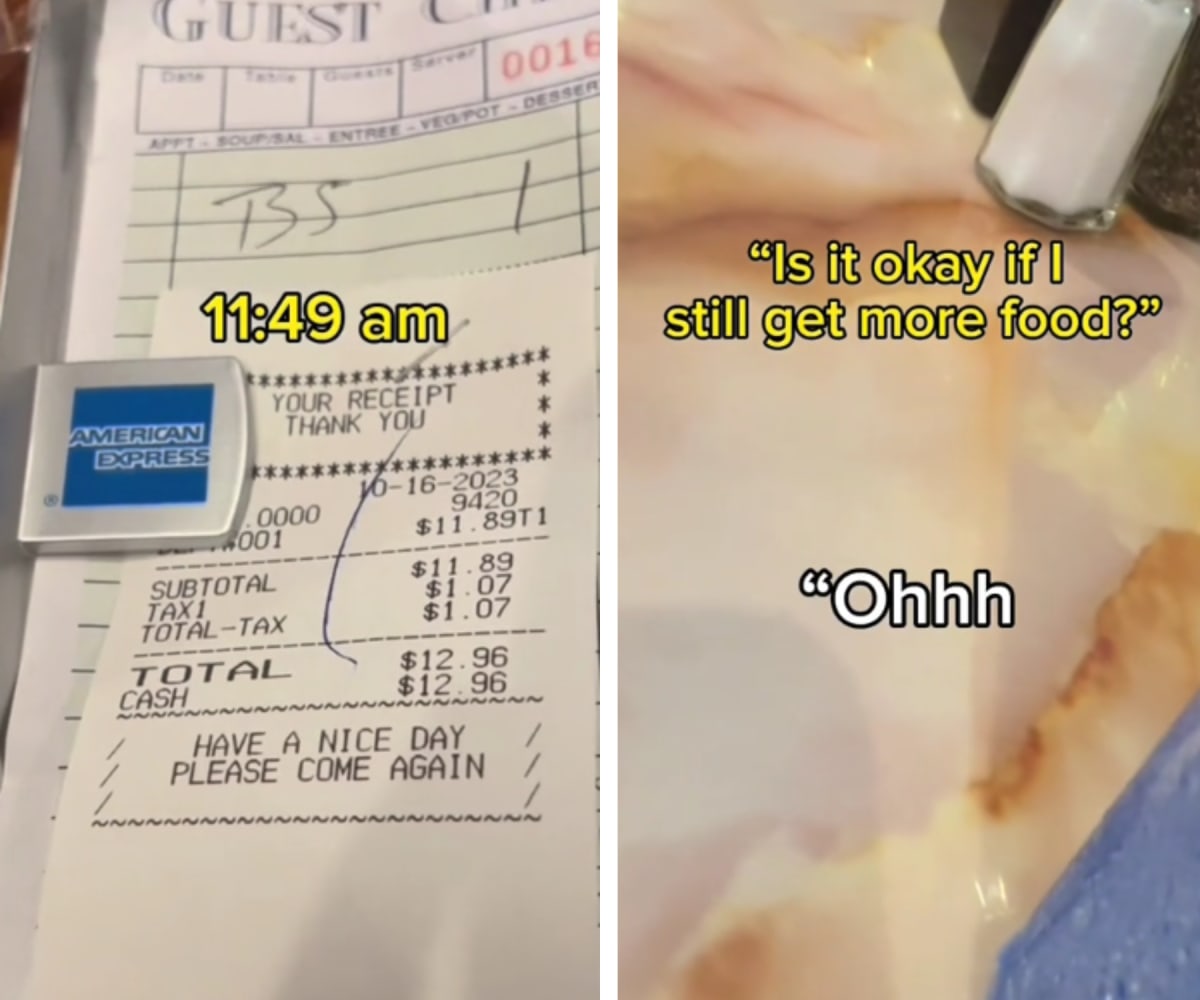 After that time, a man came up to her and told her she could not eat any more food as his boss told him she was "staying too long." She didn't retort and just finished her food. She went on her way immediately after but not before tipping her waitress and the man who "kicked her out" $100. Despite being asked to leave, Madison said the food was "amazing" and called the entire experience the "best day ever."
Users shared their views on her video with @cherryiere writing, "Every buffet near me has a one-hour maximum. they write down your start time on your paper menu, then at 1 hour you bring the check, and if you go up." When @dat.one.girl18 commented, "You shouldn't have tipped the boss at all it's a literally all-you-can-eat buffet," @veryofficialtrainerj added, "As someone who is a waiter at a buffet, I do really appreciate you tipping the waitress (even if it seems crazy to tip at a buffet)."
Some people were surprised that there was a time limit for an all-you-can-eat buffet.@thiabia123 questioned, "How are they running an 'all you can eat' but mad when people are actually getting all they can eat? They should specifically mention a time limit." @skysubstrate wrote, "Wow? I don't think I ever saw a limitless buffet here in my country. Mostly they only give you like 1.5 hours to eat here."
This isn't the first Madison tried something like this. People seem to be turning to buffet meal deals considering the increase in restaurant prices in recent times. Earlier this month the TikToker went to Cici's Pizza endless buffet and ended up staying for a whopping 8 hours! She tested the time limits of the chain's $9 all-you-can-eat buffet captioning her TikTok video, "I got kicked out this time Do you think I got my $9 worth?"
During that time, she ate unlimited pizza and cinnamon rolls and three hours in, she checked out the arcade only to return and continue chowing down. After she was done, an employee went up to her. "I do have to ask you to leave because you've been here longer than 2 hours," the employee told her. "They just made a new rule." The verdict? "I left Cici's Pizza. I stayed there from 11-7, paid $9 for eight hours for unlimited pizza. What a rip-off," she said in her video. She confessed, "I didn't get my money's worth but I still had fun."