A 76-year-old woman with terminal cancer has decided to throw a party instead of a funeral. High Wycombe resident, Linda Williams was sick of having to attend the hospital so frequently for her cancer treatment, so she decided to change her plans and "dance the night away" with her friends, according to the BBC. "I had an absolute blast," the former Tai Chi instructor said, who made a bucket list of things she wanted to do before her time ran out after learning she had cancer a year ago. Her desire to laugh and have fun in the face of fear has struck a nerve with many people online. "I've never been to a good funeral; they're miserable things, so I decided I wanted a celebration of my life," she said.
Before the party, she ticked off her dream of flying in a Spitfire. Her parents were both in the RAF, and she grew up near their base in Walters Ash, where she would see those planes flying over the house. She said, "[It was] absolutely crazy, fantastic and more than I ever wished for," explaining that her son followed the Spitfire in a chaser plane
Her 1940s-themed party was celebrated in October and was centered around the Battle of Britain. "I themed my party around the Battle of Britain, which felt perfect because the 1940s were all about pulling together when you have nothing and sacrificing to keep your freedom," she said. She dressed up as a Spitfire pilot and wore a parachute tied to her back, which made it seem like she had just jumped out of the plane.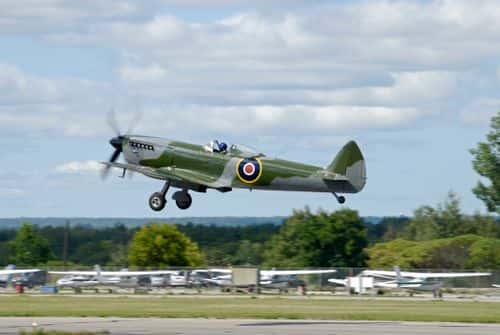 However, Ms. Williams almost didn't make it to the party. She spoke about how she continued to hold on to hope. "I very nearly died just before it, but I thought, 'I am going to flipping well get there'. I just decided I would go for it, and everybody had a phenomenal time," she said. "I was so excited that I got there at 6 p.m., but it didn't kick off until half past seven. My legs were swollen, but I still managed to dance all night, and I had lots of lovely cuddles," she said. "I didn't leave until one in the morning; I was high on adrenaline, and I slept for nearly two days after." Ms. Williams extends her gratitude to her friends who helped her organize the party.
She met most of her friends at the Lindy Hop dance class she attended at the age of 69. One of them, Jo Oxlade, was ecstatic to be a part of the celebration. "Linda was very clear with us from the start that this party would go ahead whether she was here or not," she said. "[Linda] said, 'If I'm there on the night, I want this song, but if I have died, I want a different song,' so we had very clear instructions." Oxlade describes Ms. Williams as "amazing" and "inspiring" and is more than glad to have become friends with her. Moreover, the life of the party credited her "wonderful" nurses from Rennie Grove Hospice Care for keeping her alive and healthy enough to attend the party.
"They saved my life on that occasion, which meant I could attend my own party celebrating friendship, camaraderie and the joy of dance," she added. Fiona O'Neill, a senior nurse at the hospice, said: "Lin is such a fighter; she made sure that she pulled through and made it to her party. She always sees the positive in life and is a real pleasure to care for." Her will and courage inspired many people, who applauded Ms. Williams for being able to have fun. "Quite honorable and full of wisdom for all of us to think about. A celebration of life and acceptance that death will all come our way," commented Instagram user, @rkostphotography.