Many parents dream of becoming a grandparent one day. And when that day finally arrives, they can't hold back the happiness and joy that they feel. In one such video, a woman tells her parents about the happy news at an airport and the mother's response is the sweetest. In a video uploaded a Twitter by @GoodNewsCorres1, a couple can be seen holding a banner that reads, "Baby." The woman's parents are coming down using an escalator, and the mother sees the banner from a distance, she becomes emotional and cries out from a distance, "Oh my God." Then they come down and hug their daughter and then their son-in-law. The mother also kisses her daughter's belly and says, "I'm so happy."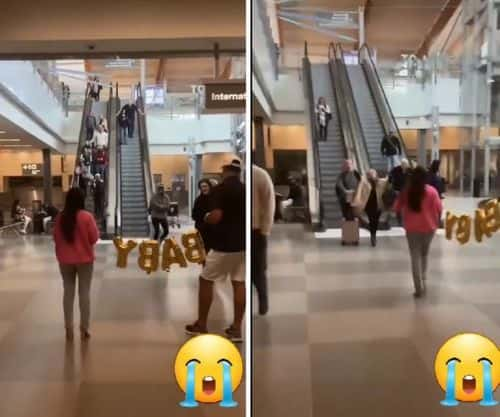 The video has more than 5,500 views and is titled, "Surprising her parents at the airport with the news that they are going to be grandparents. When she kissed her belly." A user joked about the mother's screams. He wrote, "A bit freaked about the "Scream" character who first came off the escalator."
Talking about becoming grandparents, a grandpa was made to feel special when he was thrown a "grandpa shower" by his co-workers. In a video uploaded on Twitter, a grandfather can be seen entering his office and being surprised. The text overlay on the clip reads: "The ladies at my dad's work threw him a surprise 'grandpa shower.' He is then seen looking at the gifts and becoming emotional. He takes out a gift in which it is written, "My Gramps loves me more than baseball." There is also a banner in the background stating: "Congrats Gramps." The text reads, "Can we make a grandparent showers a thing?" It ends with a clip with his daughter and reads, "Can't wait to celebrate with you and Clare Bear."
The video was originally uploaded by his daughter on social media @Lilaraffaela. According to the video, he has worked in that office for more than 30 years. The video has garnered about 11,800 views. The viral video is captioned, "Coworkers threw him a surprise 'grandpa shower!'" People on the internet found the gesture very sweet. A user wrote, "This is Adorable!" Another said, "So nice." Another user said, "That's so cute."
A study conducted by the University of Oxford in the United Kingdom, states that children who have good relationships with their grandparents tend to have fewer problems, both emotionally and in terms of behavior. Moreover, it says that such children also find it easy to interact and maintain relationships with peers. The study, completed by Professor Ann Buchanan from the Department of Social Policy and Intervention, surveyed more than 1,500 children and showed that increased involvement from grandparents can be important in a child's development. Furthermore, the study found that grandmothers mostly are in the nurturing role while grandfathers become mentors to their grandkids.
Kimberly Agresta, the co-founder of Englewood's Agresta Psychotherapy Group, has also noted how involving grandparents benefits the children. "If parents regularly involve grandparents in their child's life early on, a child can develop real emotional closeness to the grandparent and begin to see the grandparent as a source of strong social support," she stated in an interview.