Growing us, most of us had different things that brought us comfort in times of distress and uncertainty. It could have been a soft toy, a blanket, a specific location, a favorite milkshake or even a song that held a special meaning for us. While we might lose track of such items over the years as we get older, they would still hold a special place in our hearts. In a heartwarming video posted on Reddit by u/PurestofBread, a wife is seen reuniting her husband with an old soft toy of his that used to bring him comfort in foster care as a child.
The man opens a packet to find a stuffed dog toy and can't believe his eyes. The text overlay on the video reads, "You help your husband heal his inner child by tracking down the one item that brought him comfort in foster care." In the clip, he keeps asking her, "How did you find it? How?" even as he is unable to take his eyes off the toy.
The video has garnered 11.9k upvotes on Reddit. It is captioned, "The pure surprise and enjoyment in his eye." Many on the social media platform loved the gift given to the husband. u/IndependentFace5949 commented, "That was a genuine joy. Those are the best presents." u/Rightperson1 wrote, "The pure surprise and enjoyment in his eyes are truly infectious. It's incredible how simple gestures or surprises can bring so much joy to someone's life." u/Johnnyfever13 said, "That's an awesome gesture - I hope he holds on to that forever."
According to paediatrician and psychoanalyst Donald Winnicott's theory, when kids are attached to a thing, it is more than comfort. Apparently, it leads to play, which is essential to the development of a healthy mind. These "transitional objects" have qualities reminiscent of the mother in what he calls the "intermediate space" that opens up between the mother and the child as the baby develops. It eventually expands the child's imagination and creativity, reports The Guardian.
In another similar story, a girlfriend made her boyfriend the best memory teddy bear out of his mom's favorite sweater with the help of an Etsy store. His mother had passed away a while ago and she believed it could be the perfect gift for him ahead of the anniversary of her death. She shared the video of him unwrapping the gift on her TikTok account, @jewleetah, and captioned it: "The face change when he realized."
The text overlay on the video reads, "He lost his mom a little while ago and I had this bear made from a sweater she often wore." In the clip, he can be seen opening a carton box in the car. He opens the box and takes out a green teddy bear. After looking at it for a few minutes, he realizes it is made out of his mom's sweater. He hugs the teddy bear and reaffirms, "The green one?" "It's so cute, isn't it? It's so pretty," she asks him. "Really? I remember this sweater," he replies, still shocked. He gives his girlfriend a hug and the moment remains a warm one. "For context: the anniversary of her passing is this weekend, so," the girlfriend said in a comment.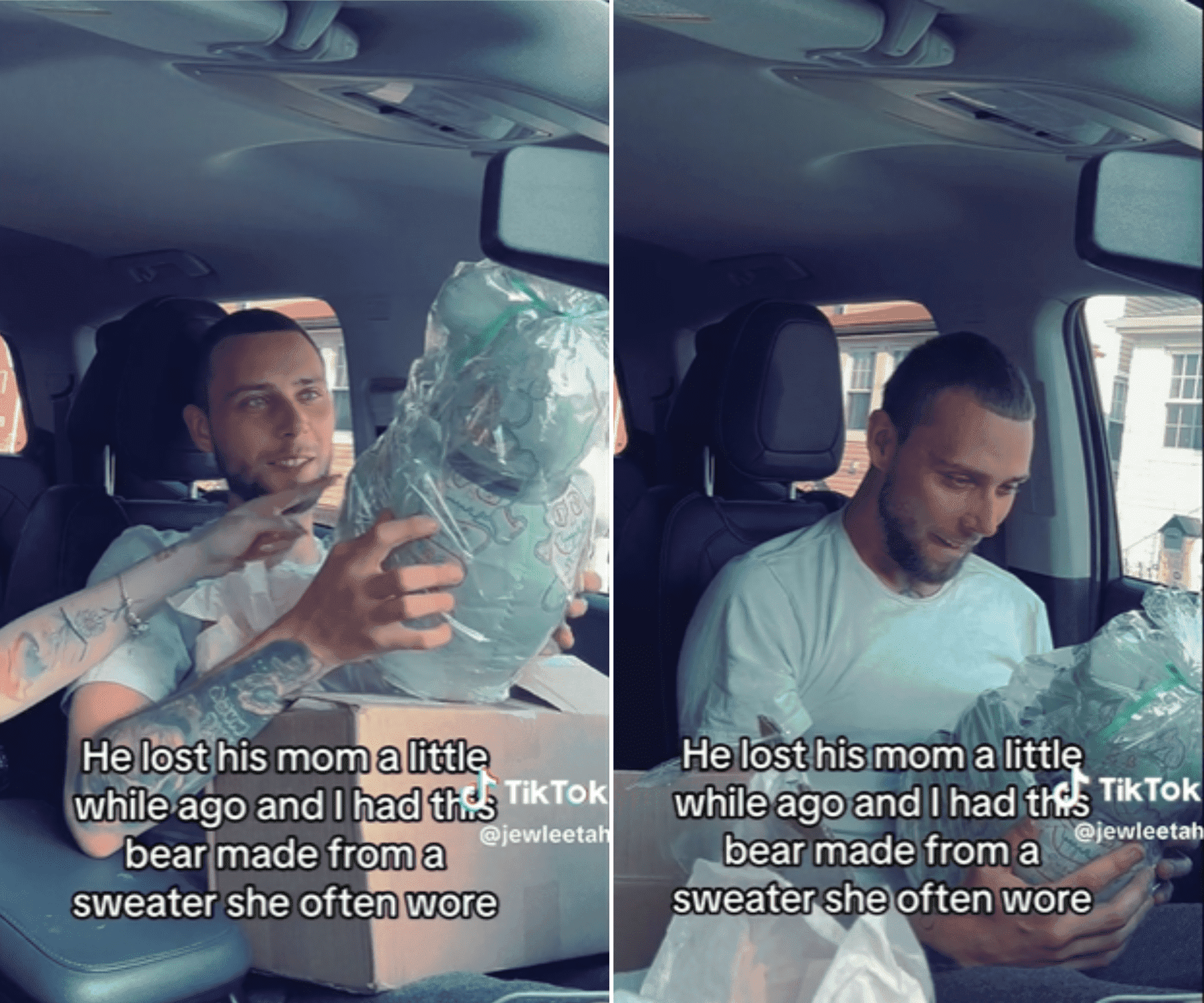 "I bet his momma is so happy knowing he has an outstanding partner and knowing she is thought of... This is real love," commented @Edith. "When my sister passed, we made bears from her shirts. I ended up giving them both to my brother and he needed them more than me at the time," wrote @bug_soupe.