Canada is famous for its beautiful Rocky Mountains, ice hockey getting treated like a religion by its fans and of course, some delicious poutine. Canadians are also known to be friendly folks who are always warm and welcoming to people they meet. But nobody could have expected this woman on TikTok to accidentally drive into the Canadian territory without getting deported back to where she came from.
Specifically, because this TikTok user named Grace Reiter, who goes by @reitergrace on the platform, wasn't even carrying her passport while unintentionally venturing into the new country. Reiter shared her viral video—which has gained over 1 million views as of now—and left viewers stunned at how she was able to carry out this interesting "travel hack." "This is how I got into Canada with no passport," Reiter says at the beginning of her video.
At first, she is heard having a conversation with a person at the Canadian border crossing. Assuming she was stuck in terrible traffic, Reiter continued to speak with the unidentified person at the border. "So I can turn you around. You're probably gonna sit on the bridge for like three hours. Are you sure you don't want to come in and look around? Wait for the traffic to go away?" the person suggested. According to the Niagra Falls USA website, U.S. citizens with a passport can cross the Rainbow Bridge and enter Niagra Falls, Ontario.
However, the official website states that a U.S. passport is a necessity to cross the bridge and enter Canada, the other person missed out on mentioning that to Reiter. The curious visitor took up the man's offer and the next moment, she was inside the borders of Canada. Reiter took a stop at the Canadian side of Niagra Falls and then went on to catch a 4D movie. Reiter didn't fail to bring back some souvenirs like a shiny red cap with Canada written on it, maple-flavored cookies and even a Niagra Falls poncho. She concluded the video while driving back to America.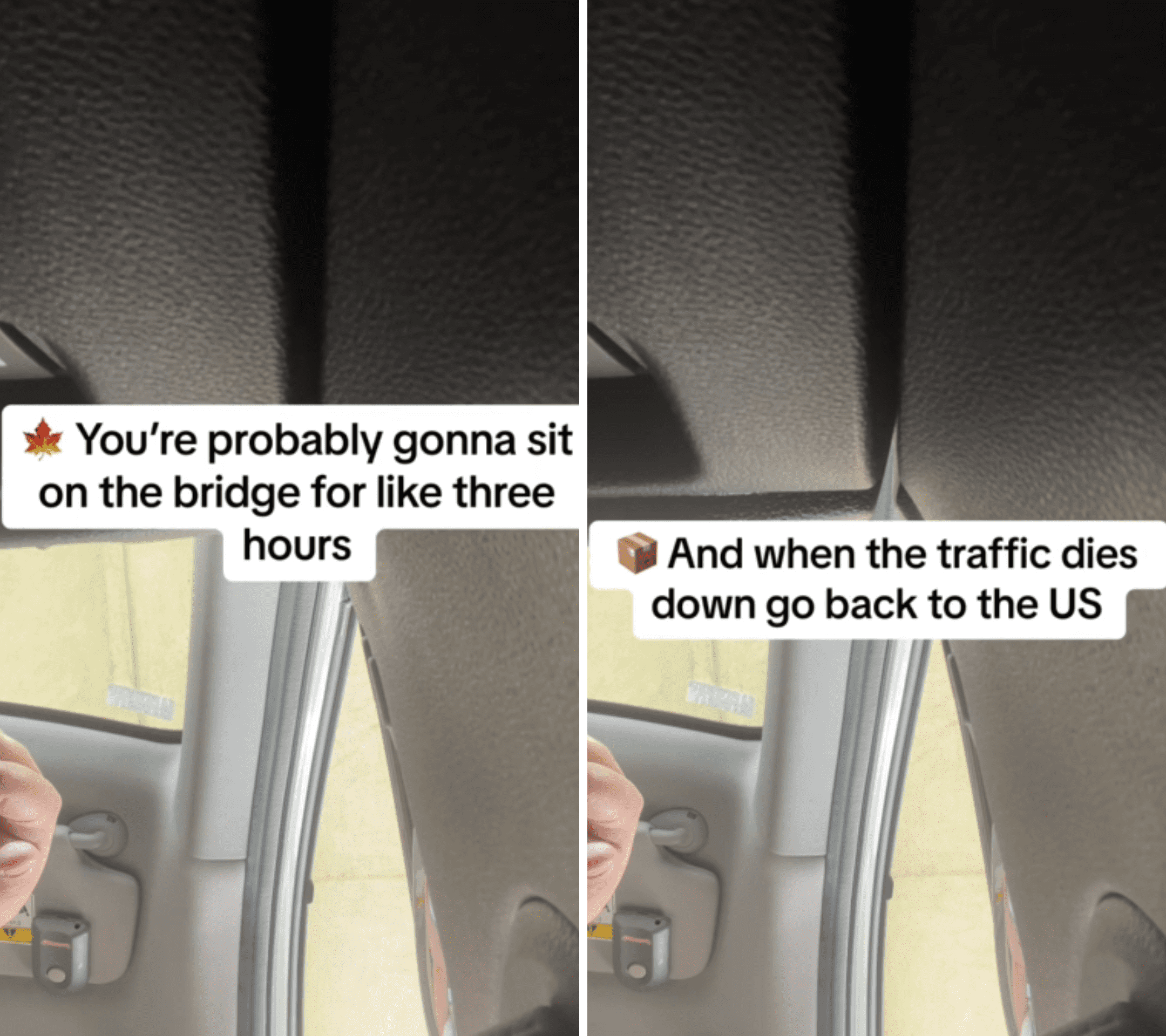 Fellow TikTok users loved her little trip across the borders and left tons of wholesome comments. @spacecowboy717 joked: "Are you sure you don't wanna come in and look around to wait for the traffic to die down? That was the most Canadian statement ever." @peanutbutterandjan commented: "Love how he's the one suggesting to just casually go into the country." @runawayxoxo3 remarked: "I wish the guard at the beginning could see your hat when you left lol he would've been so proud of you." @raynsmith4 added: "What! I have fears of going the wrong way to Canada because of what everyone has told me and they just let you go in?"
While Reiter was sort of invited into a new country, previously, a fellow TikTok user and radio presenter named Sophie Montague somehow ended up on a ferry while she was commuting to her workplace in her car. The unforeseen circumstance happened when she reached the River Thames and drove her car onboard a ferry.
In her TikTok, Montague documented her crazy detour on the Woolwich Ferry which happens to be a free vessel that transports people and their rides from the south bank of Woolwich to the north bank across the river. "I have actually ended up on a ferry. I'm just trying to commute - I'm just trying to commute to work. I thought it was a road and I'm on a freaking ferry," she laughed in utter confusion while showing her surrounding to viewers. But at the end of the day, both Reiter and Montague possibly went back home with an unforgettable experience.