With the job market becoming more turbulent than ever, many individuals are resigning from their jobs and constantly looking for better options. However, many are scared to make the call to their boss and quit. In such a situation, they end up postponing their decision to quit. TikTok user @artdecoatatum has devised an ingenious way for people to quit their jobs in her recent video. She can be seen making a resignation call for her friend.
The video is captioned, "If any of you are scared to quit your job, let me know and my jobless self will do it for you," In the video, we get to see the woman impersonating her friend on a call to their company, asking, "Can I speak to a manager?" The individual on the call informs her that they are one. She does not waste any time and tells the manager that they can't come in for any more shifts and has decided to quit.
The manager responds by asking, "So you're not gonna be in for your shift tonight, I'm guessing?" She apologizes for any inconvenience caused. Thankfully, the individual on the call does not make a big deal out of it and ends the call. The friends exclaim in victory as the video ends. Viewers then get to see the organization making a call to clarify whether their friend actually wanted to quit.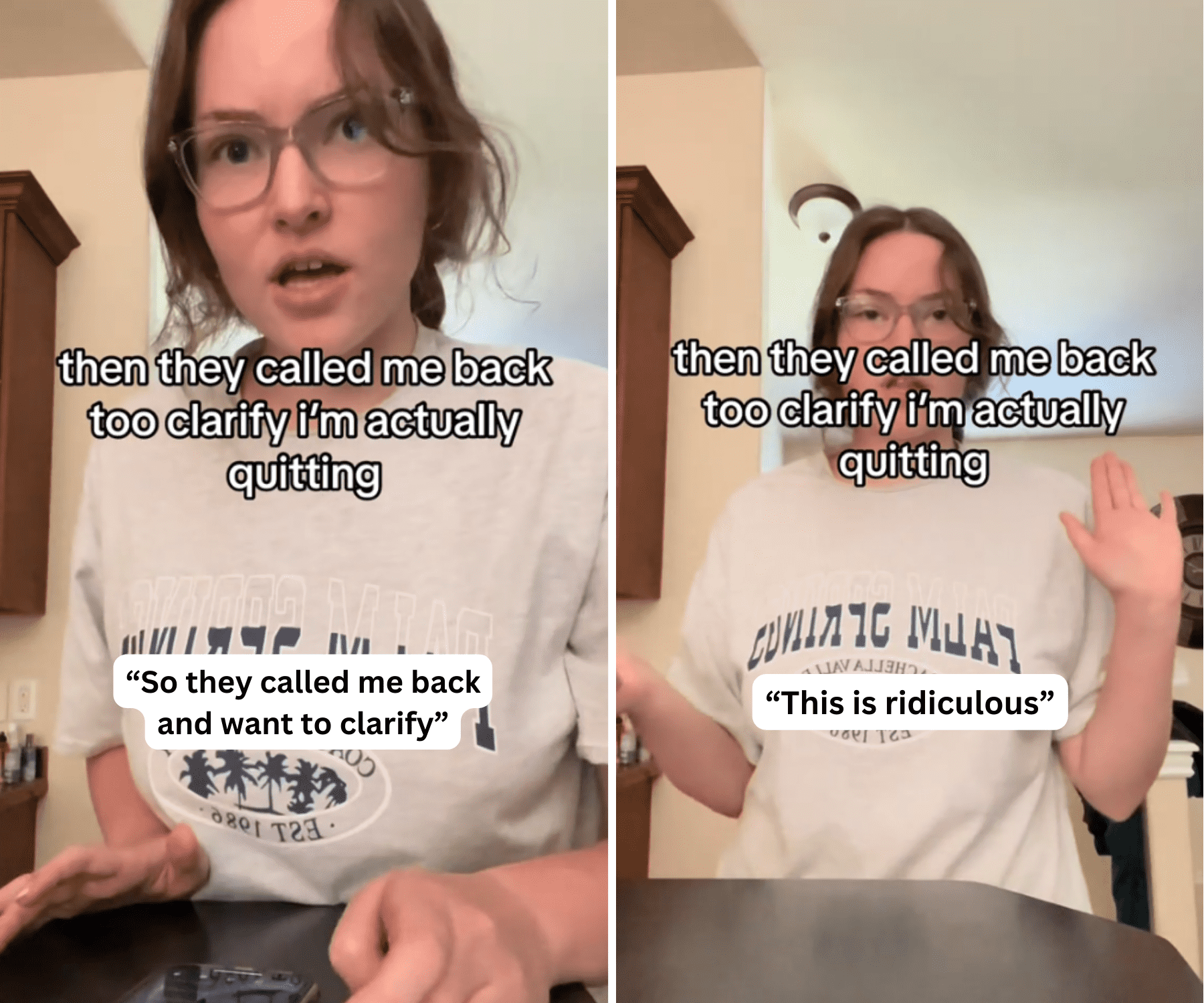 While listening to the call, she throws up her hand and remarks, "This is so ridiculous." When the manager asks about their resignation, she replies that they are quitting for "good." The individual on the call mentioned that they just wanted to clarify one more time. She says, "So, I just wanted to clarify through a manager to make sure that's what you were doing." The individual thanks them for the clarification and the video ends.
The video had quite a few comments from people on the platform related to quitting their jobs. @stupidshmacked said, "I can't even call out without them asking me 100 questions and trying to find a solution for me to come in." Another person, @clown_tings00, shared, "When I got my first job fresh out of school, I made my dad call and quit for me."
@kaleitay pointed out, "That's how you know a job doesn't care about you. The way they didn't even say anything other than okay. Like I am always scared to quit." The job landscape fundamentally changed since the pandemic. According to TechTarget, employees in various industries came to realize that they were unhappy with their jobs for a variety of reasons. Some of them were hostile working environments, poor pay and a lack of a proper work-life balance.
Anthony Klotz, a professor at Texas A&M University, called this post-pandemic phenomenon "The Great Resignation" in a Bloomberg article. The prediction turned out to be true, as 71.6 million people left their jobs between April 2021 and April 2022. This number leads to an average of 3.98 million people quitting their jobs each month. The number peaked in November 2021, with 4.5 million Americans calling it quits. Things have changed presently, but the job market continues to remain uncertain.