Editor's note: This article was originally published on May 21, 2021. It has since been updated.
English art critic, novelist, painter and poet, John Berger once said, "You painted a naked woman because you enjoyed looking at her, put a mirror in her hand and you called the painting 'Vanity,' thus morally condemning the woman whose nakedness you had depicted for your own pleasure." In the modern age of selfies, replace the mirror with a phone and the same stands true. A woman confident in her skin is patriarchy's worst nightmare. They will be ridiculed into silence. But not this TikTok user. A group of guys jeered as she took pictures in front of a stunning tropical background and she was just not having it.
Samantha Longton was on a post-vaccine vacation at Cabazon, California. As she took a dip in the pool, she was also taking selfies with her phone as she stood waist-deep in the blue water, wearing her blue bikini. Her background was framed by palm trees against the blue sky and it made a pretty picture as well. As she was posing to take pictures, she saw a pair of guys walking past her and overheard them making fun of her. In the video that she uploaded, she can be seen confronting them. The video was viewed more than 10 million times and has over one million likes.
In the video, Longton asks: "Do you guys want a photo together? I can take one for you if you like." The men stop and agree to have their picture taken. When she asks them for their phone, they made excuses claiming they did not have their phone with them. Before they left Longton says, "Maybe next time then." The video was captioned: "I'm not a confrontational girl but sometimes men just..." Other TikTok users were all praise for her quick and effective thinking to shut them down. One person wrote: "Queen, the condescension in 'next time' and everything, this is so good." Another person commented, "They always get much less brave once confronted."
In a follow-up video, she posted the interaction she had with the men preceding her initial clip, at the request of a commenter who wanted to see how it unfolded. She explained that as onlookers turned up by the pool she stopped and let them pass. That was when she noticed that one of them "made a face and whispered to his friend, 'Look at her… this is what's wrong with girls.'" Longton looks at the camera with a bemused expression before she decides to confront them. "They stood next to the slide, faced me, and started laughing," she explained. Instead of telling them off, she decided to take the high road.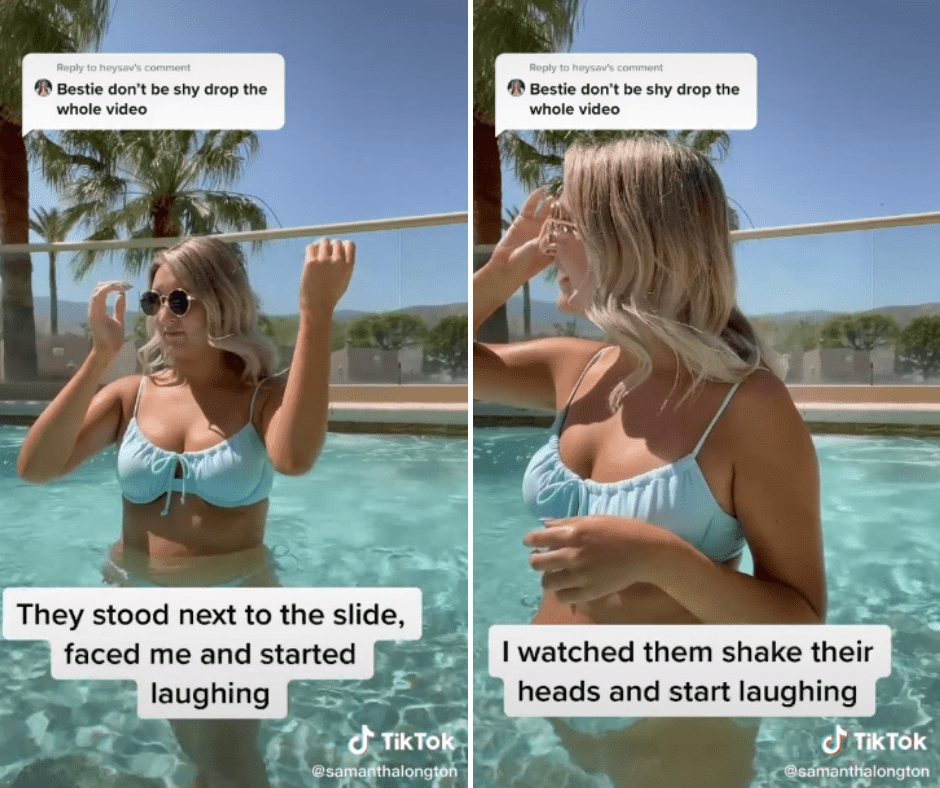 "Did you want to take one, too? I can take one for you if you'd like," she asked them directly. A man's voice can then be heard replying hastily: "Oh err… no, that's alright." She continued, "Maybe I could take a picture of you guys if you want a picture together? It's really pretty." She explained that the whole interaction was too long for a TikTok video, so she didn't upload the first half. The follow-up video has also been viewed more than a million times. "This is the best way to say 'I heard you' without being direct or confrontational," one person noted. "It's the best, sarcastic way of handling this kind of situation."
Longton is a New Yorker who currently lives in Florida. She has over 82.8k followers on TikTok. She works as a Social Media Content Coordinator with Disney Parks. She has become an internet sensation with her video where she killed her bullies with kindness.