According to a report by the World Health Organization, one in six women around the world are affected by infertility in their lifetime. It is a huge problem for women. Awareness is a key element and access to high-quality fertility care is also crucial.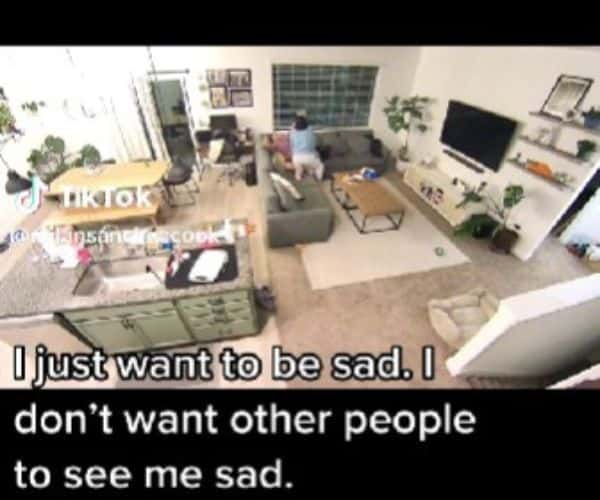 During National Infertility Awareness Week, Milan Sanchez Cook, also known as @milansanchezcook on TikTok, decided to share a clip on the platform where she is seen talking to her husband about her struggle with infertility and how lonely and depressive the process is. It is surveillance footage that caught their conversation. She says to her husband, "I just want to be sad. I don't want other people to see me sad. I don't tell other people because other people don't understand. Nobody understands. Nobody really knows but you." Meanwhile, her husband gives her a hug in this emotional moment.
"I try so hard to stay really hopeful, but all the time, I think I just wasn't ever meant to be a mom. I was never meant to be a mom, it's not going to happen. Not for us. It's not fair," says Cook in the video while continuously crying. The video is captioned, "It's National Infertility Awareness Week and I've been trying to think of something I could share. I made this and immediately hid it away, telling myself, 'it's too sad' 'no one wants to see this' 'it's too real.' But maybe those are all reasons why I need to. Infertility is devastating. It's frustrating. It sucks. Yet life goes on." The video has over 133k views and 10k likes.
She mentioned in the caption that her infertility journey has been full of frustrations and devastation. However, she tries to remain grateful. "And all that sadness and happiness, frustrations and gratitude can coexist. So give your friends going through hard times grace. I promise they are happy for you, but they are also sad for themselves. And that's okay," she wrote. Many on TikTok could understand what Cook was going through and were supportive. @user8024216241399 commented, "'I don't tell other people because other people don't understand. Nobody understands.' This group knows that feeling all too well." @jgeorge109 wrote, "I'm so sorry. We don't do enough for infertility. The options are so limited and so financially inaccessible. Praying you to get your miracle too." @ry_ _2968 expressed, "The way he opened his arms for you to have a safe place to fall apart. I know your pain."
@pebblesgrl22 shared, "We understand, hun. This one made me cry because this is the convo with my husband. It hurts so deeply. Hope we all get the chance." @kourtruff pointed out, "Milan!! I watched this and was heartbroken. But then to recognize a friendly face, my heart breaks even more. Praying for you and your husband! You've always been a beautiful soul- even back in elementary school! I'm sorry you are feeling this pain." @bri_maldo commented, "My heart is with you!!! It's the hardest journey ever. I see you, babe!!! Be sad, let it out, scream at the top of your lungs."
WHO states that close to 186 million people experience infertility, which is about 17.5% of the adult population. Moreover, often infertility is also associated with social stigma, relationship instability, depression, and intimate partner violence. According to another report, almost half of infertile women go through depression, and almost 87% of them have anxiety, as reported by Scary Mommy.