Individuals who are actively seeking new employment opportunities often experience feelings of disappointment and discouragement when participating in job interviews. Interviews are tricky and if you do not know how to play the game strategically, you could be denied the role. Employers do not want to hear about what you like to do in your free time or your strengths and weakness. Recruiters want you to say what they want to hear, which is how you could be of some value to the company. This is being highlighted by a woman named Liz Miller—who goes by @techsalesgal on TikTok—who nailed how to give a perfect job interview in a now-viral video.
"I just gave the best interview of my life, and I will do this for all interviews as long as I live," Miller began in the video. She revealed that, during her interview, she asked a question that allowed her to share the required information without delving into unnecessary details that were not pertinent to her focus.
"Hey, we got 30 minutes and I will talk to you about the role and what we are doing here at the company. But first, I would like to hear a little about you," the recruiter told Miller. Instead of giving a typical introduction about what she likes and does not like, or her experiences in other companies, she decided to use a new approach to answer that question in the best possible way.
"I am happy to share anything about myself during this interview, " Miller responded. "But I want to know what you are most interested in learning about me because it varies from person to person and company to company, what they look to hear. We only have 30 minutes and I want to ensure I am telling you what is most important to you."
The hiring manager appeared surprised by Miller's spontaneous response and requested her to elaborate on her previous experiences with selling tools in the software development space, which is relevant to the current job interview. She begins to share the nitty-gritty of her old jobs and mentioned that she did not talk about the "ugly points in my career" because they were having such a "rich conversation about what he wanted to talk about."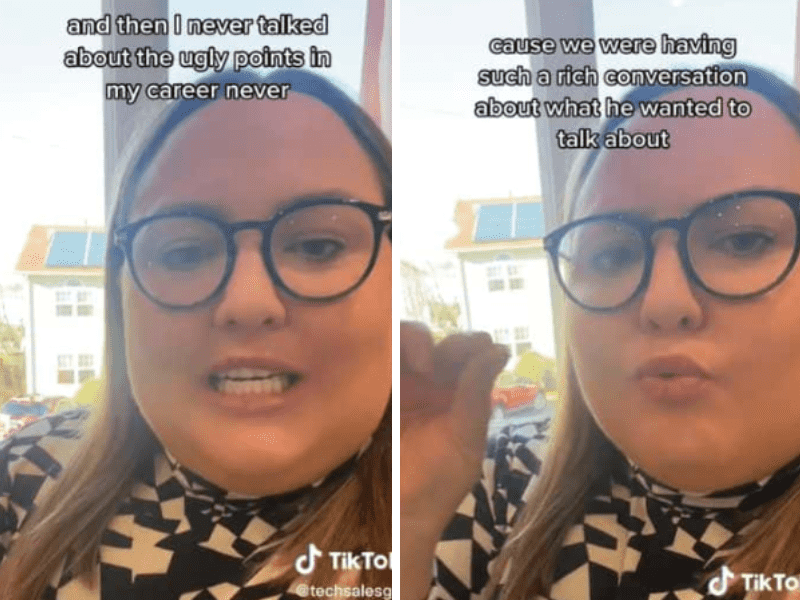 "I also just think it's such a good question because it's a pattern interruption where you're like, 'I'm happy to talk about myself, but what do you want to learn?'" Miller added. "That is how you should think about selling. People get on the demo and they're like, 'I just want to see what you have.' And you're like, 'Okay, but I could talk about anything, but what do you want to hear about?' I just candidly think I'm a friggin genius."
This is the exact confidence and perspective job interviewers look for during the hiring process. During your interview, there may be candidates who are smarter, brighter, more intelligent and more experienced than you. However, the key is to focus on making the most of your 30 minutes and showcasing your strengths.
In another video, Miller mentions that she has started a new job, meaning her trick of handling an interview did work. People on TikTok thanked Miller for sharing such vital advice. "As a recruiter, I love that. It implies you are engaged, and not robotic. I would much rather it be an open convo. Good idea!" said @geanbugg. "Great job. It turned the interview into a conversation. It also turned the tables to see if they did their homework on you," added @lawgal71. "Brilliant! I'm interviewing for promotion next week and will use this answer if asked - chef's kiss!" shared @shanthis2724. "I did this today!!!! The interviewer was so appreciative that I was concerned about getting to what she wanted to truly know. Thank you," wrote @tiffanyfallin.