Cows are always seen in their natural habitats such as barns or grazing on lush green pastures. However, it's highly unlikely to find a little calf sleeping beside the bed of her owner inside the house. Meet Millie, an adorable-looking calf who has won over the netizens with her cuteness. Her owners, Marriah and Kenny regularly update about Millie on their social pages along with their pet huskies. A recent video of Millie has drawn a lot of attention from netizens as well as an appreciation for Marriah.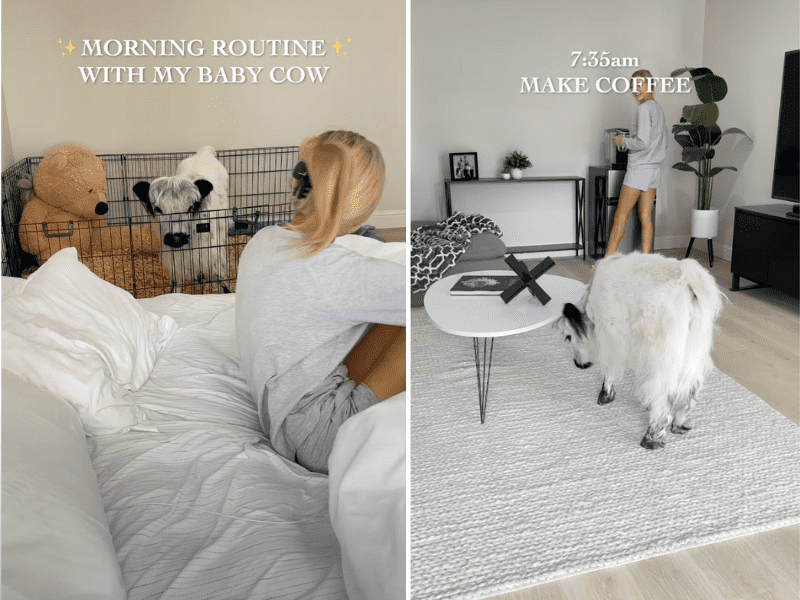 In the YouTube video, we can see Millie going through her morning routine alongside her owner which starts with waking up next to her in the bedroom. Though the baby cow sleeps in a little barricaded area beside Marriah's bed, she is still full of energy when Marriah wakes up to shower her with lots of love and care each morning. Marriah has reposted the clip of Millie's morning routine on her Instagram as well where she explained why Millie was inside the house instead of the barn.
"This was our morning routine for Millie's first week with us, it was our last morning waking up together so I wanted to document how special it was. Calves can get sick really easily so I wanted to keep a close eye on her 24/7 during that time but she now sleeps in her barn with her friend, yes we've been keeping a little secret," Marriah wrote on the Instagram post's caption. The video begins with Millie waking up as usual and then joining Marriah to make some coffee.
After Millie laps at some of the coffee and enjoys the Spongebob cartoon on TV, it's time for a little adventure at the barn for her. Millie gets some milk for breakfast and then goes around for a walk with Marriah around the property. Millie also gets to play with a toy that is stuffed with hay and hung from a thread as she pokes into it with her tongue to feast on it. By the time it's 10 a.m. Millie is done with her extremely precious morning routine and she flashes her teeth to prove that it was a joyful morning for her indeed.
---
View this post on Instagram
---
The video on YouTube and Instagram received tons of comments where netizens were melting over how cute and well-behaved Millie is. Some even called her the cutest baby cow in the world. In the YouTube comment section, @belindahughes7219 wrote: "Doing good, Millie and Mom! Gotta say that's the cleanest barn and grounds I've ever seen. Can't wait to meet your little secret." @satisfyingStuff12342 exclaimed: "I still can't believe that you have a fluffy baby cow. They are my favorite animals. I am obsessed. Help!"
@kimjunkert5002 wondered: "She is absolutely adorable! What kind of cow is she? I kind of have an idea but not sure!" Responding to the comment another person wrote that Millie is from a breed of cows known as Scottish Highlanders. In yet another cute video, Millie can be seen learning to respond to her name as Marriah patiently calls for her and thus, Millie's little adventures continue. The fluffy baby cow which can fit right in with the pet huskies in Marriah's family has definitely become a delight for the internet crowd.