In the grand tapestry of our lives, there are moments that often transport us back in time, evoking nostalgia and a profound sense of how much the world has changed. Jeanene—who goes by @jeanene333 on TikTok—recently shared one such moment that has left countless viewers in awe and nostalgia. In her TikTok video, she takes us on a journey to the year 2000, sharing a grocery receipt that has miraculously withstood the test of time for 23 years.
Jeanene kicks off her video with a dose of humor and wonder, asking the question that's likely on everyone's mind: "How did this receipt survive? 23 years?" She playfully speculates that the grocery store, Stater Brothers, must use some sort of supernatural paper, given its incredible longevity. But beyond the mystery of the receipt's survival, there's a deeper story to be told. "Don't ask me why I still have this. That's another problem," she quips, acknowledging the universal human tendency to hold onto things that carry sentimental value. This humble grocery receipt, tucked away for over two decades, has become a time capsule of sorts, offering a fascinating window into the prices and products of a bygone era.
As she delves into the heart of her grocery receipt from 2000, she takes viewers on a priced walk down memory lane. The shockingly low prices of everyday items are enough to make anyone nostalgic. She points out, "Look at all the items I got for only $104." In today's world, where grocery bills can easily soar, this seemingly modest sum for a cartful of groceries is indeed eye-opening.
She highlights some noteworthy price comparisons that underscore the profound changes in the cost of living over the past two decades. In the year 2000, rib-eye steak could be purchased for a mere $3.99 or $3.75 without causing any financial distress. Diapers, an essential item for many families, were a relatively affordable $7.69. Even skincare products like moisturizer, often perceived as pricey today, were a bargain at only $8.99.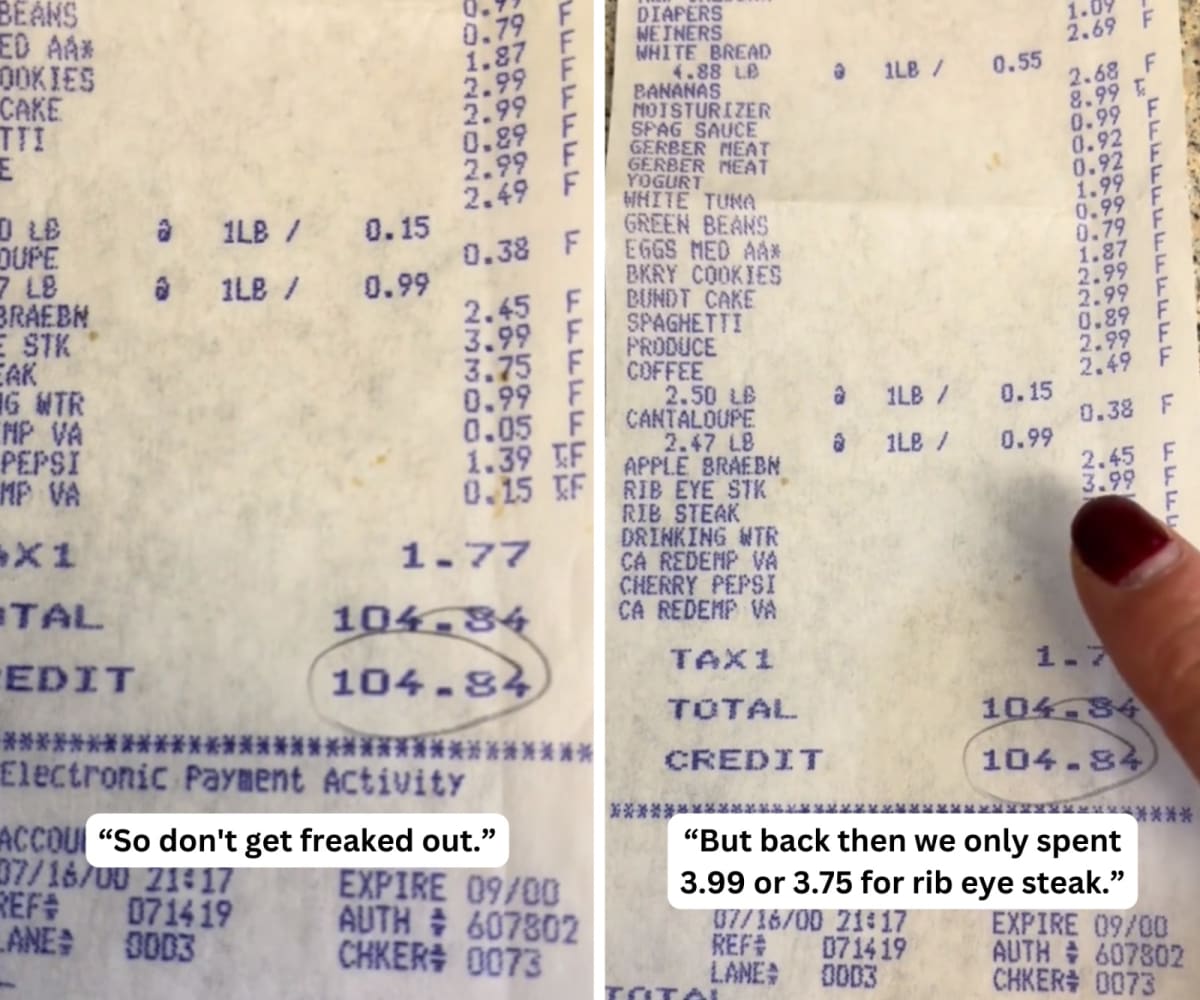 She observes, "It's weird, though because your basics like milk and eggs and stuff like that didn't really go crazy." While no one is buying eggs for $1.87 anymore, these staple items still remain reasonably priced in comparison to other commodities. A trip down memory lane wouldn't be complete without mentioning coffee, which was available for just $2.49. The cherry on top of this nostalgic journey is a cherry Pepsi for a mere $1.39.
As she reflects on this 23-year-old grocery receipt, she contemplates the sentimental value it holds. She candidly admits, "I'm now going through boxes that have been following me throughout my life, and it's so hard to throw it away because I can't believe I'm looking at history 23 years ago." The act of parting with this piece of her past is a poignant reminder of the passage of time and the inevitability of change.

In the comments section, users shared their own thoughts and experiences. One user, @acruz1124, humorously noted, "Looks like parchment paper, even receipts were better then lol." This comment speaks to the enduring quality of the receipt paper, which has outlasted its contemporaries. Another user, @seraphrdm, added a contemporary perspective, saying, "And to think my dad literally just bought about $275 maximum worth of groceries for a week today." This remark highlights the stark contrast between the cost of living in 2000 and the present day, underlining the extent to which prices have risen over time.