In this day and age where social media and dating apps have more or less replaced the trusty meet-cutes of the yesteryears, how does one get their crush to notice them? According to University of Minnesota alum Lizzy Fenton, the answer is to draft a PowerPoint presentation titled "Why You Should Date Me." Fenton, a scientist specializing in genetics and cell biology, made quite a splash on Twitter a few years ago when she shared the detailed and persuasive presentation that she made to convince her crush to go out with her. "I just emailed this PowerPoint to my crush Carter do you think it'll work," she asked her followers.
In the first slide of her presentation, Fenton made a strong case for how she would prove to be a big hit with the parents. "Sick of your family nagging you to get a serious girlfriend? Look no further," the slide reads. "I am a tantalizing conversationalist and can hold riveting table talk with your parents. I am well dressed and look classy at Thanksgiving dinner, family reunions, and other events of the like. I have an edgy yet tasteful sense of humor that will be sure to win the approval of your mother." In the next slide, Fenton explains—with photographic evidence—how she would be a great partner for someone who is not into monogamy.
Sharing three photographs of herself featuring three very different hairstyles, she wrote: "Dating me is like having three different girlfriends. My diverse hairstyles allow me to look like three completely different people." Using understated fonts and colors to maintain a level of professionalism throughout the presentation, Fenton then moved on to a slide titled: "My boobs exhibit steady growth over time." Complete with a graph and statistical analysis, she demonstrated the increase of her cup size through the years, predicting that by 2025 "each breast will be roughly the circumference of a human head."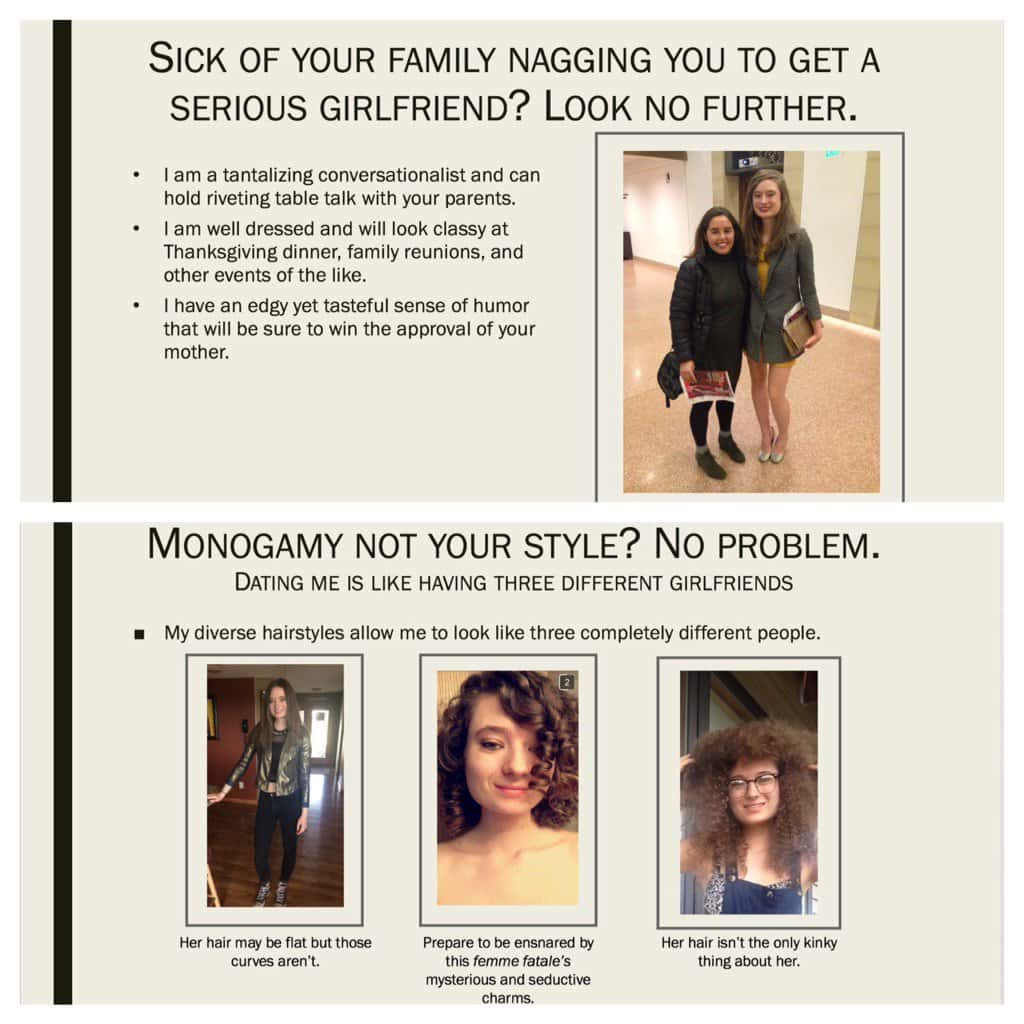 Fenton also made sure to assure her crush that she isn't just all about the witty lols, boobs and statistical analysis. She assured him that she is "financially stable" with ties to "benefactors"—aka her parents—and that since she is always at work, she won't be too clingy. Fenton rounds off her presentation with some "endorsements" from the likes of Channing Tatum, her mother, Carter's ex and Miss America 2012. "Wanted to ask her out but she's way out of my league," Tatum allegedly said of her.
While many on Twitter—including Microsoft, which responded to her saying she was "pretty dang great at PowerPoint"—loved the insane amount of time and effort Fenton put into this, she claimed in an update posted a couple of days later that Carter was unimpressed. "This is very nice. Please stop contacting me," he reportedly told her. While Fenton's presentation is undoubtedly one of the most entertaining things to have graced the internet, the whole tale spun around and is best taken with a grain of salt as it appears Carter may have been in on it.
BuzzFeed reached out to Fenton for a comment, only to be told "My PowerPoint is stupid. There are far more vastly interesting things to write about"—a tweet from October 2016 and some photos shared on Instagram indicate that Fenton and Carter might actually know each other better than it originally seemed. Be that as it may, you've got to admit, that is one brilliant PowerPoint presentation.