When runners 'get set, go!' at marathons, their whole focus is on making it to the end of the line in their set-goal time. Some run for the thrill of it and not as part of their competitive streak. However, for those who run with a focus and a goal, it's rarely anything that can distract them from their strides. However, there is one thing that can distract anyone from anything and that is love. Sarah Bohan's participation in the Chicago Marathon turned out to be quite different than what she had aimed for and the reason for that is her love for furry friends, per Insider.
---
View this post on Instagram
---
As she set foot after foot running the 26.2-mile journey, close enough to set her personal record in the race, she caught sight of a furry being. PAWS Chicago revealed that the 26-year-old runner spotted "something white and fluffy" out of the corner of her eye and recognized a little kitten hidden under a pile of leaves. The next thing she knew, Bohan picked up the kitten and noticed that it was "dirty, scared and skinny" hinting that it was a stray. The animal lover and mother to two rescue cats made a decision in the bat of an eye to let go of her chance to run her personal best record. Instead, she chose to take charge of the well-being of the fragile kitten and find her a home.
Bohan, who was representing Team PAWS Chicago, was soon joined by fellow animal lover and runner Gia Nigro and together the two women ran in search of a home for the little lost being. They had little luck with the many onlookers at the marathon, but the cat's peripeteia was unstoppable, thanks to Bohan.
Soon the two came across Andrea Maldonado who was standing on the sidelines with her friends. Maldonado already had three furry members in her family, two cats and a dog, but that didn't stop her from opening up her home to this little kitten as well. She shared, "I knew I could provide him with a good home and we love cats and animals. So I said, 'Okay, what's one more, right?' The more the merrier."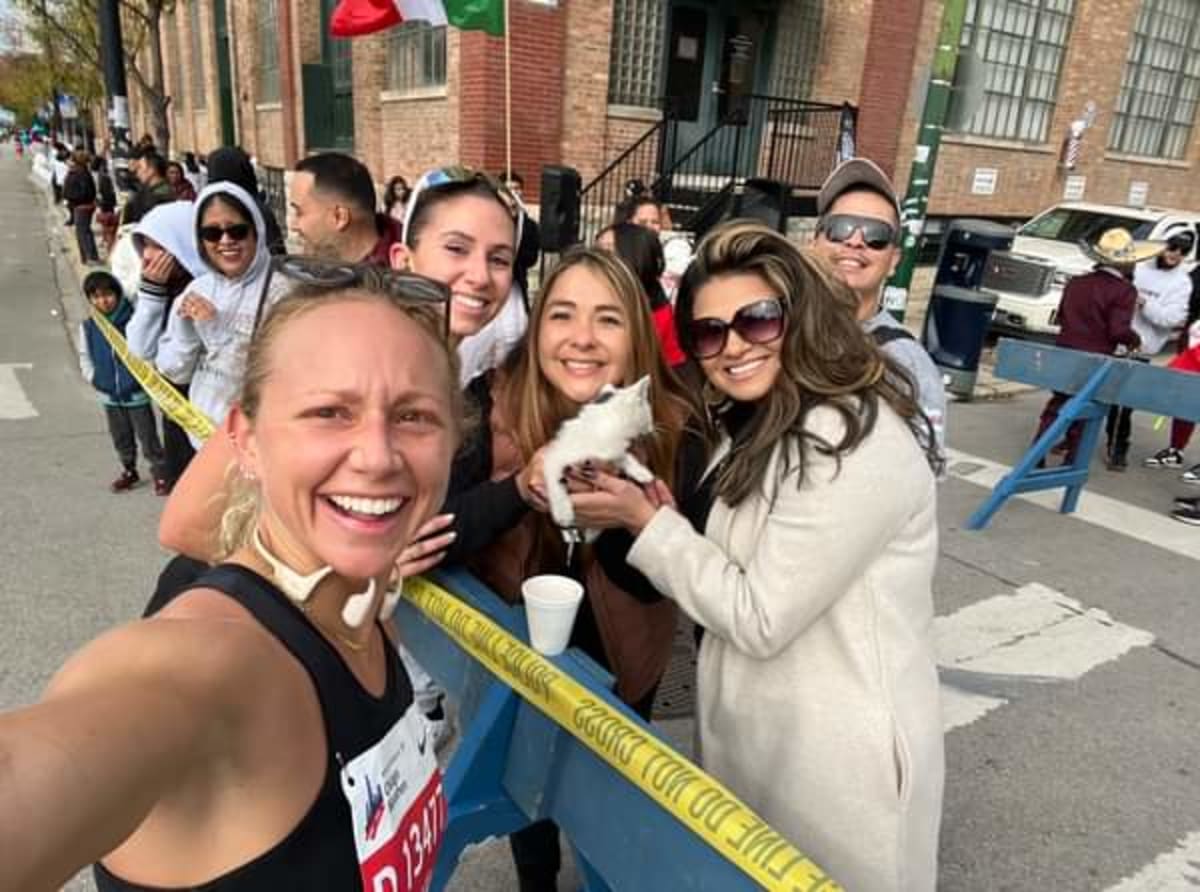 PAWS Chicago expressed their thanks to "the kind Samaritan who stepped up to give this kitten a home" with a free vet check at PAWS. The kitten was identified as a male weighing 1 pound 12 ounces. He was given preventive flea and tick treatment, a microchip and standard vaccinations. The new addition to Maldonado's family is named Casper and she expressed, "Our girls love him. Our family loves him. Our dog loves him."
Sarah Bohan's strides at the Chicago Marathon took a turn towards kindness and that miraculously worked in changing little Casper's life forever. His experience of an overwhelming crowd at the marathon turned into finding his forever home and this beautiful occurrence of kindness gives hope for a better world, one filled with open doors for terrified stray animals.