Trigger warning: This story contains themes of gender dysphoria and transphobia that some readers may find distressing

Misgendering people can trigger trauma and gender dysphoria, and it's important to be mindful of that when talking to someone. One woman let her waiter know in no uncertain terms that she had repeatedly misgendered her boyfriend, a transgender man, and ruined their night out. She left a note on the bill and a small tip for the poor service for misgendering her boyfriend. "You had 3 different chances to not do that! Be better next time. It's 2022!" she wrote. The note was shared in a video posted on TikTok by user @licibaby96. The video went viral garnering more than 2.2 million views and 226k likes.
She posted the video and captioned it, "What a rude woman! Like we told you 3 times! You had no excuse to keep doing it! At that point, it's disrespect! I hope you have a horrible day!" Having worked as a server herself, she knew she couldn't not tip her. Her bill came up to $46.16, and she left $5 in cash as a tip. Even after being disrespected and hurt, she still left a tip for the waiter. When one user commented that $5 was too generous for someone who paid no attention to her and misgendered her boyfriend, she replied, "I know, but I did that for me, I can't not tip, ugh 😩 plus she NEEDS that 5$ we do not lol."
She specified that the waiter had first approached their table, saying, "Hey ladies." She corrected the server, telling the server that her partner is a man. The server apologized for misgendering him. She even gave her the benefit of the doubt because she was a little "older" even if it wasn't a valid excuse to misgender someone. But then, she came back and misgendered him again. The user lost her cool and explicitly told her, "This is a f*cking guy." She apologized a second time and even said she hoped they weren't insulted by it. She let the waiter know that her misgendering him hurts him. "And I'm like, 'Well no, he's trans, so he probably is f*cking getting his feelings hurt,'" she said in the video.
If that wasn't enough, she returned one final time and said, "OK ladies, have a good f*cking day," she recalled. "The ignorance is ridiculous," she added. She went on to add that people tend to be careful after she corrects them about her boyfriend's identity. She was livid the server misgendered her boyfriend repeatedly. "But you f*cking did that shit three times," she said. "You're lucky I tipped you at all. It's 2022, get with the f*cking program. Oh my god. Just stop gendering people if you don't f*cking know." She added her boyfriend was so hurt that he couldn't finish his meal and "just wanted to leave."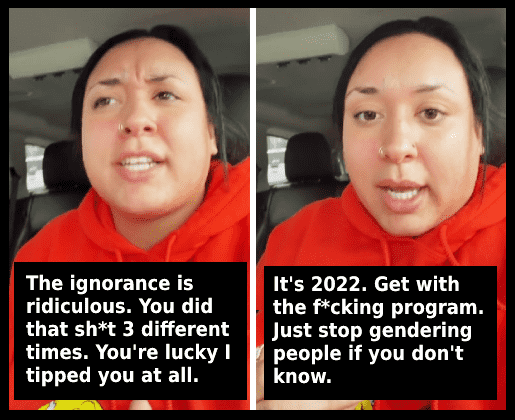 TikTok users slammed the server for repeatedly misgendering her boyfriend and some even wondered if she had done it on purpose. "Leaving $5 is still generous because I wouldn't have left anything lol," wrote one user. "You need to call the manager!!! It was on purpose completely," added another user.
Some servers chimed in saying they always use gender-neutral terms. "I'm a sever and when I don't wanna misgender someone I always say "hey y'all" or "hey you guys" like come one it's not that hard tbh," they wrote. Another served added, "When I was a server I would say "how are y'all doing". I never understood bringing gender up in a convo because it's the 21st century you don't know." User @licibaby96 weighed in, drawing from her own experience. "Literally, I was a server, I misgendered someone 1 time! And never used pronouns again!!!" she wrote. One person sarcastically wrote, "Poor old lady. She probably wandered out of the nursing home this morning and thought she was waitressing back in 1902."