A young woman's experience of dealing with a customer's relentless attempts to flirt has once again sparked conversations about men overstepping boundaries. In a video that has been viewed over 6.6 million times since being uploaded last week, TikTok user Mickey Serbia-Ruiz shared how uncomfortable she was as the man kept trying to chat her up. "Bro I'm at work. Can't catch a break," she captioned the video, which shows a clearly tensed Serbia-Ruiz fielding several personal questions from the unidentified man. Despite the woman's evident lack of interest in his advances, the man refused to call it quits and asked her multiple questions about her age and where she went to college.
In the video, the man approaches Serbia-Ruiz with queries about whether she's still in high school. When she politely replies that she has graduated from high school, he immediately shoots back questions about her college and its whereabouts. Serbia-Ruiz revealed in a comment that she lied about everything except her age since she did not trust the man.
Undeterred by the woman's curt responses and evident lack of interest, the customer calls out to her after a while to help him pick out some stickers. When Serbia-Ruiz cleverly sidesteps the move by insisting that he's "got it," the man resorts to some embarrassing tactics to get her talking.
When he finally pays for the items he picked out, the man asks her: "Do you wanna know my pin?" Serbia-Ruiz politely declines his offer and informs him that he was "all set" to leave. However, the man continues to stick around and proceeds to ask her yet more questions.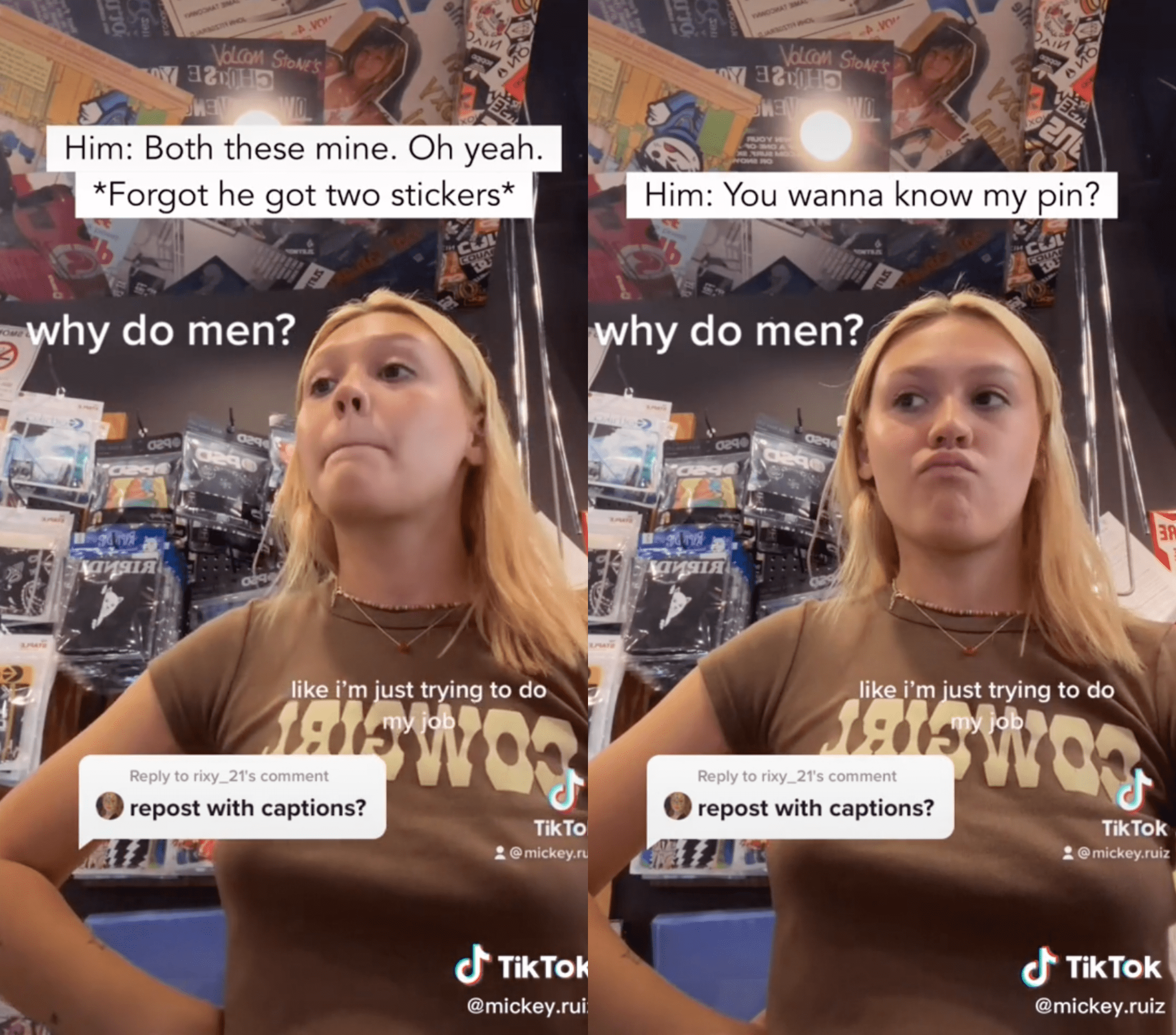 He eventually leaves after what seems like an eternity but not before asking Serbia-Ruiz if she likes to hang at the beach and telling her that she's cute. TikTok users marveled at the man's apparent inability to take a hint and leave the woman alone. "Every time I thought he would be done talking he just kept going," one commented while another wrote: "You literally COULD NOT act more uninterested and he STILL could not take a hint!!"
"Just a heads up men this ISNT playing hard to get it's literally being uninterested and it won't change," commented one TikToker. Meanwhile, there were also a few who called Serbia-Ruiz "stuck up" for not engaging in conversation. Responding to one such comment with a video, she said: "Hey, it's Mickey! I just want to let you know that women don't owe you sh*t. Okay? I was just trying to do my job and this man came in asking personal questions about my life which I am not required to [answer].
"That video was me being calm, collected, and trying to be safe because I'm not sure how a man is going to respond to my rejection. Because many women have been hurt, murdered, because they said 'no.' So, I would rather take the precaution of me still responding even though I was clearly uncomfortable rather than just being a 'b**ch' and somehow risking my life," she added. "Put yourself in my shoes. I was the only one at work. He was the only person in the store at the time and he just comes in asking personal questions about me and my life. There was no conversation prior to that. He just straight up started asking me how old I was, what school I went to, where that school was. Don't you think that's a little odd? A little creepy? Women aren't b**ches, we're just uncomfortable and scared because we don't know how men are going to react."