Usually, people prepare their lunch at home the night before, in the mornings, or pack leftovers. They might heat it up during the lunch break before having it, but preparing the whole meal at work sounds impossible. However, a TikTok user, @timetoletergo, in her video, makes steak, beans and sweet potato during her lunch break using an electric lunchbox. People on the internet can not believe their eyes. Allison might be the first seen marinating the steak in her lunchbox as she mentions that it's 7:30 am. She adds soya sauce and seasonings. Allison also wraps a sweet potato in foil and opens a jar with beans. During lunchtime, she puts the meat, sweet potato and beans in her electric lunch box. After 30 minutes, Allison opens the lunch box to take out the food. She says, "Of course, the meat is looking hella sus per usual." She plates everything and then tastes the food. She says the steak "tastes good" and so do the beans, however, she doesn't like the sweet potato.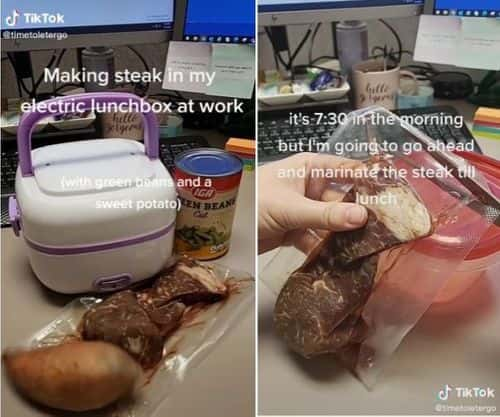 The two-part video went viral with 21 million and 2.9 million views. She captioned it, "BEEF... it's what's for lunch (at work in my electric lunchbox)." Many on the social media platform were not in support of making lunch at work. @laurenisonlyhuman commented, "as an office manager... I would have a line out my door of people complaining that you were doing this at your desk." g3d128 commented, "Why don't you prep everything at home and then just cook it there?" diva_nay1 commented, "clean the table but not the meat😂" @shannond018 commented, "and your lunch break is over before you even get to eat lol to much work just make at home.. 😁"
It is not the first time that Allison made her lunch at work. She has many other videos on her channel, in which she has cooked lasagna, pho, steak burrito bowl, fried rice and even a Thanksgiving dinner. In a similar video, a recipe claimed to cook a stack of pancakes in an air fryer and people are just loving it. A video posted on TikTok by Currys uses a Tefal Easy Fry air fryer to cook six fluffy pancakes, according to The Independent.
The pancakes looked perfect after being taken out from the air fryer and presented with chocolate syrup poured on top. Air fryers have become a more energy-efficient cooking method for people as the cost of living crisis continues to hit people. The video was uploaded on Twitter and many tried the viral recipe. @tania_tweetz commented, "I was so anti-air fryers because who wants to eat dry chips and chicken, now that I see what more you can do with them I'm reconsidering and I'm thinking of adding one to my cart." @Lala2Gunz commented, "Air Fryers were sent from the heavens. My oven broke around Thanksgiving (the stovetop still worked) and I made the majority of the dinner in my air fryer. Here's how my baked mac turned out. I was in awe."
However, some people who tried the recipe also called it fake. Some say that the baking paper should have been burnt due to the heat, but in the video, it looks untouched.