Vans Warped Tours used to be a famous traveling rock tour for punk-rock and emo teen attendees in the United States, with some stops in Canada. It was actually a launching pad for bands like Blink 182, Sum 41, Limp Bizkit, My Chemical Romance, etc, according to a report by Scary Mommy. The rock festival toured each summer from 1995 to 2019. Mom @oceanic.mama brought back the memories of the longest-running touring music festival in the US when she threw a Vans Warped Tour-themed birthday party for her kid.
She shared a video on TikTok and captioned it, "When elder emos have kids. Bubs Warped Tour '03!" It shows a tour-themed cake and then a bounce house that looks exactly like a music festival stage. The backyard party ticked all the boxes when it came to recreating the Warped Tour vibe.
Guests can be seen sitting on the grass and having a whole lot of fun. The posters behind the birthday boy read, "Nobody likes you when you're turning three." Moreover, the parents wore cool T-shirts with "security" written over them and the little boy was wearing a Vans Warped Tour tee, laughing while eating snacks in his high chair.
The overlay text read, "Bubs Warped Tour 2023 is a wrap! Thank you, pals!" The video ends with the birthday boy, Salem, taking a bite of his colorful cupcake.
The clip from the birthday party went viral with about 849 thousand views. Many people on social media loved the party's theme. @glittersailor commented, "We did 'warped two' for my little boy's birthday in April, the best theme!" @kymness19 wrote, "This is the coolest idea ever!" @_astoldbyallison_expressed, "This is my favorite ever! Great job!" @kerrysmithy said, "Dream parents for me." @katy6488 said, "I now identify as one of your children and I demand a birthday party just like this."
This sure was a party that was too cool to miss. Talking about themed birthday parties, mom @thescallywagfam shared a carousel of her son's Titanic-themed party in a TikTok video.
---
View this post on Instagram
---
People were surprised to know that the child was interested in a subject that was pretty tragic in reality. The boy even asked for gift bags at the party to be themed in two categories: those who had died and those who survived their voyage on the doomed ship. The photos from the birthday bash had a watermelon with different fruits spilling out of it and looked like a sunken ship.
The pictures of the goodie bags the birthday boy wanted were also color-coded, where blues indicated the passengers who survived and the red ones indicated those who couldn't survive the historic journey.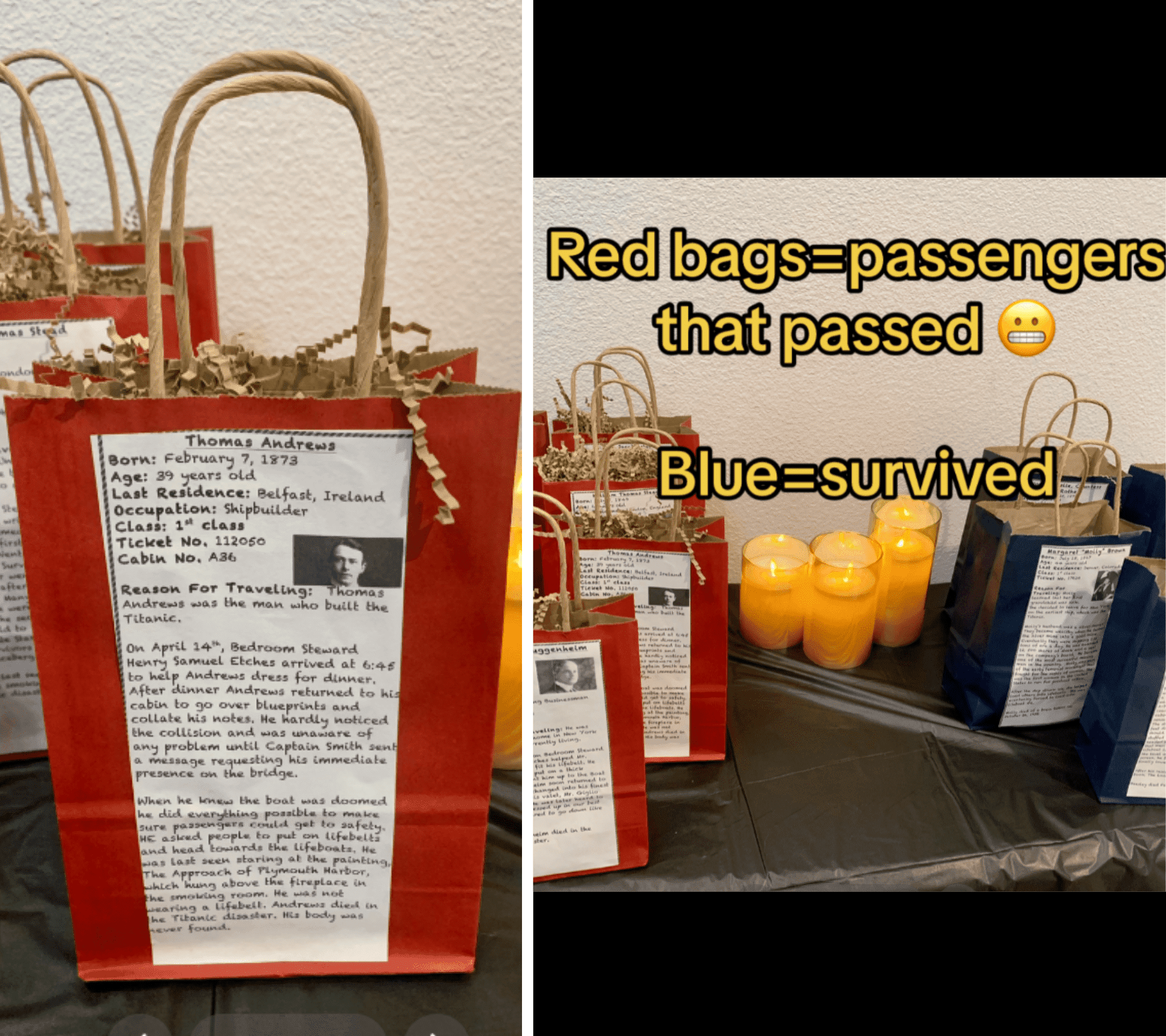 The bags comprised handwritten information that included images, names, birthdays, last residences, as well as, the passenger's reason for traveling on Titanic. On his birthday, the boy dressed as Edward Smith, who was the captain of Titanic. He died when the ship sank on her maiden voyage in 1912.
There were also pictures of a DIY pinata, which was modeled after the Titanic. It had a label on it that read "RMS Titanic."