Not everyone knows how to deal with kids in restaurants and other public places. It sometimes requires a lot of patience and love to be around them and it can only be done by a kind-hearted person. A waitress at a restaurant was giving grated cheese to one of the young customers and the little one has the most adorable reaction.
A video posted on Reddit by u/MoniMokshith shows a waitress adding grated cheese to a child's pasta dish and she tells her, "You tell me when alright? The girl responds, "Yeah." After a few seconds, she tells her, "Stop."
Then the child asks to put the cheese straight into her water and the waitress obliges, "Absolutely, ma'am. Tell me when." After she puts the cheese into her water, the toddler says, "Stop." And asks her to put the grated cheese into her mouth and the waitress says, "Oh wait, certainly."
Once the waitress puts some cheese into her mouth, the child asks her to stop. "Is that enough, ma'am?" asks the waitress and the kid nods her head. The person recording the moment can be heard laughing the entire time.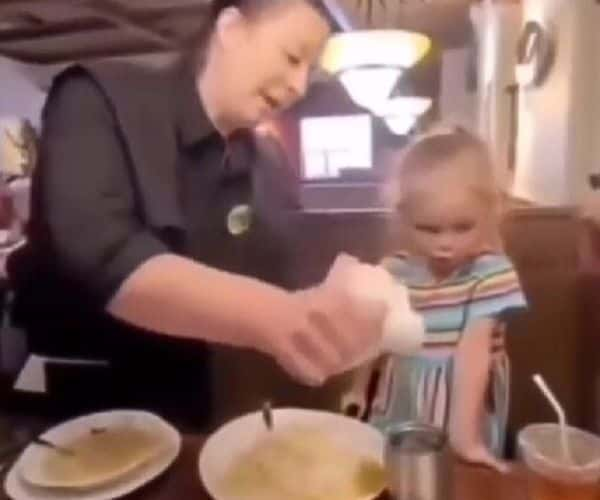 The video is captioned, "Now that's a waitress that deserves a nice tip.." and has more than 32k upvotes on Reddit. u/ZaLostone commented, "Being nice to kids is heavenly." u/VonDeckard wrote, "Little pure and magical exchange to remember forever." u/cherrycokelemon expressed, "That's so cute!" u/OfficialDJBendy pointed out, "That's pretty wholesome." u/hopefulworldview commented, "I love that stare of realization the child had when she looked down after processing why she couldn't say stop." u/hiigghh-C commented, "I've been working in a restaurant for almost a year now and let me say, treating (well behaved) kids as if they are adults is definitely the funniest part of the job. "And for you ma'am? Extra ketchup with that? Of course, and may I suggest pairing that with a Sprite? Yes but in a fancy glass? Good choice!"
Such waitresses surely deserve a nice tip. In another heartwarming story, on January 9, Traci Kaule was working a double shift at Michigan Chili's. It was a slow night and there was only a bartender other than her on the restaurant as staff. However, she didn't know that this was going to be one of the best nights of her life. The Schupbach family was there honoring the memory of their late son Nash, on what would have been his 9th birthday. The family was looking forward to doing an act of kindness.
The family connected with Kaule. Their 7-year-old son, Crue told her mother, "We need to Nash her." Nashing, for them as a family, means doing a random act of kindness on the 9th of every month. They started this tradition when Nash would have been 6 months old. He, unfortunately, died of positional asphyxia when he was 5 months old at his daycare, as reported by TODAY.
The idea of doing acts of kindness came from Michelle's sister-in-law. That time, the mother could barely get out of bed. But once, she came to know what people around the world were doing to spread joy in Nash's memory, she also decided to do it.
So when the family met Kaule, they felt that Nash had brought them together. Michelle said, "She was so sweet, playing with Mack (Schupbach's 6-month-old son) and talking to Crue." The family gave her $1000 as a tip.