A little bit of kindness can go a long way. Being kind to service staff is something that we all are taught but many fail to follow that in real life. People are often rude and ignorant to the staff that serves them in restaurants and bars. However, once in a while instances of kindness with service staff can inspire us to do the same. O'Byrne's Irish Pub—who goes by @obyrnespub on TikTok—shared an account of one such incident. The viral video shows a man bussing his table before he could leave. For a quick idea, bussing refers to settling or sorting the table. In this context, the customer stacked his plates and other cutlery neatly on one side of the table for the waiter to collect and leave.
The Irish pub is known for its quirky and welcoming ambiance and is quite popular in the country. Now for some, bussing a table may be a very usual gesture. Though they are meant to be our duty, in an individualistic world, even the basic etiquettes are pedestalized. Therefore, what should be genuine becomes something unusually great in the eyes of the world. However, the majority of the population doesn't even bother to thank the staff for their service, let alone buss a table.
The waiter serving him at the table came to collect the cutlery and saw the same neatly stacked and was taken aback. He said, "Someone cooked here." His phrase was referenced from the famous "Breaking Bad" series. The series indicated that the phrase meant that someone had made their mark before the other. However, in the given situation's context, the statement's meaning is rephrased as having a hold on oneself or "to have your sh*t together." What he meant by the phrase was that someone, indicating the customers at the table, had their etiquette in place and knew what to do.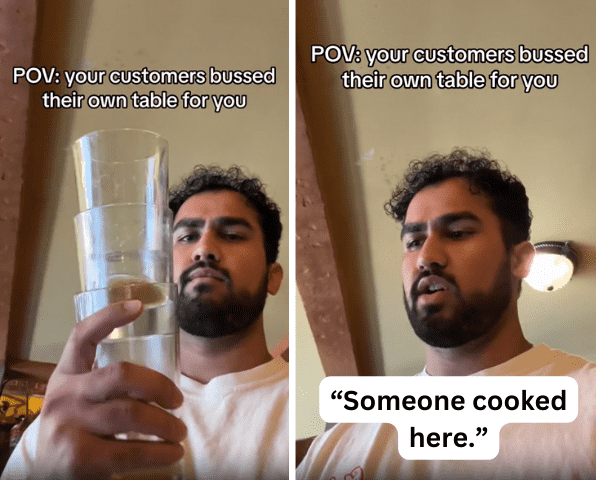 For the waiter and even for us, it is not often that we'd see a customer buss a table before leaving. Simple etiquette of being polite to the staff, thanking the staff, showing respect, exercising table manners and so on are taught at a young age. It's not that we forget them, it's just that in the hustle of getting to the top we tend to ignore the subtle things that make us human. Staff and help from various organizations are not inferior to us, they're as much a part of our world as others. They are humans and should be acknowledged by default.
The post received millions of views and a mixed reaction of applause and criticism, the latter due to the ignorance of many like the customers. @thomasruss said, "I'm surprised not everyone does this. Common courtesy ain't so common anymore." @_raindrop_official_ said, "I do that every time and get so tired of hearing, you know that's their job right?"