Members of the American fencing team wore pink masks at the Tokyo Olympics to protest the participation of one of their teammates, Alen Hadzic, who has been accused of sexual misconduct by three women. It was one of the defining images from the Tokyo Olympics. Jake Hoyle, Curtis McDowald, and Yeisser Ramirez wore pink masks, as they stood next to Hadzic, was the odd-man-out in black, reported NPR. The three fencers were rallied to show support for the sexual assault victims. Days after Alen Hadzic had secured a spot as an alternate on the US Olympic team, six women fencers including two Olympic athletes wrote to the Olympic committee stating that Hadzic should not be allowed to represent the country as he was being investigated for sexual assault. Three cases of sexual misconduct were reported to the US Center for SafeSport, a nonprofit agency that aims to protect athletes from abuse.
They stated that Alen Hadzic posed a direct threat to other athletes. "We are gravely concerned about the impact Mr. Hadzic's potential presence will have on other Team USA athletes," wrote the athletes on May 20, reported Buzzfeed news. Hadzic denied the allegations. He had initially been suspended from fencing by the U.S. Center for SafeSport, but an arbitrator ruled that the suspension was "inappropriate to the allegations" and added that him representing the country would not be "detrimental to the reputation of the United States or his sport." His teammates were furious and questioned SafeSport.
USA fencing created a "safety plan" to keep him say from the women, and ensured he didn't stay in the Olympic village. "Team athletes have expressed concerns for their safety and well-being arising from your presence, which they say are likely to adversely affect their mental and emotional abilities to prepare and compete at the highest levels required for success in the Olympic Games," wrote Kris Ekeren, CEO of USA Fencing. "Several have asked that USA Fencing put measures in place to keep them safe and minimize distractions from training and competition. Accordingly, USA Fencing, in conjunction with the USOPC, will implement a safety plan for the upcoming Olympic Games."
He didn't fly along with the rest of the team to Tokyo and was asked to stay at a hotel 30 minutes away from the other athletes. He was also told he wouldn't be allowed to practice along with women teammates. They were furious he was even allowed to participate and accused the system of protecting him "again and again." He was accused of sexual misconduct by three women between 2013 and 2015. Jacqueline Dubrovich, a member of the U.S. Olympic fencing team, accused the other members of "performative activism." She said Hadzic needs to be held accountable. The people/systems who enabled and protected a violent predator are not being held accountable. Female athletes were not protected and our safety was deemed unimportant," wrote Dubrovich on Instagram.
Hadzic said his teammates had handed out the pink masks. When he asked for a pink one as well, they said no and handed him a black one. He realized they were protesting his presence only he was sent a photograph after the United States lost its team match to Japan on Friday. Hadzic's lawyer, Michael Palma, argued that USA Fencing was trying to avoid negative publicity and that it was keeping the fencer "from participating in the Olympic experience that he has rightfully earned."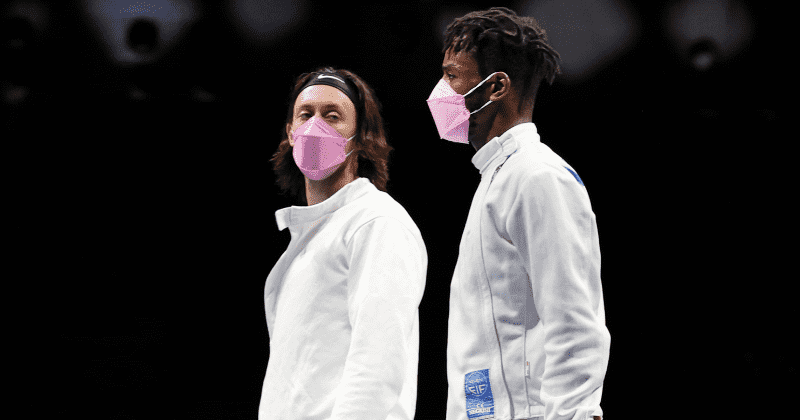 Hadzic's reputation of being aggressive and volatile predates the formal accusations. A former captain said he was "very scary to be around," especially when he was drinking. According to a report to SafeSport, a former teammate said she had seen Hadzic kick an unhoused person "then laugh about it." Katya English, a former fencer who dated Hadzic, said she could see patterns of sexual coercion when looking back. "If I were a woman in Tokyo, I would absolutely demand security if he was going to be on the premises," said English, who works at the East Los Angeles Women's Center supporting survivors of rape and domestic abuse.
If you are being subjected to sexual assault, or know of anyone who is, please call the National Sexual Assault Hotline at 800.656.HOPE (4673)