Editor's note: This article was originally published on March 30, 2023. It has since been updated.
Some weddings are as beautiful as the love stories of the two people coming together on that day. And so was Audrey and Alex Chowbay's wedding at the Lone Star Flight Museum in Houston, Texas. The two fell in love during their in-flight training, according to MyModernMet.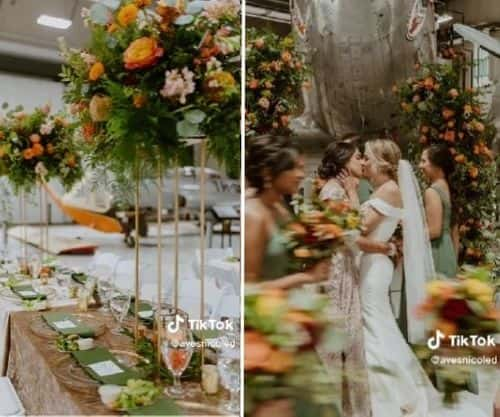 The couple took their vows under the cockpit of a plane, which made the wedding even more meaningful for them. It all started in 2018 for them at the flight attendant training. There were more than 300 people present with them. Despite such a huge attendance, they managed to find each other. Audrey tried to get Alex's attention by complimenting her hair, but it didn't really work. So, she introduced herself to Alex. The two quickly became friends and soon realized that there was much more between them.
They were in training for three weeks and then ended up spending most of the time together. Soon they came to know that they were placed in two different cities. Alex and Audrey still managed to make the long-distance work and often visited each other. Eventually, they were stationed in Houston together.
Alex was all set to propose to Audrey for 1.5 years and had originally planned to pop the question with both their families present. "I actually sat with her ring for almost a year and a half, and that was torture because Audrey loves to organize," Alex told Insider. "She's constantly picking a new spot at the house to organize, and that made my job busy because I was constantly having to find the ring, move it to a different location, and remember where I put it." The pandemic didn't help with the situation either and finally, she proposed to her on Christmas Eve in 2020 with Audrey's family present on FaceTime.
Soon, they started looking for wedding venues in the Houston area that were different from others. They decided to focus on their shared interest in flying and found the perfect place. With the help of TailoredTwo Wedding Planning, they planned the wedding. The venue had a conceptual jumping point for the rest of the nuptials, with plane-shaped place cards and a welcome sign, which looks like a passport.
Alex is Guyanese and Indian and she is a first-generation American. "Our Indian culture and religion and tradition stuck really, really hard," Alex said of her family and the Hindu religion as an important part of her upbringing. "We were in the church every weekend and a part of anything you could imagine."
She was not sure how much of her culture she could incorporate into her wedding. "I was super hesitant at first to incorporate any of that because I was struggling with the idea of having traditional things while being gay," said Alex. "My parents and my entire family were so supportive and they were just like, 'Oh, stop worrying about that. Just do what you want to do.'" She added a sangeet ceremony along with a rehearsal dinner. It included Bollywood music and traditional dancing. She also wore a lehenga at the wedding and changed into a suit later.
On the other hand, Audrey wanted to walk down the aisle with her father but wanted her stepdad to be involved as well. "He's been in my life since I was 10, so he helped raise me," she said. But for the final steps, she just wanted her mother by her side. "That was very important to me because my mom's been my girl my whole life," she said.
After the wedding ceremony, the couple danced with each other and their family members. It was so much fun that it lasted till 2 am.