During a recent trip to the popular grocery store Trader Joe's, TikTok content creator, Danielle Blakey (@dabaaaabyyy), found herself going through a difficult time. However, she was so pleasantly surprised by a wholesome interaction she had with one of the employees that it brought her to tears.
The unexpected encounter left a lasting impression on her, who was touched by the kindness and empathy shown by the Trader Joe's employee. This heartfelt interaction is a reminder of the impact small acts of kindness can have on someone's day, especially during tough times.
In her viral video, Blakey said, "There has just been, like, a lot that's been going on. I've just had a really hard couple of days, OK? And I'm normally really good at, like, masking feelings. Clearly, I was not tonight." She noticed that the cashier was making an effort to engage in conversation with her. Blakey added, "So, I had to go to Trader Joe's to get some groceries because I don't have any groceries in my apartment. And the guy that was checking me out could just, like, tell something was wrong, and I felt bad because he, like, kept trying to make conversation, and I was just, like, not being very responsive and, like, not talking a bunch."
She did not expect what the cashier would do next to make her feel absolutely better. She said, "Anyways, I put my credit card in to, like, pay, and he's like, 'I'll be right back.' And I thought he was, like, gonna go help, like, one of his coworkers, and he comes back." She then reveals a bouquet of flowers, saying, "I am literally a wreck. And I was so embarrassed because I started bawling, crying in the grocery store."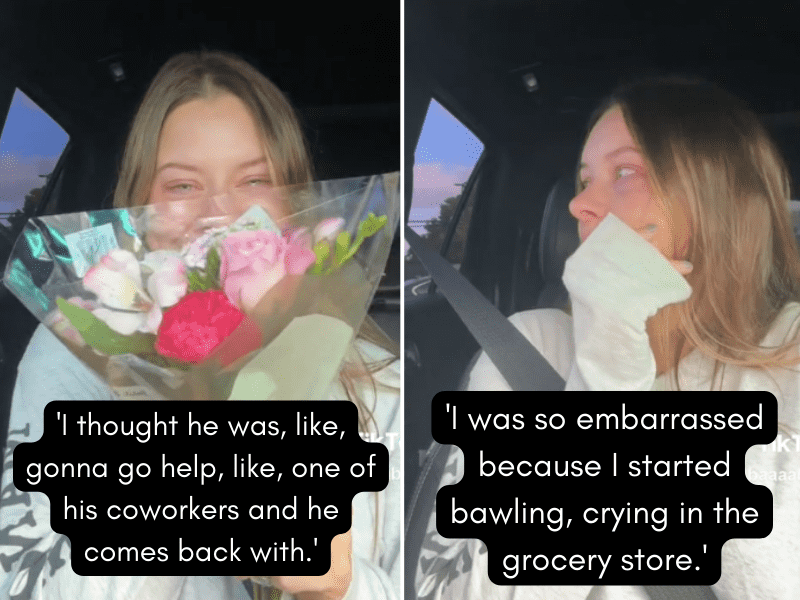 "Moral of the story is to shop at Trader Joe's because I literally love everybody that works there. And second, you never know, like, what one small act of kindness is gonna do for somebody," she concluded. Numerous loyal customers of Trader Joe's left comments expressing their admiration for employees they have encountered. TikTok user @brittaniphillips8 said, "They found out my husband was deployed and gave me a free box of protein bars to send him and gave me a bouquet of flowers."
Another person, @gmamaharris, commented, "My son works at TJ's and it makes him feel like he's doing a good deed when he can make a guest feel seen. As his Mom, I couldn't be more proud." @allisonthew shared: "I had the same experience. I went to get some flowers for my bf grandpa in hospital and a sweet man gave me one too, so I gave them to my mom too, lol."
Blakey's experience and the comments of other customers demonstrate the power of kindness and empathy, especially during tough times. These small acts of kindness can go a long way in making someone's day brighter and reminding them that there are good people in the world. Moments like these restore our faith in humanity.