We all want to share our happiness with our loved ones and some of us even find the most exciting ways to do this. In a recent video uploaded on Reddit by u/RussIsAnOkayGuy, we see a woman uniquely announcing her pregnancy. The post is captioned, "Surprise announcing our pregnancy during the family photo!"
In the video, we see the whole family come together for a group picture in a garden. As they are about to get the photo clicked, a woman shouts out, "Russ and Gina are pregnant." It takes some of her family members a few seconds to process the good news even as others turn to her in utter shock and start cheering for the couple.
The family includes people of all age groups. We can see the elderly in the family, along with middle-aged people, youngsters and children. The picture also features a special guest: the family's dog. He looks just as surprised as everyone else when his human loved ones start cheering for the soon-to-be parents. Finally, at the end of the video, we can see everyone clapping with joy. Even the kids in the front row of the family picture—who were cluelessly smiling at the camera for the better part of the video—can be seen celebrating the joyous occasion with their parents and relatives. The heartwarming video went viral on Reddit where it received 6.8K upvotes and many comments on how wholesome this experience must've been for the family.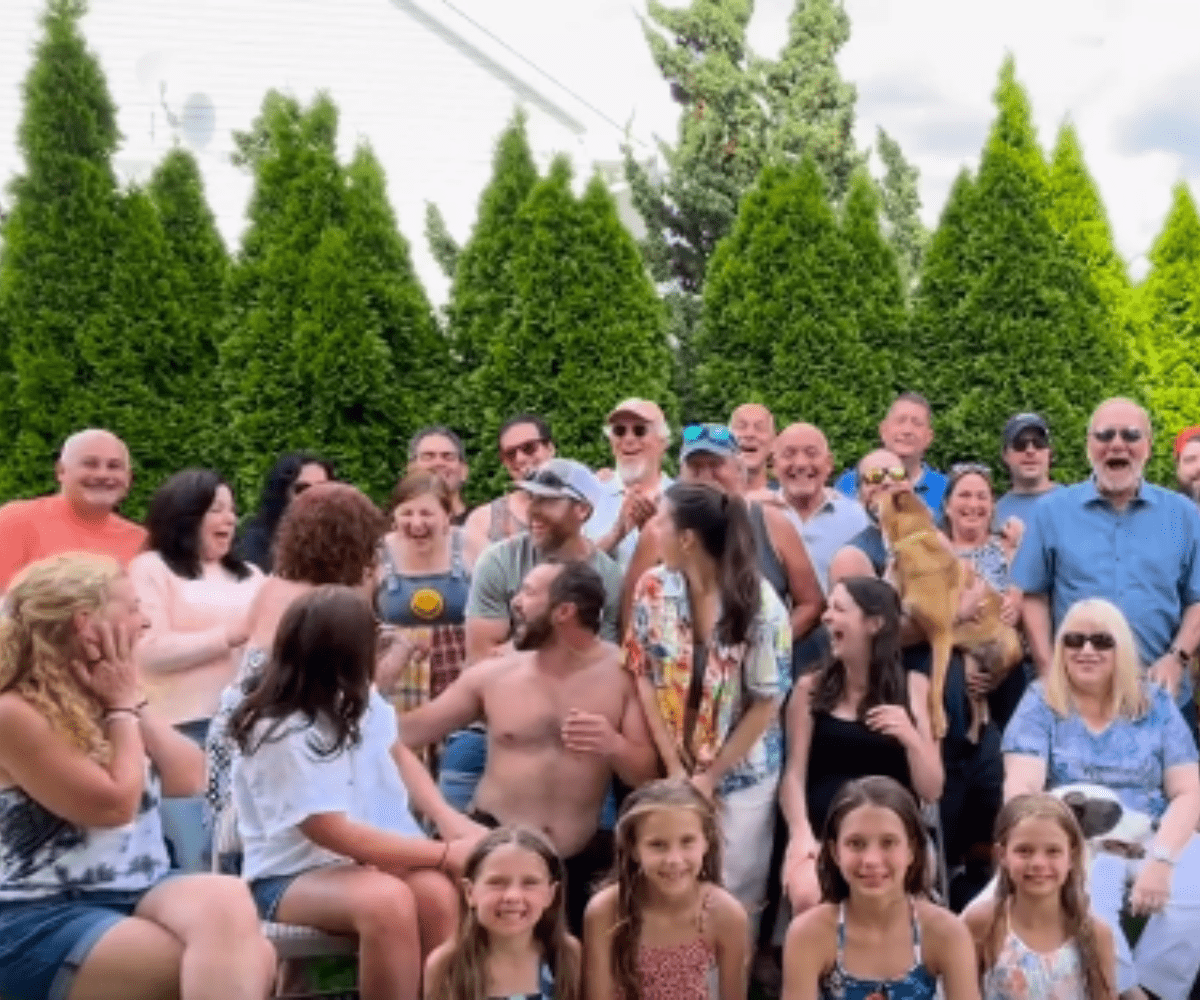 Many Reddit users have shared their thoughts on the heartwarming video. @LowButterfly744 commented on the video, "Wholesome! Got to love the front row of kids who just keep on looking at the camera - not bothered at all." u/RajenBull1 wrote, "And the dog right behind them is quite confused. Blonde in the first row seated is stunned into disbelief." u/Coleslaww shared their own observation, "Some serious photo smiles on those kids, and then I looked around and saw everyone flashing there smiles. Super cute. I love humans." u/Laurenoviciiii expressed, "Congratulations! That baby is going to bring so much joy and be so loved, you can already tell!" u/real_live_mermaid wrote, "My daughter did this too. Went over really well and since we actually did take the photo, it made for a hilarious picture!"
It is truly a touching moment that the family is likely to remember for years to come. This child will be lucky, as they will have so many family members to shower them with love, care and affection.
In another story about a woman uniquely announcing her pregnancy, Sarah Benibo seized the perfect opportunity to share the news of her and her husband's soon-to-arrive second offspring with her parents during a Thanksgiving trip, and she did so with a delightful touch of humor. During an interview with Good Morning America, Benibo revealed how her sister, Sophia Stephens, came up with a clever plan to play a "bun in the oven" prank on their parents, Dorretta and Ron Stephens, during their family gathering at an Airbnb rental in California.
---
View this post on Instagram
---
In the video clip, the sisters cunningly draw their parents' attention to an unforeseen "issue" within their Airbnb rental: an isolated hamburger bun found inside the kitchen oven. As they proceeded to elucidate the idiomatic expression of their unsuspecting parents, their mother, Dorretta, begins to comprehend the true nature of their conversation. The video has received love from people all over and has garnered 70K likes on Instagram. It is a truly wholesome pregnancy announcement!