European countries are opening their doors to war refugees from Ukraine. As Russia continues its attack on Ukraine, the European Union has promised that all war refugees will be accepted. "I think we will have to prepare for millions," said EU Commissioner for Home Affairs Ylva Johansson, reported DW. Refugees primarily include women and children, as Ukraine's President Zelenskyy imposed martial law, which requires men between the ages 18 and 60 to stay back and help fight the war. The EU asked all 27 member nations to grant asylum to all Ukrainians for up to three years. According to estimates by the United Nations, the number of people being displaced and seeking refuge could be anywhere from 4 to 7 million. Countries and the people of Europe are opening their hearts and homes to the people of Ukraine. One wholesome image that's going viral on the internet and stands testament to the kindness of people is a map of Poland showing the number of homes willing to accept refugees.
The image was shared on Reddit where it went viral. The map appears to denote homes willing to accept refugees, with numbers denoting the number of people one home can accommodate. Baby strollers are used to welcome families with kids. According to Vox, at least 505,000 Ukrainians have headed for Poland, the country believed to have taken in most of the refugees followed by Hungary with 139,000. Moldova has taken in 97,000, Romania has taken in 51,000 and Slovakia has taken in 72,000 refugees. It is estimated that 90,000 refugees have headed to other European countries. Poland has been lauded for its efforts in accomodating refugees.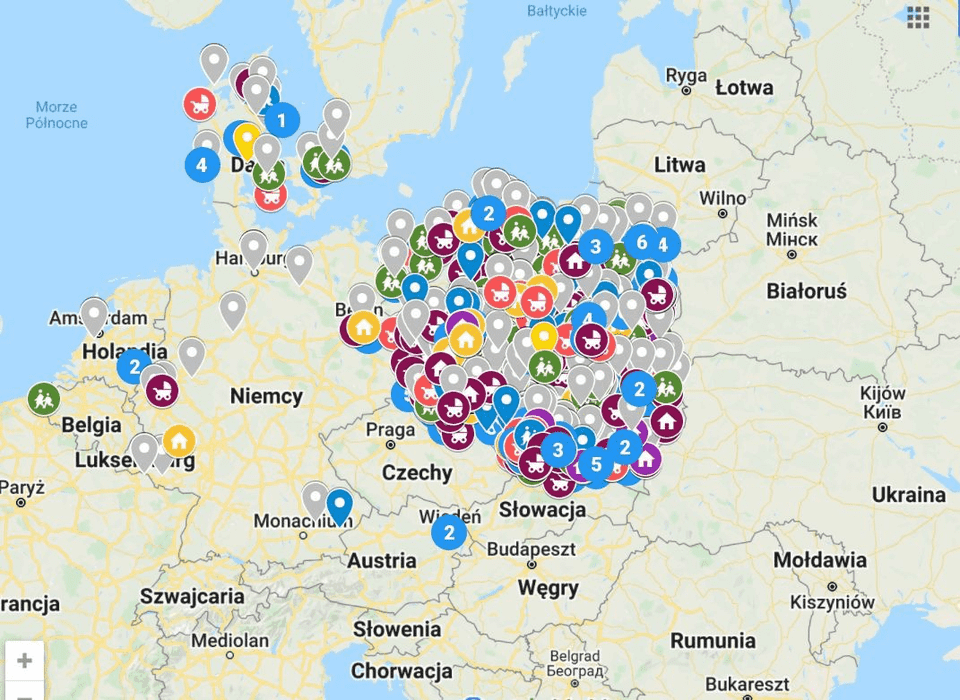 "Poland is taking in refugees and doing it in an excellent way. We are now trying to support Poland logistically," said German Interior Ministry Nancy Faeser, who added that this was something Europe never expected to experience. "It's war in Europe again for the first time, and that is also leading to a different way of thinking among member states," they added.
Polish civilians have taken the initiative to welcome Ukrainians with locals in the Polish capital of Warsaw advertising roughly 2,500 apartments for refugees to stay in. They have also traveled to reception centers and held homemade signs offering homes, rides, and even jobs. Many also distributed necessities to Ukrainians including food, water, clothes, sleeping bags, shoes, blankets, diapers, toys, sanitary products, battery packs, and cellphone charging cables among other things.
Refugees who took trains to Germany were also faced with a similar crowd of people welcoming them and opening their homes to refugees. Thousands of German people waited at Berlin's central railway station to welcome refugees and held placards informing the people how many they could accommodate. Some of the placards read, "Big room. One-three people. Children welcome too! For as long as you want." Another read: "Can host two people! Short or long-term," reported BBC.
"I am more or less a child of a refugee," said Margot, before explaining that her mother had to flee Hitler's Nazi regime. "So I feel obliged to do something for refugees. It's not Hitler this time, but for me, it somehow feels like what Putin does is what Hitler did before." Matina, who opened her home to refugees, said it was the very least they could do. "We have lived in peace our whole life," said Matina. "We don't know what it is like to live in war, it's shocking. Our first thought was we need to help a family so that they can feel safe. We will give them some peace, in this house."
Private companies have also offered accommodations to Ukrainians. Airbnb announced that it was offering free short-term housing for up to 100,000 Ukrainian refugees and added that it was coordinating with countries in the region to arrange long-term stays.
Russia's invasion of Ukraine is a developing story, and we'll update as we learn more. Information is swiftly changing and Upworthy is committed to providing the most recent and verified updates in our articles and reportage. However, considering the frequency in developments, some of the information/data in this article may have changed since the time of publication.