Perseverance and hard work do take you to places and Matthew Myslenski is a true example of that. Matthew was born with cerebral palsy but he didn't let that stop him from achieving his dreams. He recently got into Harvard University. Matthew and his twin sister, Magdalena, in a viral video are seen checking the status of his application on a laptop. The moment they see that he has been accepted, Matthew can't stop laughing and Magdalena can't believe her eyes and keeps saying, "No Way! No Way!" in excitement.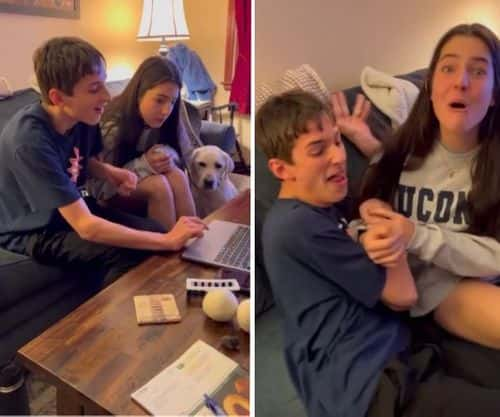 Matthew said, "I was completely in shock. "I think it was just one of the best moments in my life," as reported by TODAY. Magdalena believes that it's all her brother's hard work that has paid off. She said, "I get so excited every time I get to talk about it because Matthew worked so hard for this." According to the Harvard University newspaper, only 7.56% of early applicants were accepted to the Class of 2027. It reported that it is the second-lowest early acceptance rate since the college was founded in 1636.
However, for Matthew, it was not an easy ride to reach here. He said, "Not only did I have to challenge myself academically, but I also had to physically work to get to a point that I can do what I want to do." Centers for Disease Control and Prevention describes Cerebral Palsy as "a group of disorders that affect a person's ability to move and maintain balance and posture. CP is the most common motor disability in childhood." Sara Dziedzic, Matthew's teacher at his school, Woodstock Academy, credited Matthew's perseverance for his acceptance into Harvard. Dziedzic said, "I think that says so much about his character. It says so much about his family's character." She added that he was taught from a young age that if he wanted to succeed, he will have to "overcome and not give up." "That's the biggest message here."
The school's website wrote about Matthew: "Everyone who's had the opportunity to work with Matthew has seen his exceptional intellect and work ethic first-hand. When he graduates this June, Matthew will have left a significant impact on the school, with his involvement in the medical club, membership in six honors societies, and leadership roles as adult liaison for the leadership conference and president of the German honors society." His guidance counselor, Valerie Champany said, "He can do anything, and he does whatever he sets his mind to without question or complaint," according to the website.
Matthew will be majoring in Biology at Harvard and wants to follow in his parents' footsteps of pursuing a career in medicine. After taking AP Bio at WA, I knew I wanted to focus on a STEM career," said Matthew. "I feel well-prepared for college because of Woodstock Academy's challenging academic opportunities and the amazing teachers who encouraged my success."
Talking about the pursuit of his goals, he said, "I don't limit myself with anything," said Matthew, "and I want to inspire others to not limit themselves either."