Making a memorable entrance to prom is often considered one of the most important parts of graduation season. A video of a teen is going viral for her special and, yes, slightly grisly prom entrance. The clip was uploaded by a girl named Bri, who goes by @tysgirlfriend on TikTok, and it shows a black funeral hearse pulling up to an average American high school. The car stops just before the red carpet leading up to the school's front entrance.
Upon arriving at the destination, two "pallbearers" and two other men in suits, one of whom is Bri's boyfriend, Ty, emerge from the hearse. The men then open the back of the hearse and take out a coffin, as expected during a traditional burial. However, instead of carrying it to a grave site, they place it on the pavement, open it and help the person inside, who is alive and well, out of the coffin. Bri, dressed in a dark, Goth-inspired prom dress, emerges confidently and walks with Ty on the red carpet into the prom, as if it were a routine occurrence.
The video garnered more than 3.5 million views. Thousands of people also came to the comments section to tell Bri just how much they enjoyed seeing her entrance. "I LOVE THIS," wrote KL<3, while another said they were "OBSESSED" with her unique arrival. "Why wasn't I this cool in high school," @PizzaQueenSam wrote. Others called her an "icon" and a "bad***" and told her that she "slayed" her prom.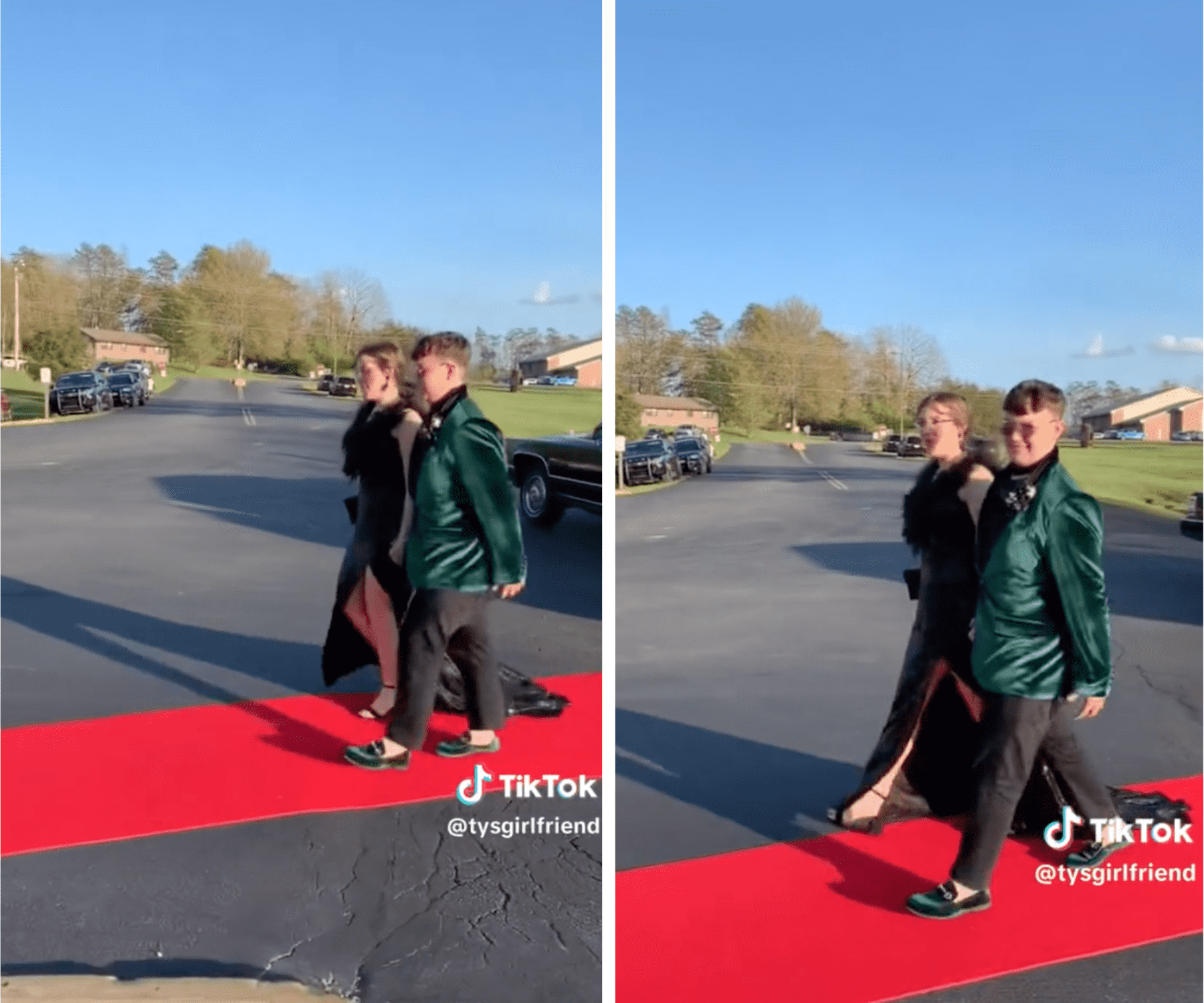 Several other TikTok users appreciated how supportive her boyfriend was with all of it. "OMG, her date was the proudest of them all," wrote @user5152724114760. "Her dates like 'Yeah that's right I have the coolest date at prom!'" said @Rey. People who know Bri personally came to the comments section. "I work with your mom and she's been hyping up you getting out of that coffin for weeks…," @PoisonBunny commented. "You ate and left no crumbs girl." The couple also shared another video that offered a glimpse into how the rest of their night, but the entrance video won the most hearts.
In a similar story, a 16-year-old boy, Korben, wore a red dress to his school prom. Korben spoke out his wish of wearing a dress to his prom when he was 12 years old and lived that dream when he turned 16. The boy wore a sequined tuxedo and ballgown skirt and was cheered for by staff at Archbishop Sancroft High School in Harleston, Norfolk, reported BBC.
His mother, Nina Green, shared a photo of the 16-year-old wearing the dress. "At age 12, my son announced he wanted to go to his school prom in a gown. Four years later we made it happen. I'm so incredibly proud of him for being true to himself and the reception he got from his whole school was incredible," she wrote while sharing the pictures. "He wants to go as himself while expressing his feminine side — with a tuxedo on the top and a dress at the bottom, very much influenced by (actor) Billy Porter. He wanted to be Korben... but in a dress."