Teachers are known to play a massive role in a child's life. In the world, it is one of the most humbling, inspiring and bold professions. A teacher has so much to do behind the scenes and in the classroom and so many of us are not aware of this. Apart from providing lessons and education, they also build up confidence and help the child find their place and discover themselves. Despite it all, teachers are given a meager income let alone respect and acknowledgement.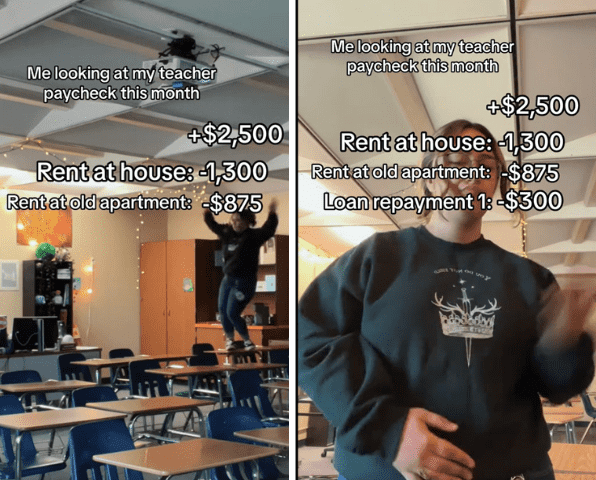 A teacher, @fouronacouch, took to TikTok to share the sad reality of a teacher's life. She mentioned that she is a public school teacher and went on to express that teachers are paid very little for the heap loads of tasks they take up. She posted about her monthly paycheck and how it is barely enough to get her through the month. She gave a breakdown of her expenses and the amount paid to her was barely enough to cover basic amenities. Her example is a representation of what almost every teacher faces all over the world.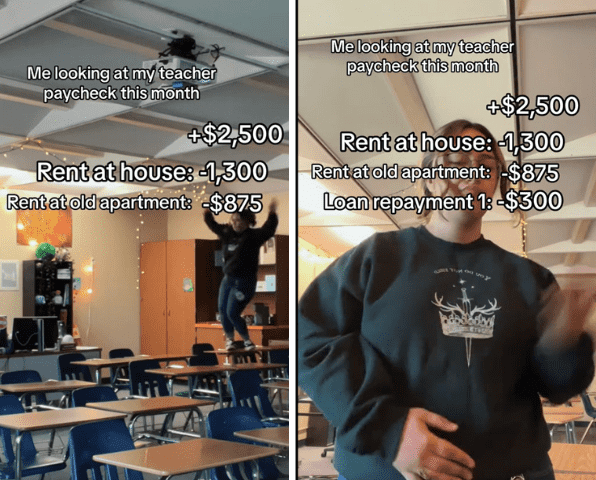 Her video showed her in her classroom with text overlay while she explained the basic breakdown of her monthly income. The video stated that she received a total of $2,500 per month for her job as a public school teacher. Out of this amount, she mentioned that she pays $1,300 for rent at her apartment and $875 that she pays for rent at her older apartment where she lived. She further mentioned that she had a student loan which she was in the process of repaying and devoted $300 to the same.
Doing the math, she is left with only $25 to get her through the rest of the month. If you think about it, apart from college and rent, there are several other expenses to look after most of which include groceries, medication, travel, personal or miscellaneous expenses and so on. $25 would barely get her through one of these expenses for a day or two. To imagine that being a teacher with a full-time job she has only that much for an entire month is disrespectful and upsetting.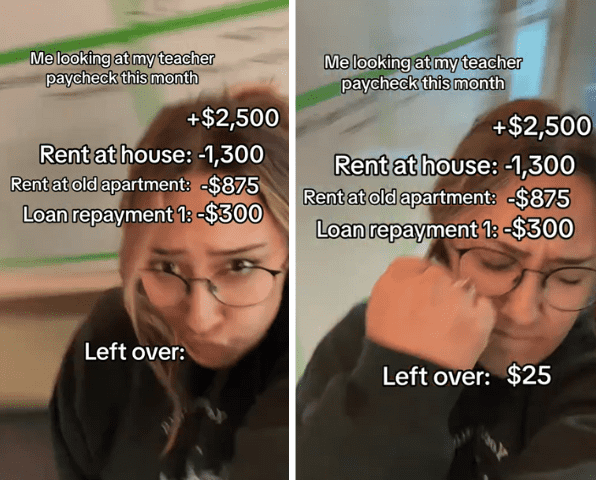 Teachers are working beyond school hours in preparing lessons, corrections and assessments, planning creative activities and so much more. They have a load of a huge number of children with different capabilities every day. After doing all of this, they're left with less than basic salaries that are incomprehensible. Today's economy doesn't sustain anyone in $2500 for a week or two, let alone a month with rent and loan repayment.
Several people commented on the post in support of the teacher. Many even called out the harsh reality and shared their stories. @abbyherring_2 said, "I was making $800 a month working at a high school. It's insane how underpaid school staff is." @JeSsIca said, "Custodians make only $800 a month. I have to work another job now. This is my last year with the school. I can't do this anymore." Sadly, this is proof that teachers barely have a life beyond their profession and can't support their other interests and wishes like any other person. Pretty much unfair let alone problematic. The least we can do is give them the respect and acknowledgment they deserve.