Being a substitute teacher is no easy play. One has to manage an entire classroom of kids suddenly and several issues pop up. Substitute teachers may not necessarily have a rapport with students as their class teachers understand their behavior, needs and more. However, along with being frustrating, the experience was also uniquely hilarious for middle school substitute teacher Camryn Daytona. She shared a video on her TikTok account @camryndaytona, stating that the class teacher made her students write apology letters to Daytona for their misbehavior and it was hysterical.
"The teacher that I covered for yesterday made her class write me apology letters." she said. She then described the letters to be "the most entertaining" thing she has ever read in her life. "The greatest part was how many of these students apologized for things that I wasn't even aware that they did," she chuckled as she said, "They're just out here tattling on themselves." Moving forward, Daytona began to read the letters given by the students and what a humorous sight it was! The letters were a pleasant mix of genuine apologies for things students didn't even do and several uniquely penned phrases. "My classmates are sorry for whatever they did. I ain't done nothing," read the first letter.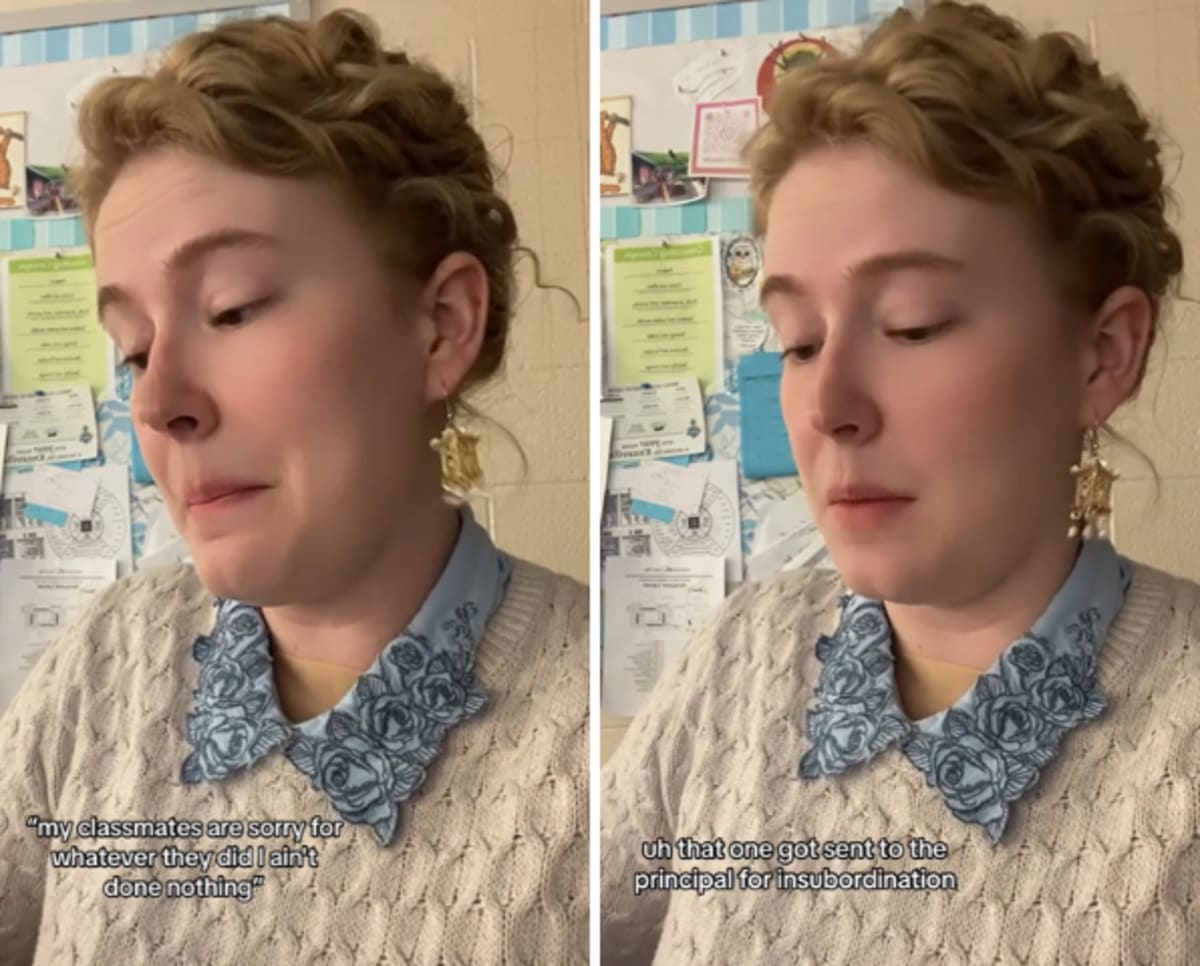 The funniest part about this was that the same student was sent to the principal's office for insubordination. The next letter read, "I'm sorry for picking up a desk. I was not going to hit anyone with it." Daytona seemed astonished yet impressed by the humor the kids managed to sneak into their letters completely unknowingly. The next letter added to the humor. The child while apologizing for their behavior, also rattled out on another student saying, "Another student was on his phone not doing any work at all." To this Daytona laughed and said, "Honey, I don't care what he was doing. You were trying to start a fight."
Daytona then proceeded to read a girl's letter that confidently read, "I did not do anything wrong." The teacher did agree. The next guy casually threw an apology saying, "I'm sorry for spilling things on the floor." Daytona sarcastically reframed the words of the letter and said, "You were throwing cereal, sir." The next letter read, "I'm sorry for what I did in the bathroom." The other one was befittingly hilarious. "I was not even there but I can imagine how bad it was," it read. Daytona couldn't help but laugh out loud on this one. "I'm sorry I yelled 'fight' in the hallway," Daytona continued to read the letters. Surely, it was a crazy day given the several turn of events.
She then shared that she was overwhelmed by an adorable letter consisting of an entire page's worth of apology from a student who didn't even do anything. "She just wanted to apologize for everything in case she did something and forgot to do it," Daytona said. She was taken aback by the laughter and smiles the kids' notes brought her. "God bless these children. I am framing these. This is the best thing I've got in my entire life," she concluded. Daytona's video received over 200k likes and with over 1k comments, viewers were in awe and were laughing at the same time. @spaceacecase94 said, "My favorite was the, 'I wasn't even there but I can imagine.'" @kelsyemeyer91 said, "The 'I wasn't going to hit anyone with it' got me."