Mary McLaughlin grew up her whole life not knowing that she had a sister, and she couldn't be happier after finally finding her at the age of 56. Diane Ward, her elder sister, lived for a long time in Pittsburgh, Pennsylvania, while McLaughlin is from Detroit, Michigan. Not only are they related, but they also spent some of their childhood years living within 15 minutes of each other, in Michigan. They even visited their adoptive relatives in each other's cities without knowing they had a sister. They found each other after submitting a DNA test through MyHeritage. They reportedly even frequented the same bakery but had never met. "We were basically just crossing back and forth most of our childhood. It's just weird. Creepy weird. Because we were just in the same circle the whole time," said Ward, reported PEOPLE. "Maybe we did see each other. Maybe we were even sitting at the same ice cream stand. Who knows?"
McLaughlin grew up with her biological mother but she was never a constant presence. She left McLaughlin with the babysitter and never returned. McLaughlin's babysitter and her husband became her legal guardians. McLaughlin said her mother became a peripheral figure but refused to relinquish rights. Their mom passed away from breast cancer when McLaughlin was 26. McLaughlin remembers searching for somebody with the same last name as hers since she was 10 years old. "So, there's always been a curiosity there, but I never in a million years thought I had a sister," said McLaughlin. She would later learn that their biological mother had not been married to either of the two women's biological fathers.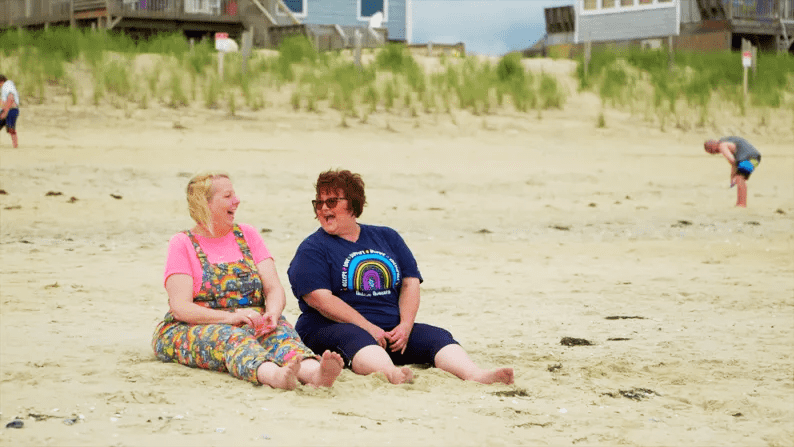 Ward is three years older than McLaughlin and always knew about her adoption. Ward was eager to find her birth parents and hadn't fathomed that she could possibly have a sibling. Ward used MyHeritage for the DNA testing in the hope of learning about her heritage and ended up getting connected to a maternal cousin, who directed her towards McLaughlin. The pair connected and were overwhelmed at learning of having a half-sister. They decided to meet and in June, Ward and her husband, who lived in the UK now, flew to meet McLaughlin and her family for the first time. They shared a vacation at Nags Head Beach in North Carolina to catch up on each other's lives and learned that they were very similar people.
"I was just gobsmacked," said McLaughlin. "And in a great way. There were too many weird similarities, and characteristics, and quirks and 'isms' that we share, so that I was like, 'Oh, okay. I think this could be a biological thing.'" McLaughlin said they felt like 5-year-olds after talking to each other for the first time. They spoke for 3 hours straight on a Zoom call. They were eager to learn things about each other and realized even much of their mannerisms were similar. "We have the same gestures. Absolutely our favorite food is Mexican. We're both absolute shopaholics. We both have the same very dark sense of humor," said Ward.

McLaughlin recalls her husband taking one look at Ward and noticing the similarities. "He went, 'I see you right there.' I promise you, I was kind of brought to my knees, so to speak, because it was like my grandmother, my great-grandfather, and my mother all staring back at me," said McLaughlin. Ward jokingly said her daughter got annoyed at seeing them together and said, ''Oh great. Now there's two of you, one on each continent.'