Editor's note: This article was originally published on February 27, 2023. It has since been updated.
Sally Field paid a sweet tribute to fellow actor and "Mrs. Doubtfire" co-star Robin Williams. The actress reminisced about the time when she got to know Robin Williams. Ahead of the 2023 Screen Actors Guild Awards, she spoke about the movie "Mrs. Doubtfire" with the comedian Robin Williams, who passed away in 2014 at the age of 63, as reported by PEOPLE. Field said, "What you think about immediately is Robin. There isn't a moment of it that's not filled with my love and joy at being in his presence." "I mean, Robin was Robin. He was everything he seemed to be: a generous, loving, sweet, geniously talented man."
"We all miss him," added Field. "He should be growing old like me, for God's sake. I hate it that he isn't here." During the conversation, she admitted that she never watches her past projects, but she does have fond memories of most of them. "I have memories, I think, of almost everything I've done," she said. "Except sometimes something will pop up and before I turn it off, and in the really young days of television, where I actually do not remember — I don't remember being there, I don't remember saying that. So it's like literally an out-of-body experience."
Field added, "But, you know, it's almost 60 years ago. I'm allowed to forget some of those days!" Sally Field was honored with the SAG's Life Achievement Award this year. It was given to her by Andrew Garfield, who was her co-star in the movie, "The Amazing Spider-Man." Speaking about her, he said, "you evoke awe in every actor's heart" He added, "You never drink the Kool-Aid of your own brilliance." He also spoke about her leading the way for actresses in a misogynistic industry and fighting for women's and LGBTQIA+ rights. He concluded by saying, "Sally, you show us how to live a life devoted to art, love, and service," as reported by The Hollywood Reporter.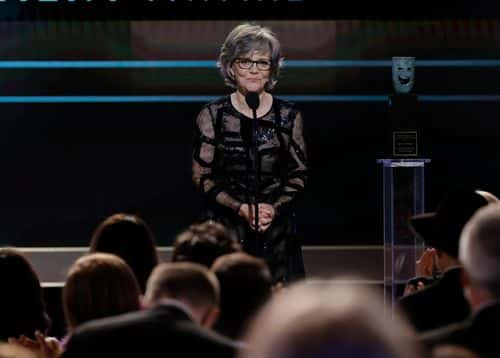 In her acceptance speech, she recalled her 60 years long career and rise from the star of a situational comedy in the 1960s to a veteran actor. Field said, "In the fall of 1964, I was standing in front of a camera on a freezing cold beach in Malibu, and I said my first lines of dialogue as a professional actor in Gidget." "I first found a stage when I was 12 years old, in the seventh grade," referring to her school drama department. "Acting, to me, has always been about finding those few, precious moments when I feel totally, utterly, sometimes dangerously alive," she continued. "The task has always been to find a way to get to that."
She shared that "struggling to climb my way out of the box of situational comedy in the '60s and '70s took a fierceness I didn't know I had." She spoke about how difficult it was to come up as a young woman actor in the industry and acknowledged how much more it is for actors of color. "My fight, as hard as it was, was lightweight compared to some of yours," she said, before stating triumphantly, "easy is overrated."
"I've been Mrs. Doubtfire's employer, Forrest Gump's mother, Lincoln's wife, and Spider-Man's aunt," continuing: "Sometimes I have been lucky enough to be a part of projects whose screenplays were so good that my hands shook the first time I read them… They opened and revealed parts of myself I would not have known otherwise. I've worked my whole life. In all of these almost 60 years, there is not a day that I don't feel quietly thrilled to call myself an actor," said Field.