The institution of marriage has been one of the core tenets of society, for better or worse. It has been conventionally associated with heterosexual couples, but thankfully the mindsets of people are changing, and now laws in many countries provide for LGBT couples to get hitched. The core idea of marriage has always revolved around two people being romantically involved with each other but a couple on TikTok is showing why it doesn't have to be that way and it's sparking debate among a lot of people.
Jay Guercio and her wife Krystle are platonically married and Guercio often posts TikTok videos about their relationship. Their relationship sounds so amazing that many people are wondering why that isn't the norm. What could be better than living with your best friend, especially when you can have a romantic life outside of that platonic relationship. As Guercio puts it, "It's a never-ending sleepover with the person you enjoy the with most in the world." They wanted to live together and raise kids together. "My best friend and I, of eight years, got married, had a commitment ceremony, whatever you want to call it. We did this because we wanted to raise kids together, we wanted to live our lives by each other's side," she said. They are both members of the LGBTQ+ community.
We've all been in bad relationships and looking back, it just makes sense to separate your love life from your living arrangement. As radical as it may sound, Jay Guercio and Krystle are showing why it's an option to consider. They wanted to raise a foster child and realized what better person to do it than with the person you trust the most. "I couldn't imagine living the life I live without her by my side, I trust her, I appreciate her, we work together, we are partners, we make decisions together, we act as a married couple does, but we don't have the romantic or physical stuff," she added.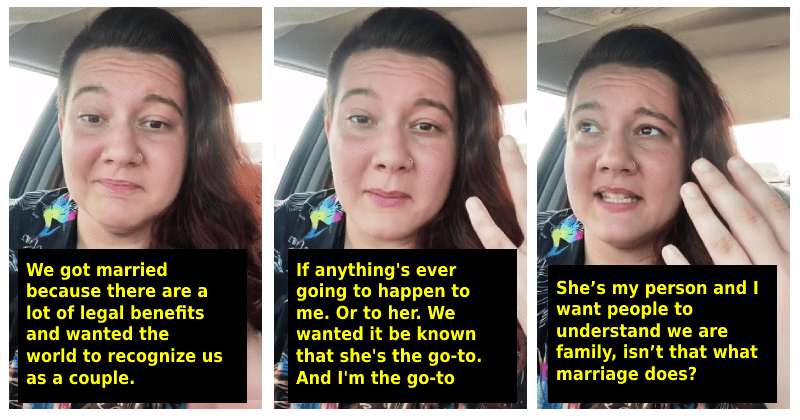 "So, I'm platonically married to my best friend. No romantic, no physical relationship. It's fricking awesome. Some people get to fall romantically in love with their best friend. I didn't. That doesn't mean we didn't get married. That doesn't mean we didn't raise a family together. I trust her and she's like my favorite person," said Guercio in a video. "We're constantly making each other laugh and doing things together. On the same page. The relationship just works so well because we've known each other for so long because we're best friends, and we're symbiotic and I don't know, it's amazing."
Some asked them, 'why get married?' when you can do the same without tying the knot. "We got married because there are a lot of legal benefits and also wanted the world to recognize us as a couple," explained Guercio before adding, "If anything's ever going to happen to me. Or to her. We want it to be known that she's the go-to for me. And I'm the go-to for her. She's my person and I want people to understand we are family, isn't that what marriage does?"
Guercio has always maintained that there was nothing physical or romantic between her and Krystle. She also explained the difference between a romantic and platonic relationship. Guercio explained that she thought of the person she liked, she "wants to feel intimate with them. I have heart eyes. I listen to love songs." She then spoke of the dynamic with Krystle, "She's my best friend. it's a different kind of love but it's still very strong. Key difference is how you think about that person and how they make you feel." Many people hailed them for being married platonically and added that they wanted to do it themselves. Guercio herself wonders why more people aren't getting married to their best friends.