Humans might be at the top of the world, but there are some things that animals just do better. They know how to live and travel together in a time of need and create a beautiful view while at it. One of the most beautiful scenes in the world is to see a pod. Pod is the term used for a group of dolphins that travel together. There are many reasons behind dolphins choosing to travel in such a manner. In order to traverse through life, dolphins mainly depend on social learning and relationships, as per Marine Sanctuary. A pod fulfills both of these demands. Traveling in such a way is also easier on a dolphin's small body size. It also helps the dolphins in taking rest, while moving from one place to another. Seeing so many dolphins travel together, is truly a sight to behold. This site was recently witnessed by Monterey Bay Whale Watch's Evan Brodsky, who goes by @evanb_ocean on Instagram.
Pods generally have 30 dolphins, at best. There are three types of pods, maternal/nursery pods, juvenile pods and bachelor pods. Megapods form when there are 100 to 1000 dolphins in the group, that are traveling and residing together. One fine day, Brodsky, while on a boat ride, saw a megapod of Long Beaked Common Dolphins traveling through the water and could not help but try to capture them through his lens. He used a drone and recorded the megapod in action. It was so expansive, that the entire group stretched from one side of the lens to another, there was no end in sight. This shows how nature is uninhibited and cannot be controlled by anyone.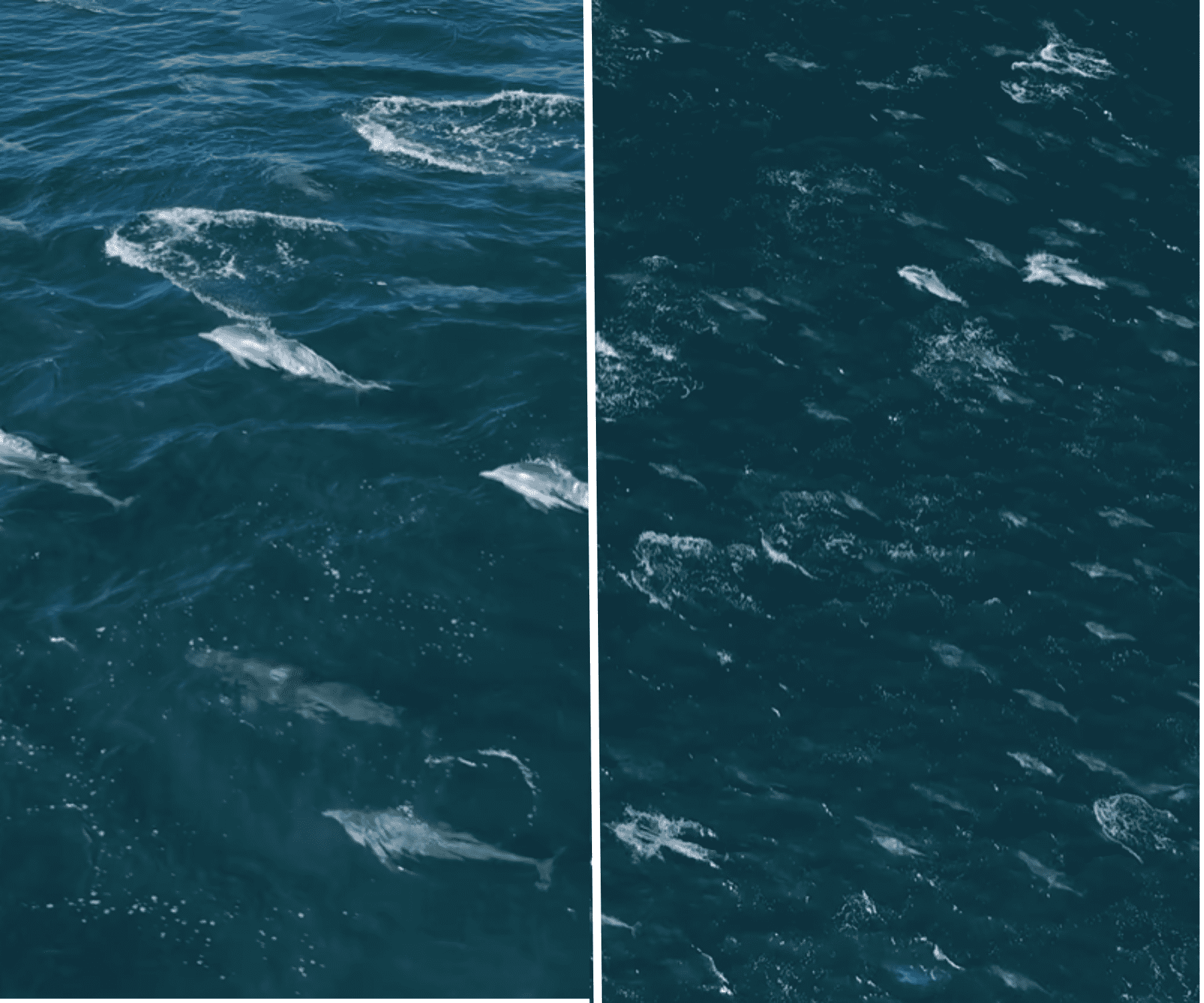 Megapods mostly happen when several small pods come together to interact with each other. These interactions mainly happen for the purpose of mating and hunting. Once this purpose concludes, the dolphins go to their preferred pods. This seems to be the case that Brodsky witnessed as he says, "Every splash you see is a dolphin." The group is that huge in size. It seems as if they are marching towards a particular destination. The dolphins were swimming along doing their beautiful strokes, creating a stunning visual for everyone.
---
View this post on Instagram
---
Through the post, Brodsky wants to encourage people to interact more with the nature surrounding them. His video indicates that not only will it lead to precious moments, but will also fill people with more knowledge about the fauna around them. They will know how they function and why they choose to behave in that certain way. Hence, Brodsky is inviting everyone to take a chance and get on a boat to explore. He writes in the caption, "You just never know what kind of amazing sights you're going to see when hopping on a boat."
The comment section loved the message and the view. @cocoboretto adored the dolphins, "It's kind of like the blue angels underwater." @daniellemetene was amazed at seeing the video, "That's such a heartwarming feeling, it's hard to believe there still are so many, even after all the cruelty man-UNkind has perpetuated."
---
View this post on Instagram
---