TikTok user Aaron—who goes by the username @i.aaron on the video-sharing platform—recently stirred up a fiery debate about deliverer conduct and tipping culture when he shared how he had to get his breakfast from a tree. In a video that's been viewed more than 610,000 times since being uploaded five days ago, the social media user from Tennessee recounted how he had ordered some breakfast from Chick-fil-A via DoorDash and was informed by his delivery driver that they'd left the order on a tree branch because Aaron had only left them a $1.50 tip.
Speaking to Bored Panda about the incident and how the internet reacted to his video, Aaron shared that he "couldn't stop laughing" when he realized that his order was up in a tree. "I was super confused at first and had no idea what he [the DoorDash delivery driver] meant. I thought he left it at the back door." He added that while he did appreciate the engagement his video received, he also got some "nasty DMs" from some people who supported the delivery driver's response "and it just spiraled out of hand."
"I tried saying that the Chick-fil-A was 0.4 miles from my place and I know for a fact I still live in a 'hot zone' or whatever it's called, so it's not like I made the guy drive out of the way. People love to make assumptions online and make judgments based off of those," Aaron added. "I'm sure the guy grabbed my order because it was super close. I think if dashers did a little internal protest and went to Uber or stopped picking up orders, DoorDash would get the hint! Unfortunately, DoorDash pays so little and people still take the job."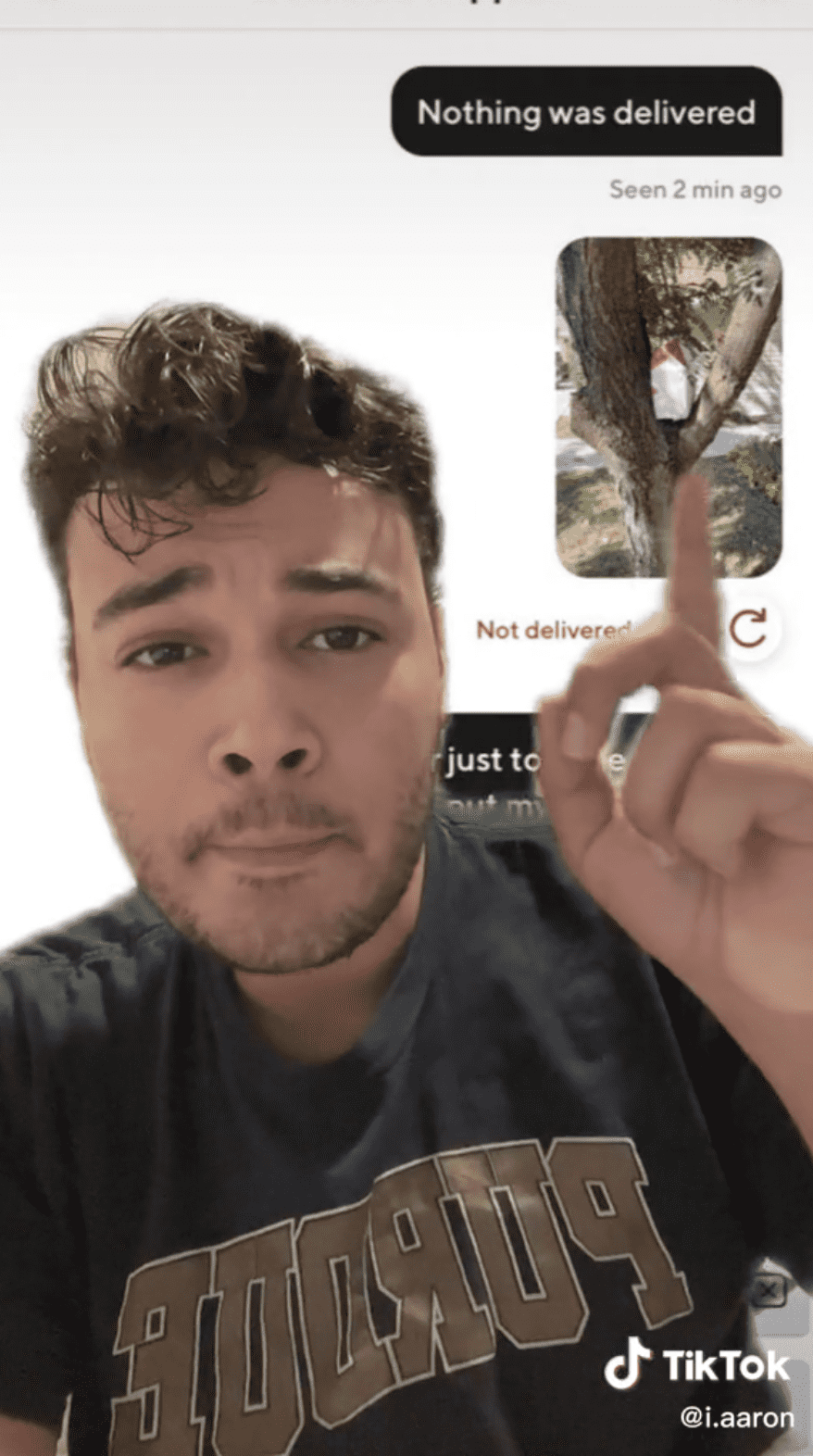 "It's the same situation with serving tables, which I did all through college. It's a gamble to survive off tips, but when you do your job well, you make way better than hourly. DoorDash should allow you to change your tip after the order, or just prompt it once your food is delivered. Tipping before is insane to me, tipping is for providing a service, not people who throw food in trees," he said. Speaking to Newsweek, Aaron revealed that he got a refund and a generic response regarding his dissatisfaction with the deliverer once he got in touch with DoorDash. He also claimed he lowered the amount he previously used to tip after some other bad experiences with DoorDash employees.
"I had one guy put my food down at my door, take the picture, and then pick it back up to take it with him and he left. Couldn't get a refund on that one," he said, adding that he is "very pro workers' rights." Aaron also stated that he was shocked by the deliverer's behavior and the expectation that everyone should leave large tips for every order. "I literally tipped one of DoorDash's 'recommended' tips and from that comments section, if I'm not tipping at least $10, I deserve what happened. It's just comical," he said. The comments section of Aaron's original video is indeed divided over who is at fault in this particular incident. While some were completely in agreement with the TikTok user, others went as far as to call the deliverer a "hero."