Editor's note: This article was originally published on May 2, 2022. It has since been updated.
Employees often put up with a lot of exploitation and emotional abuse from their companies for fear of compromising their financial security and thereby disturbing other aspects of their lives. Well aware of the power they wield far too many employers underpay and undervalue their staff while ignoring that investing in the retention of skilled and reliable employees is one of the best business moves they could make. Fortunately, there's a lot more awareness about toxic professional practice and people are slowly learning to recognize their worth and demand fair compensation.
For one Reddit user's father, this came shortly after what was supposed to be his retirement. u/Unconquered- took to the r/antiwork community to share how their dad finally—after 30 years of working for the same employer—recognized what he was actually worth to the company. The Reddit user shared a screenshot of a conversation they had with their 63-year-old programmer father, where he shared that he was going out of retirement but on his own terms. "Hey, you may have been right about me. It looks like I will be unretired next week," he said in a text message to u/Unconquered-.
"Apparently my company had no idea how much I did. Since I left on good terms, they asked me to come back," he continued. The senior went on to explain that although he "tried to stay retired," every time he made a new demand, the company simply agreed immediately—that's how bad they wanted him back. "I tried to stay retired, but they kept saying yes to my demands. I will have the same annual salary and bonus but have Wednesdays off (32 hours a week)," he proudly shared.
"I will only do programming. No customer support, no training, no sales trips, no user conference, no client contact of any kind," the dad concluded. Sharing the screenshot with fellow Reddit users, u/Unconquered- wrote: "My 63-year-old father, learning his value after 30 years with the same company. Fight for fair compensation." The comments section overflowed with words of appreciation and awe, while some even suggested that the poster's dad could probably leverage the situation for even more benefits or higher pay. "Go, Dad! I hope he gets everything he wants AND more," commented BurntOutOnlyChild.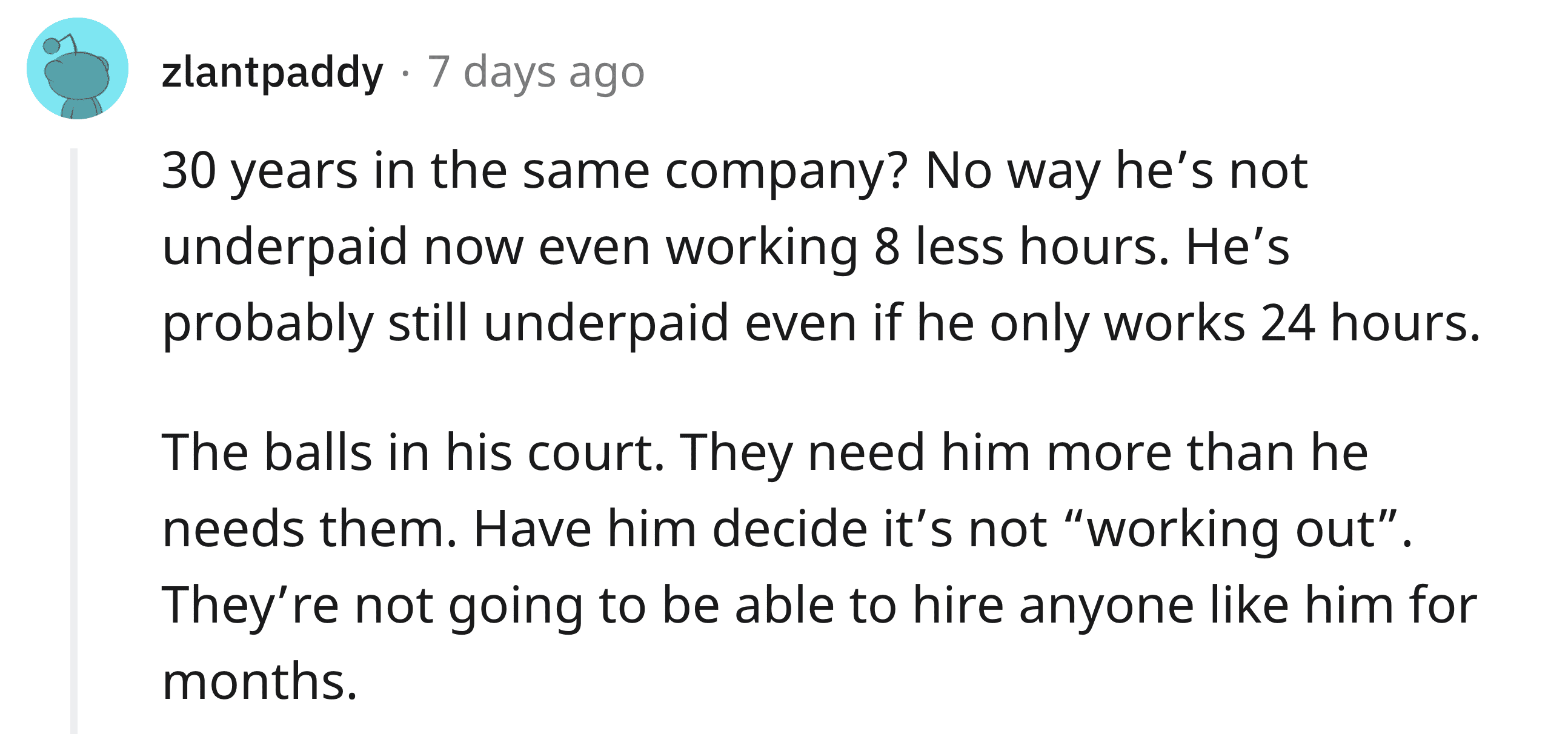 "One of the inlaws is an old-school COBOL programmer who was enticed out of retirement with a fat offer. He made them pay an upfront retainer for hours that could be replenished if they needed him more. No prepaid hours, no work. He kept it simple and to the point," wrote powerandbulk, to which u/Unconquered- said that their dad too is a COBOL (Common Business Oriented Language) programmer. "Reminds me of a conversation I had with a friend: She was working as an accountant for a grocery store. They were paying her minimum wage ($7 an hour). I told her she can get an entry-level job for quadruple her salary. And with her years of experience, employers would jump at giving her opportunities," shared Wizywig.
"She went in and told them she was going to leave unless she had better pay. 3x'd her pay overnight. It is important to know your worth. I'm glad your dad had a very positive experience. Though this is a MASSIVE failure on the management side. If a massive operation will collapse because one man retired... you have a bad problem. What if your dad had a medical condition and had to abruptly leave and couldn't be available at all to assist... what the eff would they do," they added. Responding to the comment, u/Unconquered- wrote: "The craziest thing is that his company is owned by a billionaire. It's not like they can't afford better staffing, they've just been using him as their workhorse for so long that they've built a whole business strategy around him."