Autism, also known as Autism Spectrum Disorder (ASD), is a developmental disorder that affects communication, social interaction and behavior. Children with autism may have difficulty in verbal and nonverbal communication, struggle with social interactions and may engage in repetitive behaviors or have specific interests. Caring for a child with autism requires patience, understanding and a willingness to learn about their unique needs. With accurate support, they can live their life to the fullest and indulge in several fun activities that can prove beneficial. A heartwarming video displaying something similar was posted on Reddit by u/cmgtampa with the caption, "Friends kids is autistic and loves Elvis. They got him an impersonator for his birthday."
This heartwarming video is a beautiful example of how children with autism can enjoy and engage in fun activities just like any other child, given the right support and understanding. The child in the video, who is autistic, has a deep love for Elvis Presley and his friends and family made sure to give him a birthday surprise that he would cherish. The video showcases the child's joy as he dances along with the Elvis impersonator to "Jailhouse Rock." It's evident that the child is having a great time, and the love and support from his family and friends are making it even more special. It's a testament to how, with proper support and understanding, children with autism can thrive and enjoy life just like anyone else.
It's important to remember that every child with autism is unique and their interests and passions may differ. But with the right support, they can access any activity, be it music, art, or sports and have fun just like any other child. People in the comments section were absolutely delighted to see this beautiful video. Reddit user u/AppropriateScience71 commented, "It's wonderful how these parents just get their son." Others shared their own experiences with an Elvis impersonator, who has become a cultural icon. User u/ToastyToast1 shared, "My Grandma was a lifelong Elvis fan, she had decorative tins, all his movies, and even a figurine or two. When she got dementia her nursing home got an Elvis impersonator and she sincerely believed he was the real deal, and she bragged that he was her boyfriend after he flirted with her. It made her last few months so much brighter."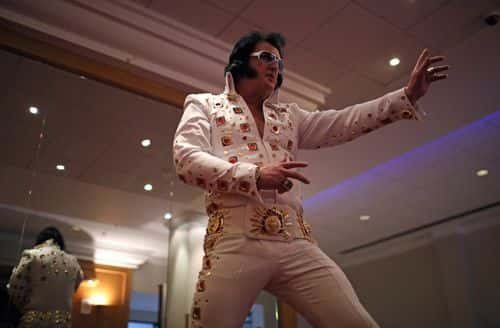 "If this isn't the highlight of this dude's career doing these I don't know what is. I'd be so over the moon to bring that much joy to someone, he's dancing his heart out!" said u/centipetle. Some Reddit users with autism even shared their own moments where they experienced such profound joy. User u/bluecrowned shared, "I'm autistic and my moment like this was going to my first dog show at 12. Oh my god, I was over the moon. Literally shaking with excitement when I walked through those doors."
These beautiful moments convey that people with disabilities have a right to access all the things that others have, including moments of joy, happiness and fun.