When Doug and Dedra Simmons tied the knot on August 18, they were expecting a total of 109 people at their destination wedding in Negril, Jamaica. However, when the big day finally came around, eight of their invited guests were nowhere to be found. Since they'd given everyone on the guest list plenty of time to change their RSVPs, the newlyweds wondered why their no-shows couldn't have given them a heads-up before the event. "People might be unable to make it, which is fine," Simmons told PEOPLE. "But when we got to the actual, final headcount, and we had 109 people total, we asked everyone, will you be able to make it? Everyone said yes."
"We asked four times from November to August if they would be in attendance, and every time they said yes. If at any time they were unable to attend, we would have truly understood, but to no call, no show was a bit disappointing," he explained in an interview with TMRW x TODAY. Since their's was a destination wedding, the couple had paid for all their guests about a month in advance and had therefore already forked over the money for the wasted eight meals. However, it wasn't the financial loss that peeved them the most.
"We were all on WhatsApp and neither one of us got a text or call from any of them letting us know they wouldn't be able to make it. When we got home from Jamaica, there was still no call or text," Simmons said. Once they were back home from their nuptials, the groom found an indirect but amusing way to let the no-shows know he was bothered by their lack of communication. Channeling his creative side, he whipped up a fake $240 invoice "charging" them for the meals they didn't consume.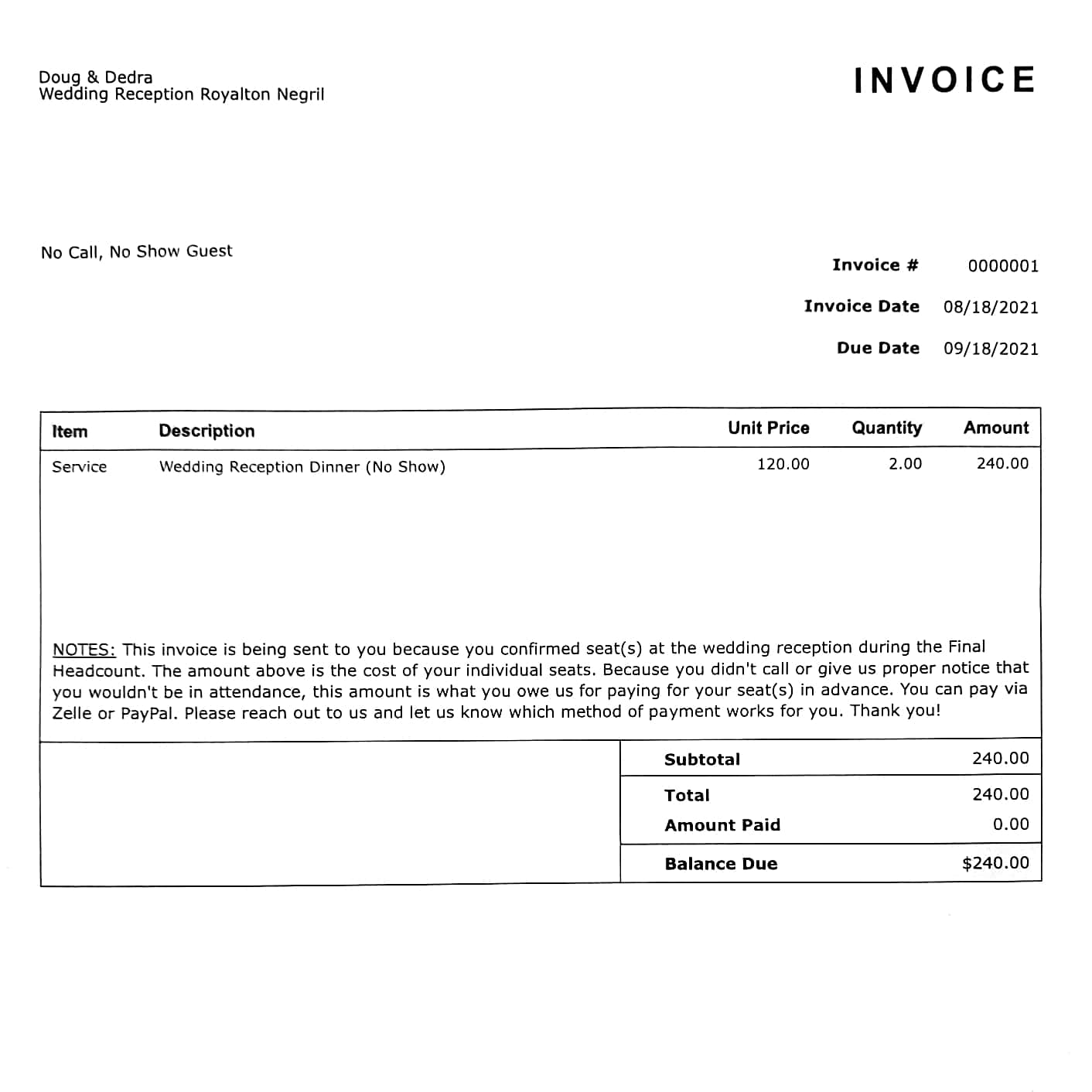 "This invoice is being sent to you because you confirmed seat(s) at the wedding reception during the Final Headcount. The amount above is the cost of your individual seats. Because you didn't call or give us proper notice that you wouldn't be in attendance, this amount is what you owe us for paying for your seat(s) in advance. You can pay via Zelle or PayPal," the invoice read. The invoice, which Simmons said was "meant as a joke," quickly generated a massive response on social media after he posted it to Facebook. "I had no intention of sending it to anyone and didn't send it to anyone. I knew just posting it alone would get them in their feelings, which it did," he said.
The symbolic invoice resonated with plenty of social media users who had gone through similar experiences with friends and family who didn't attend their events. "These were family members and friends, and we have to hold each other accountable," said Simmons. "If you can't make it, just say that. If they had just let us know that, we would have understood. We would have totally understood. It would have been no problem. But to tell me you're coming, and I asked you four times, and you didn't show up? Now I got to teach you a lesson. And that lesson came in the form of an invoice."
The groom stressed that he has no intention of actually sending the invoice to the no-show guests. However, since his post going viral, some have reached out to him and apologized for their reconsideration. "It's about accountability. It's about being considerate," Simmons explained. "There are hundreds of people who've inboxed me, telling me horror stories about their wedding, about their birthday party, and people who did a no-call, no-show. And it begs the question of, is that fair? Whether I'm rich or poor, is it fair to tell me you're going to do something, give me your word, then no-show me, and I have to just eat the cost and just smile about it? Is that fair?"