When people hear the phrase "life is a race," their focus becomes getting to the finish line first. They forget that before coming first, what's more important is actually finishing the race. The 2023 New York City Marathon shed light on the importance of finishing a race. Nicolas Hellar—who goes by @newyorknico on Instagram—shared a glimpse of several runners making it to the finish line. Except, their wholesome reactions on finishing the race marked and defined the importance of celebrating every achievement, not simply one where you win or come first. Sharing on Instagram, the video captured a plethora of emotions, purposes, reactions and more as runners reached the finish line.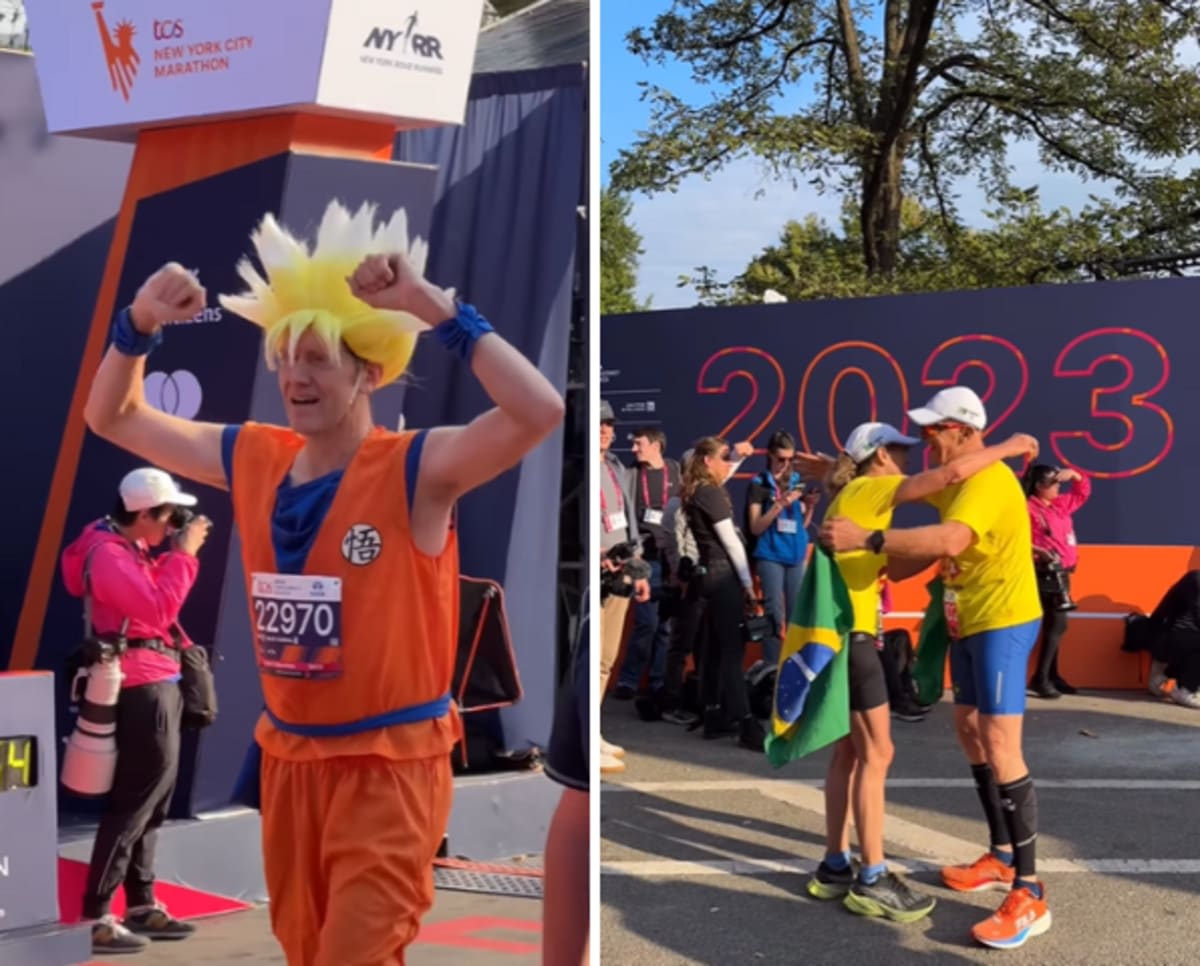 Up first was an elderly Indian man who came through to the finish line among others. His expression displayed the persistence and strength he mustered and maintained to make it to the finish line. Next was a young man dressed as Goku from the popular animated series "Dragon Ball Z." As he reaches the finish line, one can see his face light up as he lifts his hands in victory over having achieved completion. Another elderly man was seen just after completing the race, holding his hands high in the air and looking up in gratitude and relief after having made it. It is evident that each runner had their own purpose for finishing the race and each foot that crossed the finish line shared a different expression of victory.
Things kept getting better and better. The next runner caused people to tear up. He made it to the finish line in an amusing dance-run style, extremely enthusiastic and free-spirited. In the next frame, the same man is seen putting a ring on a woman's finger, presumingly having proposed to her shortly after crossing the finish line. This was followed by several other duos of friends, family members and others celebrating with a warm hug full of smiles and pride for their loved ones. There were even physically challenged participants who emerged victorious and were gleaming with joy.
Many other celebrations were tear-jerkers. The marathon had more emotion and purpose than just a run. The heartwarming embraces each told a different story of the participants' pain and struggle. Another participant is seen embracing a young boy after having run the race. However, he holds a vest with the name tag 'Sam' on it. However, there's more to that story. In another post, it was shared, "Sam collapsed and lost his life on the 23rd mile of the Santa Rosa Marathon this past August. He and his friends had intended on crushing the Santa Rosa Marathon and doing their 'victory lap' at the NYC marathon. That was one of Sam's favorite shirts, which we imagined he'd wear on race day."
---
View this post on Instagram
---
The duo were Sam's friends who completed the race holding the rod in their hands as a tribute to their late friend. The caption in the same post further read, "There are 50,000 participants. Each one with its own story. Not all of them are heartbreaking personal journeys of growth or overcoming the odds, but everyone seems to be running for something." The original video further captures people running, sweating, tired but making it to the end. A man is seen going down to the ground to express gratitude, while another woman walks by with the brightest smile. Viewers loved the taste of humanity the video shared. @thelovelyou said, "They feel so proud of themselves." @dacquanmhall said, "This is what humanity should be all the time."
---
View this post on Instagram
---