Teaching is a demanding profession. Handling a classroom full of kids who are going through crucial physical and emotional transitions requires an inexhaustible reserve of patience and empathy. Even on good days, it probably takes everything they have to shape these mini-sized humans into well-mannered, contributing, future members of the society and I can't even imagine how drained they might feel at the end of the not-so-good days. Trey Payne, a Logan Fontenelle Middle School teacher was having a bad day when his basketball shoes were stolen from his classroom.
Upset that someone would do such a thing to their favorite teacher, a few of his students got together to do something rather special for him. 12 students pooled in money from their own pockets to replace the stolen Nike basketball shoes and staged a heartwarming surprise for Payne on Tuesday that left him in tears. The moving incident was caught on camera and Payne's tearful eyes in the video speak volumes.
Sharing the heartening video on its Facebook page, Bellevue Public Schools wrote, There is nothing more fitting during #KindnessWeek than to share an amazing story about our students! Approximately two weeks ago, Logan Fontenelle Middle School teacher Trey Payne, had a nice pair of basketball shoes stolen from his classroom. Today a group of Logan Fontenelle students presented Mr. Payne with a gift. The students pooled their money together and bought their teacher a brand new pair to replace the ones that were stolen. The students said they were upset that it happened and wanted to help.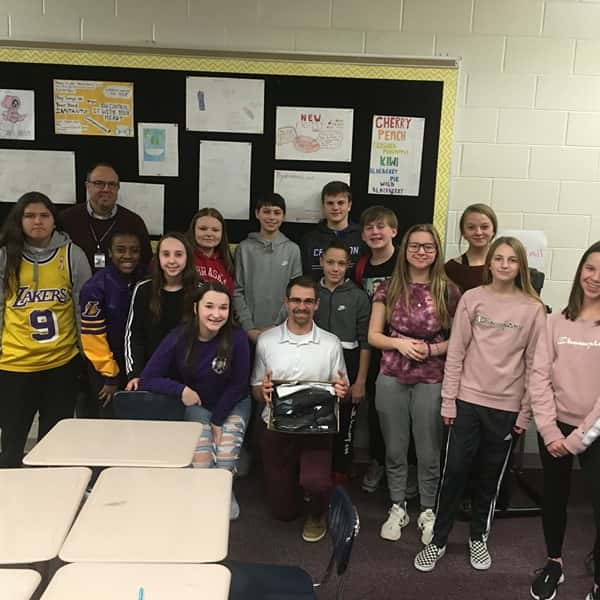 In the video, a student can be heard urging Payne to open a card before unveiling his gift. "You're all making me nervous," the teacher responds, shaking his head in disbelief as he opens the card and intently reads the students' words. Visibly moved by their gesture, Mr. Payne quickly glances across the huddle of students in front of him as he pulls the box out of the gift box and realizes what it is. "Are you serious?" he asks, shaking his head in disbelief with tears filling his eyes. The video concludes with the kids coming in for a group hug to console their teary teacher.
Speaking of the incredibly sweet surprise his students gave him, Payne said, "It's more than a pair of shoes, it's about doing things to build everyone up around you. I try to show my kids this and I think the lesson has sunk in for many, in turn, reaffirming my purpose and my ideals." Bellevue Public Schools commended the students involved in the incident, writing, "An amazing act of kindness Logan Fontenelle! Way to go... Emma Mitchell, Carlo Kemper, Miguel Caceres, Elicia Fenner, Ka'Maiya Hunt, Jacob Perrin, Mia McVay, Braylen Hurley, Colin Osborn, Therese Chandler, Michaela Miller, Pressly Schoenherr. Cyrus Cheshier and teacher Mr. Rob Lavalleur."