National guard on 24-hour watch at Capitol Hill in anticipation of an attack from MAGA rioters
The armed forces have surrounded Capitol Hill anticipating a planned attack from MAGA extremists ahead of Biden's inauguration.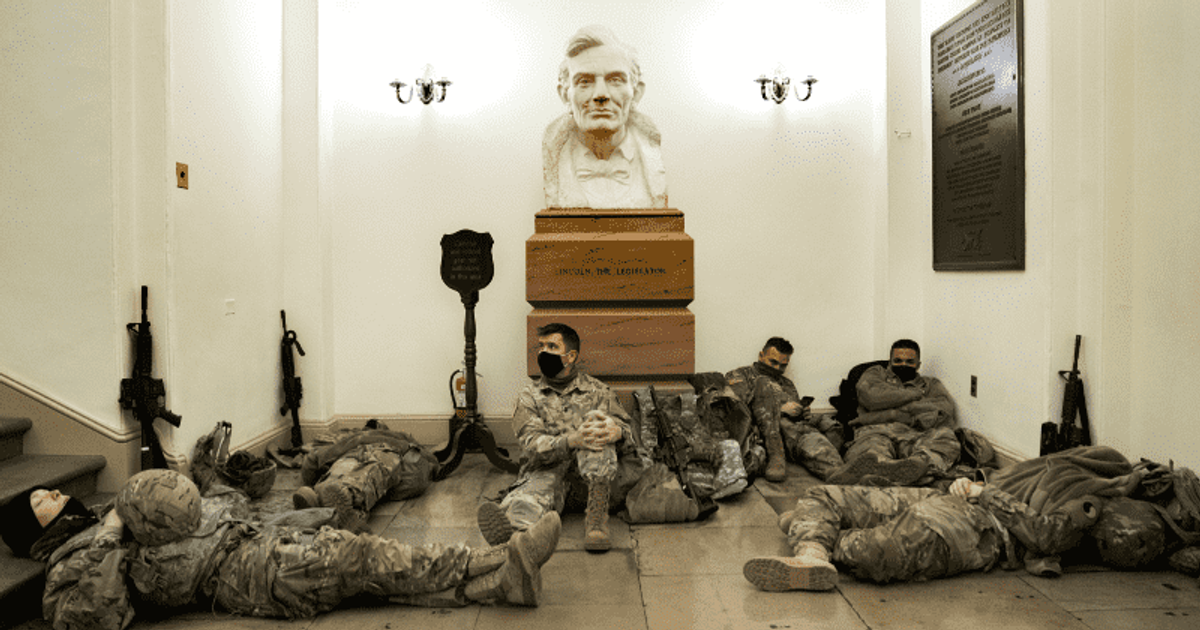 WASHINGTON, DC - JANUARY 13: Members of the National Guard rest in the U.S. Capitol on January 13, 2021 in Washington, DC. (Photo by Stefani Reynolds/Getty Images)
It's been a week since a Trump-incited mob stormed Capitol Hill, causing the deaths of 5 people including a police officer. The MAGA rioters aimed to stop members of Congress to stop certifying Joe Biden as the winner of the 2020 election. Following the violent insurrection, the national guard has been camping at Capitol Hill to ensure the heart of America's democracy is secured ahead of Joe Biden's inauguration. Capitol Police and the authorities came in for heavy criticism at the ease at which rioters made their way into Capitol Hill. The national guard is taking no risks as they provide 24x7 cover to protect members of Congress. Armed members of the national guard can be seen at every turn on Capitol grounds and are packed like sardines inside the hallways.
Various members of Congress have posted pictures of armed guards catching sleep while lying on the floors of the hallways. "The attack on the Capitol was a violent insurrection that resulted in the spilling of American blood," said U.S. Representative Hakeem Jeffries, a Democrat from New York. "And that's why extraordinary security measures have been taken, reported Reuters."Officers were brutally beaten. The attackers wanted to assassinate Nancy Pelosi, hang Mike Pence, and hunt down sitting members of Congress. That's insurrection. That's sedition. That's lawlessness. That's terror," said Jeffries before adding, "The Capitol has responded in an appropriate way to meet the nature of the severe security threat that is being posed by domestic terrorists and white supremacists," said Jeffries. The images of armed guards on Capitol Hill reflects an America that's still reeling from the insurrection. Intelligence briefings have revealed many terror plots including armed pro-Donald Trump extremists surrounding the US Capitol ahead of President-elect Joe Biden's inauguration, reported CNN.
Here are 24 pictures that capture the tense situation on Capitol Hill
1.
2.
3.
4.
5.
6.
7.
8.
9.
10.
11.
12.
13.
14.
15.
16.
17.
18.
19.
20.
21.
22.
23.
24.