The world is currently obsessed with artificial intelligence and ChatGPT because of all the possibilities it holds for making our lives easier. But despite all the well-meaning hype surrounding the technology, we must be aware of the dangers that come with it. According to Malwarebytes, the software can be potentially used for data theft, development of malware, creation of phishing emails by scammers and even impersonating a human being. But with the right regulations and careful use, people can really benefit from ChatGPT.
TikTok user and mother Katie Beach—who goes on the platform by the username @thekatiebeach—has found ChatGPT very useful for parents. She shared two videos talking about how she uses the software to make parenting tasks easier. The mom also shared the video on Instagram so that the very useful information could reach a wider audience. In the first video, she talks about how she uses the chatbot for planning meals and in the second one, she explains that she also uses it for creating fun activities for her kids.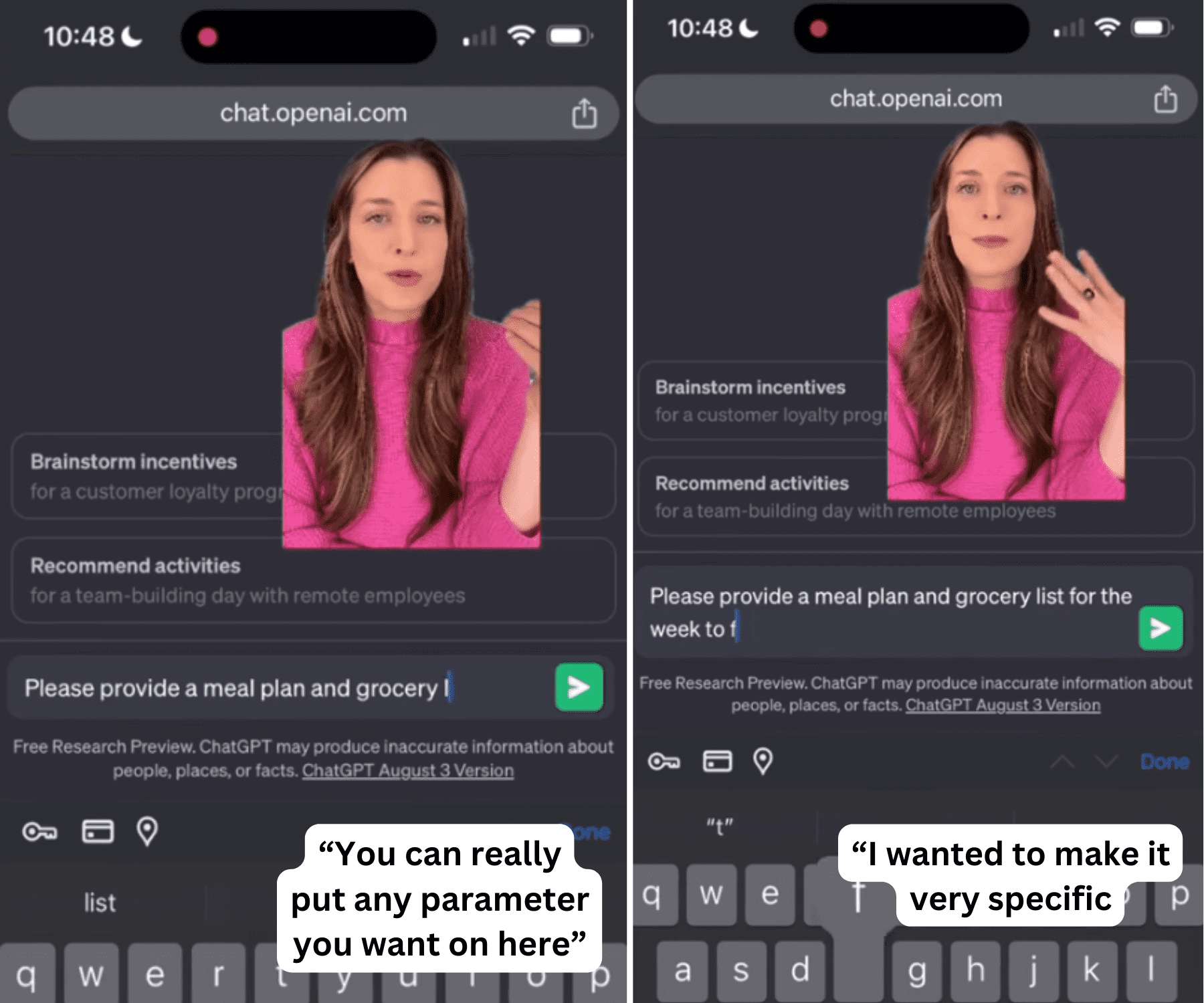 She begins the first video by saying, "Welcome to my new series, Chat GPT for parents." Beach shares how she has been utilizing the AI software a lot ever since she became a mother. The software proved to be so helpful that it prompted her to make a series to share useful information with other parents. She does not waste any time and shares a screen recording of her typing giving the software a prompt. The mother specifies that she wants a meal plan and grocery list for two adults and a toddler for a week.
The woman also adds that the family does not consume gluten or meat. Within seconds, the software gives her an elaborate meal plan for three meals spanning seven days. She also got a grocery list for all the items she would need to prepare meals for that week. She says, "Think about all the time you did meal prepping, preparing a grocery list. This just did it all in minutes." She concludes by saying that what would make it better is if the software worked with Amazon or Whole Foods so she could get the groceries delivered to her house.
People on the platform loved the parenting hack and expressed their support in the comments section. @danielajune said, "Great idea. Please share more ways to use ChatGPT for moms!" @britbrit36795 commented, "I would never have thought to do this in a million years." Following her promise, she soon shared the second video, where she shared another useful ChatGPT hack for parents.
---
View this post on Instagram
---
In the second video, she says, "If you're anything like me, you like to get out of the house and fill your kid's days with activities. But that comes with a high mental tax." Beach tells fellow parents that undertaking all the planning themselves is unnecessary and that they should use ChatGPT to plan things. The video cuts to a screen recording and the mother talks about how she can get very "specific" with her requests.
She lists them out, saying, "Change location, you can change the budget. It's all up to what you and your family need." So, for the demonstration in the video, she asked ChatGPT for free activities in Orange County, California. The software immediately provides her with a day-by-day itinerary of different free activities around the specified location. Some of the suggestions included going to the park, beach or something as simple as reading a story to the child.
Beach says, "Think about how much free time you would have in your mind if this was all planned at the beginning of the week." She concludes by suggesting that parents should work smarter and not harder. Her videos show simple ways the software can be used to make a parent's life easier. The same can be applied to other domains of human life. One only has to think of the right way to ask.
---
View this post on Instagram
---