Children often enjoy the most mundane of things that adults fail to acknowledge in their daily lives. It is wonderful to look at the world from a child's viewpoint and lens and this mother quite literally experienced that. Elizabeth Mitchell Johnson posted a video on Instagram that shows what is on her son's Kidamento camera. The video, which has gone viral and gathered almost 5 million views and over 500k likes, shows small clips of what her son, Abner, recorded on the camera made for children. The video starts with her son holding a small camera and recording some bugs on the road.
The text inlay reads, "I wondered what was important enough for my 5-year-old to document in his day." Elizabeth added, "I picked up his camera and this is what I found." The clips from his camera include extremely wholesome moments of his family and siblings that he recorded without them knowing. The first one is his mother tickling his baby sister followed by her brushing his brother's teeth as he lies on the carpet. Abner also recorded his sister playing on the rug and his mother cooking in the kitchen.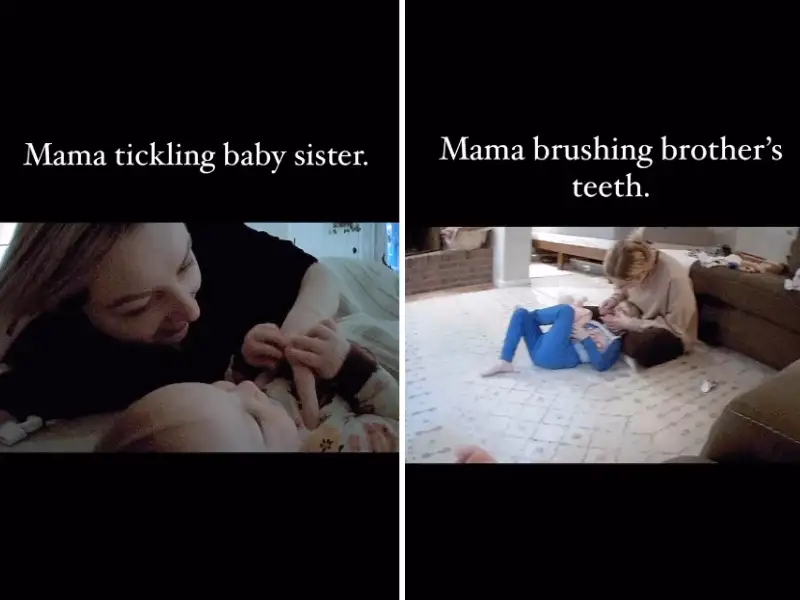 This showed how much importance these small moments between his family held for the child. He also recorded his mother playing with the baby and the scenery outside the car window as he drives with his family. The mother revealed in the caption that she was in a "puddle of tears" when she came across these beautiful and wholesome moments in his camera. "It makes my day to scroll through and see what matters most to him in a day," she added.
Instagram users absolutely loved these clips and appreciated how much love Abner has for his family. @_dragon_bitch said, "Wait why did I cry? This is so wholesome and such a happy environment for him," while @junelibee commented, "Not to be 'that guy' but this is kind of way better than giving your 5 yo an iPad." Many even commended the child's filming skills, labeling him a "future filmmaker." @sofi.dolly said, "It's always refreshing to see kids go about their day. It's those little details that go by and we miss the ones that capture their curiosity. It was wholesome to see this."
Some people also shared their own experiences with giving cameras to children. @bigmacbastard said, "We got our little guy a camera that takes pictures and records for Christmas, best thing ever! Looked through and cried [because] he took pictures of me, his dad and his baby brother and of course his favorite cars." @phinemaria shared, "My Mama gave me a camera too when I was little and I took pictures of my family members. Forever documented from a little child's perspective. It's really cute." @miller_art_and_photography commended the parents, saying, "You're raising this kid right if he's happy enough to video you guys in your family unprompted. It's so sweet, he really must care!"