Toddlers love their car naps, be it a short 5-minute trip to the store or an hours-long drive out of the city. However, parents know how bad it can get if they dare to wake up a kid in the middle of their nap. They might be irritated or end up crying half the time.
One such mom found herself stuck in her car because her daughter slept off while on a tampon run to Walmart and she explained her situation in a hilarious video. TikTok user @cactustate starts the video by saying: "I will never understand the black magic that puts this girl to sleep in seconds every time. She is out like a light. She is in a small coma."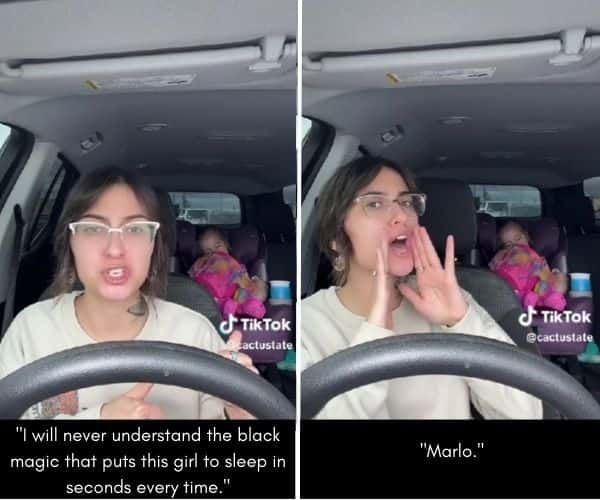 Tatum even shouts out her daughter Marlo's name inside the car to show that the little girl is in a deep slumber. "Didn't even flinch, she is out like a light. This girl doesn't nap at home. We don't take naps. She stopped doing that months ago," she says. She also spoke about how no one in their house sleeps and her daughter woke her up early in the morning. "We get her in the car and it's like she main-lined some f***ing Z-Quil," Tatum adds.
"I have things to do. I'm in the Walmart parking lot debating how badly I need tampons. I could just go home, wrap up that toilet paper and shove it in my underwear. No, I deserve a tampon. I f***ing deserve a tampon. I drove all the way here," says the mom. Tatum also speaks about what would happen if she woke Marlo up. "I have to wake her up? She is going to be so mean to me. She gets that from me, so I can't really blame her. Maybe I can bribe her, but she is really hard to negotiate with when she is grumpy. Also gets that from me," she says.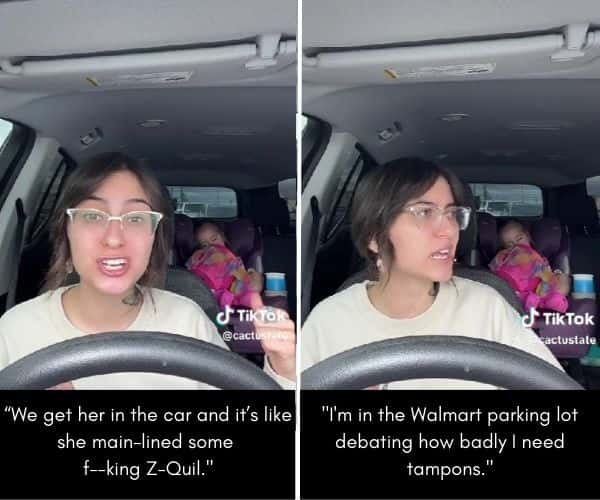 She concludes the video by saying, "I hope you guys have a better day than I do. If you have any tampons, please send them my way. Because I don't think I'm brave enough to go in." Tatum later updated that she sat in the car for an hour and then woke her daughter up. "She cried, but I told her she could get bubbles. I secured the bubbles and tampons," she wrote in a comment. The video went viral with about 4.2 million views and 868k likes. It is captioned, "Car naps are the bane of my existence."
Many parents in the comments section shared their own experiences with their kids' car naps. @.simply.mallory commented, "I straight sat in my car in the parking lot of the grocery store for 45 minutes the other day for ONE item that the store didn't even have." @sierra.honeycutt wrote, "There's nothing I dread more than waking my kids up. it's a mood." @queenstackcity510 expressed, "I love you and your videos, I swear I have a 13-year-old and it doesn't get easier... ughhh."
@amberlouisfranci pointed out, "In Aus, a lot of mums will carry a blanket in the car so they can lay it in the trolley and you can lay them down and they stay asleep while you shop!" @sirensepitaph commented, "When my youngest sister was like that, my mom would pop her in the car at bedtime, drive around the block, then carry her to bed."