A video of a mother dancing and screaming in "complete euphoria" at an Elton John concert is winning the hearts of the people on the internet. Aubrey Warmouth, the daughter of the woman, posted the clip on TikTok and captioned it: "When you take your mom to see Elton John." The video went viral immediately, garnering more than 2.5 million likes and 9.3 million views. The woman is standing with her mouth open in wonder at the start of the video waiting for the "Rocketman" singer to arrive on stage. For Aubrey Warmouth, it will always be an unforgettable mother-daughter moment. Warmouth's mom will never again get to experience that feeling because Elton John is retiring for good and confirmed this would be his last tour.
The audience can be heard cheering wildly as murmurs suggest Elton John is arriving on stage. Not once does Warmouth's mother break eye contact with what's going on stage. Completely transfixed, she is oblivious to her surroundings. As the lights change to signal the singer's entrance. Warmouth's mom screams excitedly. The video is set to John's "Bennie and the Jets." She turns to her daughter and says, "Oh, God" before breaking out in laughter and joy. She watched on in happiness as her mother relived her childhood. Just as amazing were all the other women in the background mirroring Warmouth's mom's expression. The video also reached Elton John and the singer commented on the video: "Reactions like this is why I love doing what I do — so glad you and your mum enjoyed the show, Aubrey ❤️"

The video is believed to be from the singer's final North American run of his last-ever tour, "Farewell Yellow Brick Road The Final Tour." The 75-year-old singer confirmed earlier that it would be his last tour. "This year will see my grand finale in North America, playing stadiums all around the country, with the most spectacular production I've ever had. Thank you for sharing this journey with me," he said on social media on March 29. "After the tour ends, I will spend the rest of my life with my family," the 75-year-old said. "The first time I played Louisville was in 1971, and I have been back many times. Everywhere I have been in the United States during my career, people have been extremely kind to me, and I am grateful. I cherish these memories we're making together. It has been nothing short of incredible and I look forward to seeing you very soon one last time, on my Farewell Yellow Brick Road Tour," he concluded, reported Courier-Journal.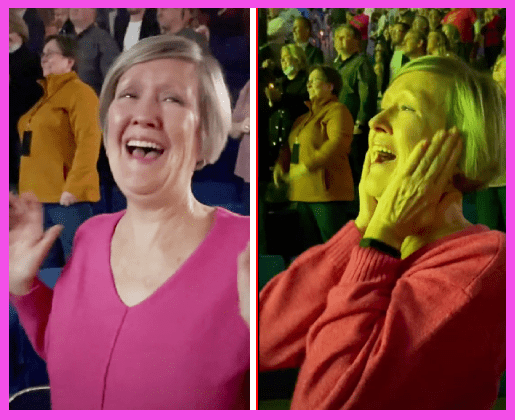 The "Farewell Yellow Brick Road" tour includes more than 300 performances throughout the United States, Europe, Asia, South America and Australia. Elton John's prolonged goodbye began on October 23, 2018, in Louisville and was scheduled to wrap up on April 26, 2020, but had to be postponed due to the pandemic. The tour will now end on July 8, 2023, at the Tele2 Arena in Stockholm, Sweden.
People couldn't get enough of the mom's reaction in the video. "I got the chills! Probably brought back wonderful memories for her," commented one person. "I went in January and this was also my face the entire time!" wrote another. "This brought me to tears. I'm so happy she got to experience this," added another user. "This is beyond precious," commented one user. Many said her reactions were a testament to the singer's impact. "Wow. Made me tear up too. The impact he's had on our growing up," they wrote. One person wrote, "I'm cryingggg 💗😭 this is so awesome! It's the bestttt seeing one of your fave artists live 🥰." Another added, "This made me tear up🥺 experiencing your mom's childhood memories exploding in her head and feeling complete euphoria🥰"